Vohra, Omar greet people on Ramnavami
Jammu, April 2
Governor NN Vohra and Chief Minister Omar Abdullah have greeted people on the auspicious occasion of Ramnavami, the birthday of Lord Rama. In his message Governor Vohra said Lord Rama epitomized righteousness and the spirit of sacrifice, adding that his message of love, truth and social justice, would guide humanity till eternity.
Omar inspects CAPD godowns
Jammu, April 2
Taking cognizance of reports about the irregular supply of ration in the region, Chief Minister Omar Abdullah today inspected godowns of the Consumer Affairs and Public Distribution (CAPD) Department at its warehouse here today. He was accompanied by SS Slathia, Minister for Industries and Commerce and CAPD. The ministry concerned has taken several decisions to check ration pilferage.
NC block presidents
Jammu, April 2
NC provincial president Rattan Lal Gupta today nominated block presidents for Kathua, Billawar, Basohli, Udhampur, Reasi, Ramban, Kishtwar and Doda districts in Jammu province.
Time not ripe to resume talks with Pak: Omar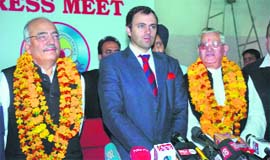 Jammu, April 2
Chief Minister Omar Abdullah felt today situation was not ripe for resuming talks with Pakistan in the backdrop of the Lok Sabha elections, Pakistan's lukewarm response to 26/11 and its internal strife.

Chief Minister Omar Abdullah welcomes Gobind Ram Sharma (right) and Talib Hussan into the NC fold in Jammu on Thursday. Tribune photo: Anand Sharma
Combing operation in Gurez
Srinagar, April 2
The Army has launched a major combing operation in the Gurez sector after a group of militants reportedly infiltrated last week. One of them has already been shot dead by the security forces.
INTACH chief calls on Vohra
Jammu, April 2
Indian National Trust for Art and Culture Heritage (INTACH) chairman SK Mishra accompanied by member-secretary, INTACH, Yogendra Narain called on Governor NN Vohra here today and apprised him of various initiatives being taken by INTACH in the state in the area of heritage preservation and conservation.
KAS Exams
HC dismisses pleas against minimum age criteria
Jammu, April 2
A number of candidates appearing in the Kashmir Administrative Services exams suffered a jolt when Justice Nirmal Singh of the Jammu and Kashmir High Court has dismissed a batch of writ petitions filed by Arjun Singh and others involving similar nature of controversy.
Orders to revamp education system
Jammu, April 2
The Education Department has issued a series of orders for revamping the system at the elementary and secondary levels in the state. These measures include conducting the class VIII examination at the district level and of and classes V and III at the zonal and cluster levels, respectively.
Need to finish board exams in time: Peerzada
Jammu, April 2
Minister for Education and Public Enterprises Peerzada Mohammad Sayeed met officers of the Education Department today and directed them to work closely for the over-all development of the education sector in the state.
MC to intensify drive against encroachments
Jammu, April 2
Various issues regarding developmental activities undertaken by the Jammu Municipal Corporation (MC) were discussed at a meeting of the 34th Finance and Planning Standing Committee held on the MC premises today. The meeting was chaired of Deputy Mayor Dharamvir Singh Jamwal.
SI caught taking bribe
Jammu, April 2
Sleuths of the Vigilance Organisation today arrested the police post in charge at Government Medical College (GMC) for allegedly taking bribe from a contractor running parking lots in the hospital.
Darbar move from April 24
Jammu, April 2
The annual Darbar move of the state would begin from April 24, a press note said here today.
Girdawar, patwari held taking bribes
Udhampur, April 2
A team of the State Vigilance Organisation (SVO) yesterday caught Swaram Singh, girdawar, and Vijay Kumar, patwari, Kothdi, Udhampur district, while accepting a bribe of Rs 5,000 for issuing revenue documents.
Bank retirement age up to 60
Srinagar, April 2
J&K Bank has enhanced the superannuation age of its officer cadre to 60. The Board of Directors of the bank took the decision, said bank's chairman and chief executive Haseeb A. Drabu, adding that the decision was necessary for succession planning as a lot of people were to retire in coming months. — TNS
3 LeT militants shot in Kishtwar
Udhampur, April 2
The security forces gunned down three terrorists of the Laskhar-e-Toiba (LeT), including one self-styled district commander, in Sadhwa village of Kishtwar district today. The slain militants were part of the group that had engaged the security forces in a fierce gun battle on March 14 and later escaped after a day-long encounter.
Plantation drive launched
Srinagar, April 2
A week-long plantation drive was launched at Kashmir University today. The plantation drive is being organised by the NSS and Landscape Development wings of the varsity.
Jora invites Bollywood
Jammu, April 2
Minister for Tourism and Culture Nawang Rigzin Jora asked Bollywood to come and shoot in the state, as the state offered unmatched locales, which filmmakers would discover only when they come and visit it.
One killed in landslide
Srinagar, April 2
One person was killed and at least five persons, including two cops, were injured in a landslide 21 km from Shopian in south Kashmir.