Recession time: Colleges start entrepreneurship cells
Jalandhar, April 2
To counter the ongoing recession that has hit the young passouts hard, in terms of fewer placement options and lower pay packages, the professional colleges here have come up with a new formula to combat the problem.
Price Watch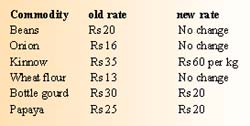 Glut over, potato prices shoot up
Jalandhar, April 2


It seems that the glut in potato has come to end with an upward trend in its prices. While the increase in the prices has come up as a big relief to the wholesale traders, on the other hand the consumers will have to an extra amount for potato which is an essential commodity with every household.
BSP forms committee for campaigning
Jalandhar, April 2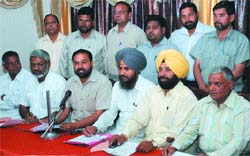 The BSP today constituted a five-member committee to launch its election campaign more effectively in Jalandhar parliament constituency. The members are Satish Bharti, Ram Krishan Bachhowal, P.D. Shant, Gurmail Chumber besides him, all officer bearers of the party, informed Harmesh Singh Bhar Singh Puri, state general secretary of the party.
BSP leaders address a press conference in Jalandhar on Thursday. Tribune photo: Pawan Sharma
It's family rule in SAD: Chaudhary
Jalandhar, April 2
Just days after rejoining the Congress, former MP from Hoshiarpur Kamal Chaudhary expressed his confidence about the victory of the Congress candidate in the ensuing parliamentary elections.
'Ghadari Museum' to get a facelift
Jalandhar, April 2
Traversing the paths of history, the members of Desh Bhagat Yadgaar Hall (DBYH) Committee have taken a new initiative of giving a facelift to the 'Ghadari Museum', which is situated inside the DBYH.
Know Your Artiste/Harjit Singh


Call him culture
Jalandhar, April 2
He belongs to the era when intellect rode over low-browed masala soaps, when passions were pure and untouched by commercialisation and when TV talked the truth. Much of this was as-a-matter-of-fact his own doing.
Young World
Eklavya students learn robot-making
Jalandhar, April 2
Two final-year students of B.Tech from the local NIT Mandeep Singh and Krishnakant visited the local Eklavya School to show the making of robots. They gave a presentation on different types of robots.

Bips tops the list
He has dressed Bollywood divas like Priyanka Chopra, Kareena Kapoor and Katrina Kaif, but designer Gavin Miguel says Bipasha Basu outshines them all when it comes to experimental dressing. She will surprise everyone with her new look in forthcoming film Pankh, he predicts. "She gives me complete freedom when it comes to dressing her up. She is very experimental and tries to change her look in every movie.
Apeejay principal honoured
Jalandhar, April 2
Dr Sucharita Sharma, Principal of the Apeejay College of Fine Arts, has been felicitated by the International Congress of Women, Ashoka Hotel, New Delhi for her lifetime achievements on March 31. She is the only woman from Punjab to receive the honour. She is among the 56 leading women who have been awarded for their contribution to women and society by the Congress. The ceremony was attended by renowned artists, including Indu Jain from Times Group; Anjolie Ela Menon, a noted painter; Shobhna Narayan, a famous kathak dancer and Sushma Berlia, president, Apeejay Stya Group. Expressing elation over the achievement, she said, "I feel humbled and honoured. — TNS
Results of Army recruitment rally
Jalandhar, April 2
The Punjab Regimental Centre, Ramgarh Cantt, Jharkhand, has declared the results of the recruitment rally for soldier (general duty) and soldier (tradesmen) categories, which was held on January 20. Defence spokesman said the roll numbers of the candidates selected in the common entrance examination of soldier (general duty) were 215, 216, 217, 228, 233, 234, 237 and 241 and of soldier (tradesmen) were 243 and 245. — TNS
Historical locker


Another highlight of the museum is a locker (safe) which was raided by a group of Ghadarites, led by Ram Lakha, in the house of a Sahukar in Chabba village near Amritsar. Ghadarites including Ram Lakha, Bir Singh, Prem Singh and Sur Singh were killed in this incident. The locker was recently donated by the family members of the Sahukar to be kept in the museum. "The locker enclosed in a glass box with details of the incident will be kept in the museum", he added.
Twins at 60
Jalandhar, April 2
Lending a hand to an aged couple, Virk Hospital in Jalandhar helped an NRI woman from Canada to have twins. Ranjit Kaur Hayer (60) and her husband Jagir Singh Hayer, who got the information through some relatives in Nawanshahr, had kids after 40 years of marriage in February.The women went through hysteroscopy in June 2008 after one unsuccessful attempt of the IVF cycle, claimed hospital director Dr. S.P.S. Virk. "IVF has come a long way in completing the families of many couples, and its surprising results have even touched the lives of couples from a higher age strata," added Dr Virk. — TNS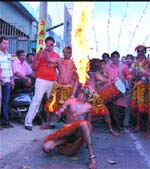 Thousands take part in shobhayatra
Jalandhar, April 2
Thousands of devotees took part with religious fervour in the Ramnavami shobhayatra started from the Devi Talab Mandir located on the Tanda road here on Thursday. The shobhayatra culminated at the Devi Talab Mandir itself after passing through several areas of the city, including Mai Hiran Gate, Luv Kush Chowk, Nehru Garden, Jyoti Chowk and Patel Chowk. Langars were organised by several organisations on the route of the shobhayatra. — TNS

Tribune lensman Suryakant captures the various shades of shobhayatra in Jalandhar on Thursday.