Polished act
It's not lack of talent but less exposure that holds back wannabe models, feels former supermodel Meyhar Bhasin
Manpriya Khurana
It was a mini convocation of sorts! With the former super-model Meyhar Bhasin bestowing the certificates and, all the while, with pleasure, posing for the cameras and a bunch of over 20 students making the 'thank you speeches' on getting the paper credentials.

Knot above gossip
The rumoured split of Hrithik and Suzanne once again brings celebrity marriages into spotlight. What is it that makes people lap up tales of cracks among couples?
Mona
It sure seems to be the season of splits when it comes to celebrities. Hits or flops, one thing that keeps stars in the news is relationship rumours.


Meyhar Bhasin
— Photo: S. Chandan
Fun won't fizzle…
If you are able to keep off holiday stress
Mona
Come summers and we are eager to jet off to our dream destinations, looking forward to that perfect time when there is no room for routine and scope for schedule. But it's not easy to plan 'joyrides', and even if we manage to skip the first hurdle, there's a second, a third and a fourth one waiting for us ahead.
Eight-fold path
Reasons why you should immediately dump your beau
A dating guru duo has charted eight reasons for women to drop their boyfriends immediately. L. Rx and P. L. Ayer, though are "gurus for men", have decided to start helping the "fairer" sex by giving advice to women about men through their popular website DatingToRelating.com.
Negative impact
Angry, sad, anxious mums likely to give unhealthy food to kids
A new study from Norwegian Institute of Public Health (NIPH) has revealed that mothers with many negative thoughts and feelings are likely to give unhealthy food to their kids. The researchers have found that mothers who were emotionally unstable, anxious, angry, sad, had poor self-confidence or a negative view of the world were far more likely to give their child sweet and fatty foods.
Aroma out of coma
Girlfriend's fake tan woke Brit man from coma!
Tom wouldn't have imagined that her girlfriend's fake tan - which he always griped about - would one day help save his life. His girlfriend Jo Ventham was a die-hard fan of fake tan, no matter how much her boyfriend moaned about the smell.
Scentsation!
In a shift away from the traditional or usual, this season we see more and more fruity and floral notes in masculine and feminine aromas
Jigyasa Kapoor Chimra
When we say summer; clothes change, food intake varies, activities alter; even our lifestyle changes. So, why not the fragrance we use. And when it comes to summer fragrance, technically, we are talking about a lasting smell.


Flaunting filigree
Even literally speaking, it was a classroom session on jewellery making, with the faculty giving a presentation a la "Filigree has been derived from the Latin word filum and granum meaning thread and grain!" The Jewellery Design and Technology Institute-35 held a workshop on a traditional craft from Orissa, filigree, on Wednesday.

Poll Khol on Orkut
As the elections fever grips India, we at Google™ India are geared up to bring to you the voice of the nation, through Orkut. Orkut has launched an 'official' community: "The Voice of Youth  (www.orkut.co.in/loksabha2009)" a fun and colourful hangout, where you will have the opportunity to express your opinion, and find out what others like you are thinking about, during these important elections.
Relatively speaking


Bon-d-homie
Modern lifestyle and career demands leave little time and energy to spend with the spouse. How can couples best utilise summer getaways as an opportunity to bond better?
Switch off
"I strongly believe that a summer getaway for at least 10 to 15 days is a must. But care should be taken when one is out on a vacation. Usually, we go out for a holiday physically but carry our mobile phone along, which practically means that we are mentally still in our daily routine.

Mail bonding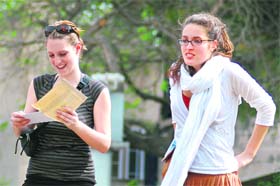 You've got mail: That's what the girl in white seems to be saying as her friend browses through the contents of her letter. Lifestyle photo: S. Chandan
LAUNCH PAD
Clothing for life
Neva, a brand for thermal wears is now committed to present before you premium quality stylish functional wears in 'affordable' price range. Breaking free from the age-old image of a thermal wear company, Neva has now evolved a whole new concept of Clothing for life, for both men and women in five essential functional wears –
Koffee break
Hurrah for honesty
Sincerity helped me win the title, Miss India Universe Ekta says
Shilpa Raina
Ekta Choudhury, crowned the Pantaloons Femina Miss India Universe 2009 Sunday, says that apart from the month-long rigorous classes in grooming, fitness and diction for the event, her honesty and never-say-die attitude helped her in winning the title. "I always believed in myself.
Knot in trouble
Hrithik and Suzanne's paradise not lost
Bollywood superstar Hrithik Roshan has rubbished reports of his having split with wife Suzanne saying that he is having "a picnic" with her and their kids. A leading Mumbai tabloid reported that Hrithik and Suzanne have parted ways when she had moved to her parents' house.


Playing safe
No movies with my dad, please: Sonam Kapoor
Subhash K. Jha
Those who want to see Sonam Kapoor and her dad Anil Kapoor together on screen will have to wait for a long time. The Delhi 6 girl thinks Kapoor senior looks far younger than his age to play a conventional father in a Bollywood flick. The buzz around tinsel town is that there's a pivotal role in Anil's home production - of Sonam's father - that he was supposed to play. But Anil is not doing the film titled Ayesha. "Do you really think he looks like my Dad? No! He doesn't. He looks far younger than his age. And that's why I wouldn't want him to play my father. The role in Ayesha that you're mentioning didn't suit him.
Cover story
Bipasha Basu unveils latest cover of Filmfare
Bollywood actor Bipasha Basu unveiled the latest cover of the film magazine Filmfare. It is not the first time that Bipasha has posed on the cover of Filmfare, the latest being entitled "Some like it hot".
Wrong moves
Case filed for obscenity against Akshay and wife Twinkle
Bollywood actor Akshay Kumar and wife Twinkle Khanna may land in further trouble for their alleged obscene act on the ramp following the filing of a case against them in a local court.