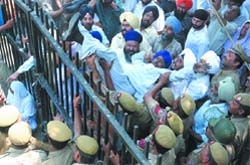 Sikhs protest against Congress leaders Jagdish Tytler and Sajjan Kumar for their alleged roles in 1984 anti-Sikh riots, outside Karkardooma Court in New Delhi on Thursday. Tribune photo: Manas Ranjan Bhui
Forces within Cong weakening Hooda: HJC secy
Faridabad, April 9
In a significant statement, the general secretary of the Haryana Janhit Congress (BL) Subash Batra today said that there were some forces in the ruling Congress in Haryana who were trying to weaken Chief Minister Bhupinder Singh Hooda.
Kapil addresses rural voters
New Delhi, April 9
The Congress candidate from the Chandni Chowk constituency, Kapil Sibal, today said the UPA government could lead India to becoming one of the three biggest economies in the world by 2050.
Jigisha Murder
Ravi is a psycho who enjoys killing: Police
New Delhi, April 9
According to Delhi police officials, the interrogation of the five arrested accused in the Jigisha Ghosh and Soumya Vishwanathan murder cases has brought forth the 'merciless and ruthless attitude' of the prime accused Ravi Kapoor. Contrary to the earlier perception that Ravi Kapoor and the gang indulged only in robberies and Jigisha's murder was a case of robbery-gone-wrong, the thorough interrogation of Ravi has now led the police to believe that the accused is a "case of psycho-on-loose who got vicarious pleasure out of killing".
Communal Violence
JNU expels 3 accused from hostel
New Delhi, April 9
Proctor's office of Jawaharlal Nehru University (JNU) today released its verdict against the offenders of communal violence that took place in Lohit hostel of the university on March 17.
Fee hike issues rages in NCR
GNIDA to cancel lease deeds of schools flouting admin rule
Greater Noida, April 9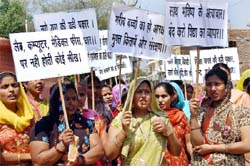 The public schools in Greater Noida, which have ignored the district administration's recommendation on fee hike, have been threatened by Greater Noida Authority that their lease deeds could be cancelled if they fail to fall in line.
Parents to make it a poll issue in Delhi
Parents protest against hike in fee by private schools, outside Rock Ford Public School at Secotor-10 in Gurgaon on Thrusday. Tribune photo: Rajesh Kumar Yadav
School building sans boundary wall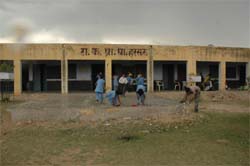 Dhani Harsaru (Gurgaon), April 9
It's a glaring case of state education department authorities' callous approach towards the safety of small children.
School land given to Reliance?
Government Primary School, located on Pataudi Road at Dhani Harsaru in Gurgaon, which does not have a boundary wall and gate. Tribune photo: Sayeed Ahmed.
Lift tragedy: MD of DLF booked
Gurgaon, April 9
The police today registered a case under Sections 338 and 201/34 of the IPC against four officials of DLF Company on the complaint of Shahank Sharma, father of Nishant, who is struggling for his life in a hospital after he got stuck in a lift on April 7.
Shokeen liquor withdrawn
New Delhi, April 9
Delhi finance minister A.K. Walia today stated that a country liquor brand "Shokeen" has been withdrawn in public interest with immediate effect. Bottles of "Shokeen" contaminated liquor were being sold in Delhi by bootleggers.
Son stabs father over liquor
New Delhi, April 9
A 25-year-old married man stabbed his father to death last night when he tried to stop him from consuming alcohol in the Vishwas Nagar area of East Delhi.
2 scribes held for extortion
New Delhi, April 9
Two journalists have been arrested here for allegedly blackmailing and trying to extort money from a builder, the police said today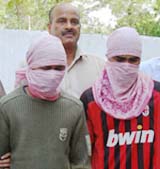 The Gurgaon police on Thursday held two criminals allegedly involved in a loot case in the city. Tribune photo: Sayeed Ahmed
Headless body of 12-yr-old boy found
Greater Noida, April 9
The headless body of a 12-year-old boy has been recovered in Dadri. The boy is suspected to have been murdered late on Tuesday evening in Phulpur village falling under Jarcha police station. It is being suspected that the body was dumped there by the murders while fleeing.
Dreaded criminal nabbed
Greater Noida, April 9
The police has arrested dreaded criminal Sanjay Nagar, who was wanted in kidnapping a brick-kiln owner as well as in a carjacking case.