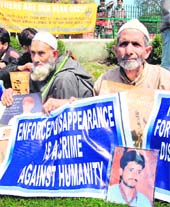 Family members of missing youths hold a protest in Srinagar on Friday. Tribune photo
40 hurt as youths clash with cops
Srinagar, April 10
At least 40 persons were injured in clashes between protesters and the police in Srinagar downtown, and two major towns of Sopore and Baramulla in north Kashmir after Friday prayers today.
Woman killed in blast
Udhampur, April 10
A woman died in a mysterious blast in Bhaderwah town early this morning. Basara Begum, wife of Bashir Ahmed of Chanyas Gandoh, a resident of Bhaderwah, was walking in his kitchen garden when the blast took place.
Nephew kills truck driver
Jammu, April 10
An angry mob blocked the Jammu-Pathankot National Highway for an hour in protest against the murder of a truck driver in the Hatli Morh area of Kathua district. The protesters placed the body of the driver in the middle of the road and demanded the arrest of the accused immediately.
Pak intruder shot
Jammu, April 10
BSF troops shot dead a Pakistani intruder on the border near Suchetgarh BoP in Samba sector this morning. A BSF spokesperson told The Tribune that the alert BSF troopers of 112 Battalion guarding the Suchetgarh BoP near Galhar village in Samba sector noticed some suspicious movement near the border around 3.15 am today.
23 injured as bus turns turtle
Srinagar, April 10
At least 23 passengers were injured when a private bus turned turtle in Kulgam district today, a police spokesman said. The bus was on its way to Kulgam from Damhal Hanjipora and when it reached Chamgund, its driver lost control over it, causing it to overturn, the spokesman said. He said 23 passengers were injured in the accident and hospitalised, where the condition of three of them was stated to be serious. In another accident, a truck hit and critically injured a person near his house at Magam in Budgam district. The injured was hospitalised, the spokesman said. — PTI
Shopkeeper shot at, hurt
Jammu, April 10
A shopkeeper sustained bullet injuries when two unidentified motorcycle-borne youths opened fire on him in the main market of Vijaypur town in Samba district around 3.45 pm today. The injured has been identified as Kapil Sharma of Vijaypur. Kapil was rushed to a local hospital from where he was referred to the Government Medical College here. Sources said the victim, who owns an electronics gadgets shop in Vijaypur, was busy working when two youths came on a red-colour motorcycle. One of them opened fire on Kapil and they drove away, he added. — TNS
Govt driver held on rape charge
Jammu, April 10
The police caught a 45-year-old driver of the State Motor Garages while raping a minor girl in Krishna Nagar area of the city here today.
13 samples of sweets, adulterated milk lifted
Jammu, April 10
In view of ensuing Baisakhi festival, the anti-adulteration drive launched by the Jammu Municipal Corporation has taken fast pace. The Health Wing of the JMC has lifted 13 samples of sweets and carbonated water etc.
NC blackmailing people: Mehbooba
Srinagar, April 10
PDP president Mehbooba Mufti has said her party would make the government accountable for its incompetence in addressing security and developmental concerns of people.
Good Friday observed
Jammu, April 10
Christians across Jammu today observed Good Friday as a day of prayers to mark the crucifixion of Jesus Christ. The members of the community thronged various Churches in the region from the early morning to pay their obeisance to Jesus Christ. "On this day Jesus took away the sins of the world and was crucified. We observe the day as Good Friday, as according to Bible it was on Friday when Lord Jesus was crucified," Peter, a Christen followers, said. Mass prayers were held at various churches in the region and were attended by a large section of people from the community. —TNS
Panthers release manifesto
Jammu, April 10
The Jammu and Kashmir National Panthers party today released its election manifesto for the parliamentary election as party chairman Prof Bhim Singh would be contesting from the Doda-Udhampur seat.
CM welcomes new MLCs
Jammu, April 10
Chief Minister Omar Abdullah said yesterday that entry of well-versed and experienced members into the Legislative Council would ensure lively and extensive deliberations on public issues in the sessions to come.
Plan to boost literacy rate
Jammu, April 10
With an aim to bringing the state literacy rate on a par with the national rate, the Education Department will soon implement the Rashtriya Madhyamik Shiksha Abhiyan (RMSA) on the pattern of the Sarva Shikha Abhiyan (SSA). The RMSA aims at promoting secondary and senior secondary school education.
Diesel engine a centre of attraction
Jammu, April 10
A diesel powered rail engine has become a centre of attraction at the Jammu Railway Station. The engine, which has been built at Integral Coach Factory (ICF) in Chennai, will be sent to Srinagar at night.