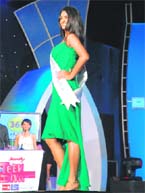 Staged nuptials, nah!
Rakhi ka Swayamvar will bring a new twist to reality TV. But are people and suitors game for a real marriage through a reel show?
Pronounce Rakhi Sawant and there could be a storm in a teacup. Our very own controversy queen, she would do anything, just anything, to stay in the limelight (and well, we cannot deny people lap it up too) and the latest jhatka from her side comes in the form of a reality show that would trace the journey of a bride-to-be, from selecting her groom to the marriage ceremony, all captured on TV.


Devina Malhotra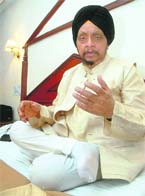 Prize catch
The Indian classical vocalist duo of Singh Bandhus has been enthralling the audience for the past over six decades. Both the gifted brothers, Surenderpal Singh and Tejpal Singh, have cultivated an amazing sense of synchronisation and understanding, such that the musical notes they've produced have made for a cohesive melody. Highly decorated, the younger of the Singh Bandhus, Padmshri Surenderpal Singh, is in the tricity to receive the Amrit Kirtan Trust's " Shiromani Sangeetkar Award- 2009 ". He shared his personal experiences and views on music: How do you feel about this honour after the National Sangeet Natak Award and Padmshri conferred on you?

Maiya mori main nahi makhan khayo…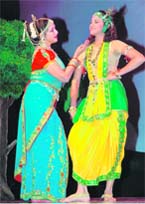 Bollywood actor Hema Malini playing Yasoda Maiya role as her daughter Ahana performs Kanhaiya in the play titled Krishna Lila.
Yeh ladki hai allah!
Ask Rakhi about the concept and she says, "Its perfect. Nothing like this has happened so far. This show would see me getting married to the guy not of my dreams but of reality. Rakhi Ka Swayamvar would see 15 prospective grooms from across the length and breadth of the country and they would be selected over the duration of the show." I would perosnally visit the homes of the prospective grooms to know their families better. And whats must to participate in the show is a complete family. Mummy, daddy, bhaiya and bahan. I want a whole family," says Rakhi. And what made her take such a big decision and she says, "This is not mine, but Gods decision. I believe in Bible and it says, "Tumhe duniya se hat kar chalna hai', and I am doing that.
Kati patang
I've lost a friend: Asha Parekh remembers Shakti Samanta
Asha Parekh, who did some of her most memorable roles under the direction of Shakti Samanta, says that with his death she's "lost a friend and a filmmaker who was a pleasure to work with." Samanta passed away on Thursday at the age of 83. "I feel miserable because all my directors are going one after the other. Two years ago I lost another of my favourite directors Pramod Chakravorty...I did two fine films with Shaktida Kati Patang and Pagla Kahin Ka," Parekh said.
Right Ray
Satyajit Ray's films on economic hardship resonate well during the downturn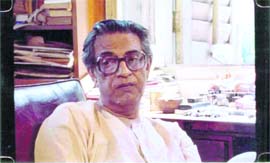 As a perspective of Satyajit Ray's films opens in New York Wednesday, the New York Times says the great Indian director's films dealing with economic hardship may resonate strongly with audiences during the current downturn."This series is full of memorable, affecting movies that have been just about impossible to see in recent years, like Devi (1960), a remarkable exploration of religious madness, and Kanchenjungha (1962), Ray's first colour film," the influential US daily wrote Friday.
Ghost from the past
I salute those who dared to watch Ek Se Bure Do: Arshad Warsi
Within hours of the release of his latest flick Ek Se Bure Do, Arshad Warsi has apologised to his fans for "subjecting" them to the film.


Vintage point

On the occasion of Baisakhi, the Vintage and Classic Car Club members drove these beauties to the hill town of Kasauli Lifestyle Photo: Vinay Malik
Saleem speak
Maa da Laadla singer Master Saleem, who has drawn comparisons with sufi sensation Kailash Kher, believes that he is "more fresh and original" than the latter. Although he praised Kher's attempts at songs like, Teri Diwani and Allah Ke Bande, Salim says that Kher's has mostly sung the famous works of legends Nusrat Fateh Ali Khan and other sufi singers which makes him "repetitive".
Eye to eye
American sunglass company launches its collection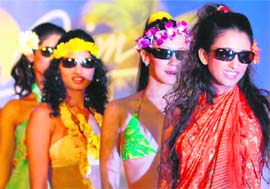 Models sashayed on the ramp at a fashion show in Mumbai to showcase fashionable and trendy eyewear of sunglasses, incidentally designed and made by a US-based company. According to the manufacturer, Maui Jim brand is the Numero Uno in the segment of sunglasses in the US. The collection launched at this fashion show, held here last evening, had a combination polarised lens technology with sunglasses shapes designed to appeal to consumers in India.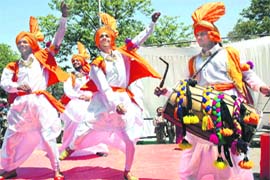 Baisakhi bonanza
Meena Bazaar brought something special for the city residents on the occasion of Baisakhi. The harvest festival of north India is supposed to be a lavish and delightful occasion and so the store brought on display some equally lavish and enchanting range of ethnic wear on forthcoming April 12 and 13. Music to match the spirit and chilled lassi served in kulhars as welcome drink was a pleasant surprise for all the shoppers.
Past perfect tense
Bollywood director Gurbir Singh Grewal through his latest flick has tried to brings forth a culture called Coffee House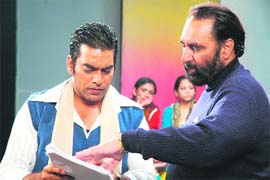 It all began in the early 16th century with the opening of the first coffee café in Europe. Prolonged discussions, heated debates followed by authority toppling revolutions, everything probably initiated from here over a steaming cuppa. Today, centuries down the line, when these discussions have made a shift to conference halls, Gurbir Singh Grewal, director of the upcoming flick, Coffee House has made an attempt to highlight the contribution of these cafes, "It is always good to draw inferences from the past, especially when they can bring a worthwhile change in the society."
Green future
Engineering students come up with a three-seater eco-friendly car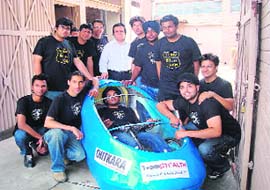 It's a definite prototype for future, an indication of the fact that our technological successes haven't reached a saturation point and more importantly a hope that man will make all efforts to save earth. This invention of a three-wheeler car, Stealth by a 13-member team of Chitkara Institute of Engineering and Technology tests well on all the parameters. Even without looks of a luxury car or pick up and sturdiness of an SUV, as its inventors claim, "It'll be the solution to various problems in the coming times."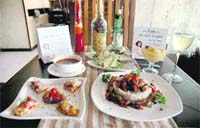 Fare deal
On its 1st anniversary RIO presents an Italian style five-course sit-down candle light dinner with complimentary glass of beer/wine for Rs 575 per head. Beginning 11th April to 10th May 2009. One can relish the Italian cuisine at the Hard Rock Lounge/Bar and enjoy a rocking ambiance. — TNS

Geek Speak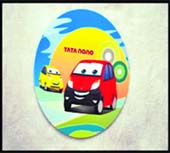 Haute pick
Nano effect
Official TATA NANO merchandise
Pen Drive
A heavy duty rugged Rubber Pen drive with 1 GB storage space. This pen drive is specially designed in the shape of Nano.Tagged Rs 700, Qty 1. Mouse Pads Mouse pad with the image of Nano it will keep on reminding you of what you own while you are working or just surfing the net be it office or home.
Fun on the go


Driving a car is certainly one of the best things to do for many people. But, it is a fact that sitting in back seat is not all that adventurous and it is easy to get bored on long trips. One way to deal with this type of situation is by installing car DVD players. Although there are lots of companies offering car DVD players but choosing one amongst the available types is the real catch. You have to survey and inform yourself about different types of car DVD players before finally making a purchase.
Animated accolades
Tricity animators shine at the 1st Annual FrameFlixx Awards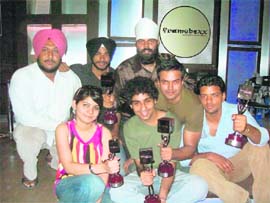 The recently concluded 1st Frameflixx awards for animation, Visual Effects & Short Films in Mumbai saw student animators from the city taking away five awards. "The first edition of Frameflixx awards was a resounding success and had an extensive participation from student animators, visual effects artists and film makers from across the country", said Naveen Gupta, executive director and CEO of Frameboxx Animation and Visual Effects, which organised the competition, with an aim to bring together talented student animators and artists on a unique platform with the industry and showcase and reward their creativity.
Star Signs
In limits
"We are addicted to the benefits of technology and now there is no escape from it. So, what do you do? Live with it," offers Punjabi singer Ashok Masti. However, he feels everything, including technology should be used within limits. "Anything misused or overused looses its importance," he adds. Ready with his next album Ashok Masti's Crossover, which he plans to release after Indian Premier League (IPL), Ashok defines technology as 'inevitable carrier'.