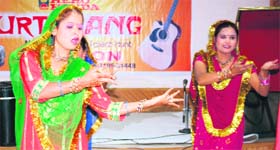 Girls perform during a singing talent hunt 'Surtarang' organised by the Sangam Kala Group in Jammu on Sunday. Photo: Inderjeet Singh
Kandhar Case
Farooq's remarks politically motivated: BJP
Jammu, April 19
State BJP president Ashok Khajuria has termed the remarks of NC president Farooq Abdulla on the handling of the Kandhar hijacking case as 'unfortunate' and 'politically motivated'. He asked: "Why Farooq did not speak over the issue in the past 10 years?
PDP to protest water-sharing pacts
Udhampur, April 19
President of the PDP Mehbooba Mufti today warned to launch a mass movement if unfair water-sharing agreements were not scrapped and Dulhasti as well as Salal hydroelectric projects were not handed over to the state.
Mufti seeks mandate to carry forward PDP agenda
Srinagar, April 19
PDP patron Mufti Sayeed has expressed concern over the drastic decline of over 25 per cent in the voting turnout in the Jammu-Poonch constituency in the first phase as compared to that in the Assembly elections and blamed the state government's failure in addressing the people's political and economical concerns as one of the reasons.
PDP pursuing divisive politics: Sagar
Srinagar, April 19
Senior NC leader and Minister for Rural Development and Panchayats Ali Mohammad Sagar today accused the PDP of pursuing divisive politics.He said the main opposition was driving a wedge between different regions and religions of the state.
PDP moves EC again
Srinagar, April 19
The PDP has accused the ruling NC of violating the model code of conduct and asked the Election Commission to take action against it. "I am enclosing herewith a picture of a state police vehicle decorated with the flags of the NC.
BSP intensifies campaign
Jammu, April 19
The BSP has intensified its election campaign for the Doda-Udhampur parliamentary segment and is planning to use its successfully tested 'social engineering' formula here that won the party full majority in UP.
Azad campaigns in Bhalesa
Udhampur, April 19
As Congress candidates have been facing a tough competition from their rivals on the Udhampur-Doda Lok Sabha seat and the Bhaderwah Assembly seat, former Chief Minister Ghulam Nabi Azad today addressed a series of public meetings in support of the party candidate in his home district of Doda.
Bhaderwah
Development may cost votes here
Bhaderwah, April 19
Development often gets votes. But in this "chotta Kashmir", two major development activities-- installation of electric meters or setting up of a university extension campus --may cost many a vote to the politicians. One has already led to a poll boycott call.
Security of Nirmal Singh beefed up
Jammu, April 19
The BJP today confirmed reports that the security of Nirmal Singh, party candidate from the Udhampur-Doda parliamentary seat, had been beefed up. Following intelligence inputs of a possible terrorist attack on the BJP candidate, the security was tightened immediately while Nirmal Singh was addressing a meeting in Palmar in Kishtwar district yesterday.
Media 'needs to portray' Kashmir fairly
Srinagar, April 19
Saying that the Kashmir problem is being seen through the prism of international terror network, noted journalist and special correspondent of The Hindu Shujaat Bukhari said today the post 9/11 situation had led to a change in reportage vis-a-vis Kashmir.
Mendhar repoll peaceful
Udhampur, April 19
The repoll in the 44-Salwa polling station of the Mendhar Assembly segment of Poonch district was held today peacefully. The authorities had taken preventive steps to avoid any untoward incident in this sensitive polling station.
Udhampur poll arrangements reviewed
Udhampur, April 19
District election officer Ajay Khajuria today reviewed poll arrangements for the April 23 Lok Sabha election. Minute details of various aspects for smooth conduct of the Lok Sabha election like training of polling staff, preparation of EVMs, plan for spare EVMs and collection and shifting of EVMs, arrangements for postal ballots etc were discussed.
Wheat harvesting on in Jammu
Jammu, April 19
Wheat harvesting has started in most pockets of Jammu division. The farmers this time have been relying on labourers from Bihar and other states for harvesting of wheat.
Give petitioner job on compassionate grounds: HC
Jammu, April 19
The High Court directed the state to appoint the writ petitioner at a suitable post in accordance with SRO 43 by relaxing the age limit. The entire process was directed to be completed within a period of two months from the date of receipt of judgement by respondents.
Book on pending cases released
Srinagar, April 19
At a time when emphasis is being laid on speedy disposal of cases, thousands of habeas corpus cases are pending in courts of Srinagar and other district courts of the Kashmir valley.
Hindi play "Lekhak" staged
Jammu, April 19
Hindi play "Lekhak" written by Balwant Gargi and directed by Balwant Thakur was staged here today. The play showcases the pains and sufferings of a writer. The play tries to portray the fate of a creative person who is not being understood by the people living around him.
BSF picket gutted
Srinagar, April 19
A BSF picket was gutted after a kerosene stove kept inside it burst in Kupwara district, sources said today. While BSF personnel manning the picket at Bhore village in Keran sector escaped unhurt, a rifle and some ammunition were gutted in the incident last evening, the sources said.