The activism in city goes full-bloodied with the young brigade taking up causes and ready to bring that promised change. Manpriya Khurana and
Neha Walia check out

No flowery words, no jingles, jazzy introduction, impressive preface, catch lines, attention-grabbing gimmicks, nothing doing. When you write for causes, words fall short, inapt, perhaps this anecdote pulled out from the website of one of the NGOs itself might help.
A man, once walking by the beach, sees starfish washed ashore. Fearing they'd die on being exposed to first rays of sunlight, he picks them all up and starts throwing them back into the sea. Another man passing by asks the logic behind his endeavour, 'What difference does it make? There are millions of starfish, how many would you save?' The previous man picks up yet another, takes two steps, flungs the star fish back into the sea and says, 'It makes a difference to this one'.
Making a difference is what makes all the difference. And in city we have NGO's toeing the right thought with the most powerful resources of our time- Youth
United we stand…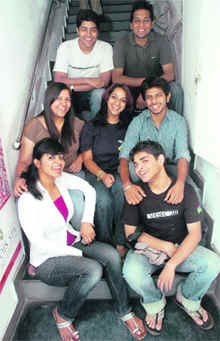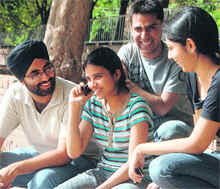 Photo byVinay Malik
If you thought that was all we had, here's a dose on the other active social groups that are making a statement with their cause camaraderie. Mitra, a social group from UIET, actively came out to support the recent Earth Hour celebrations. It has been around for long and well, managed funds through a rather fun-way, like tambola games and organising cultural events.
Their name spells it! And puts their purpose and nature beyond obvious. Anyways, Youth United, a student NGO formed in 2006, already brags of 50 active members, 100 volunteers, two chapters; Chandigarh, Delhi with one in Patiala soon to be opened. They don't come without their share of problems, "Frankly speaking, funds are a problem. We have a very hand to mouth existence, but for each event we somehow manage," says Saloni Bajaj, vice president Youth United. Their latest effort, Smiling Future, focuses on kids from underprivileged background.
"In one of the events, we had thousand forms filled from houses in Colony no. 5, talking of several problems. Drugs and education came out to be the biggest one." She adds, "Right now we are focusing on the NGO part of the organisation." Focusing also includes picking up stumbling blocks spread in the way. "Apart from the paucity of funds, there's not much support from the administration. But yes, Chandigarh Police has been very supportive." Why don't you go; add to their list of supporters?
A passion called Madness
BIMAD- it isn't just some fancy nomenclature for a group of idealistic youngsters. Every alphabet counts; 'because I make a difference' came into being for exactly the same reasons and of course the madness to route out wrong. "We were a group of vella college people, would discuss flaws in society. While everybody wants change, how many themselves be the change," questions Garima Bhayana of U.I.E.T. The student initiative of 8-10 founder members is the newest on the block; registered as late as May last. The non-profit, self funded registered as a Society organisation's not limited to a single cause. "We work on diverse issues, it could be eve-teasing, environment, not wasting water…" she clears the air.
No wonder, the projects take them to schools, colleges, wherever, but the 1800 strong volunteer team's not been a smooth sailing. "Funds are a problem, at the end of the day you need fuel to run your car. We do not have dearth of ideas, but even after running there's been no sponsors," apprises Jaskaran Singh Arora, 3rd year U.I.E.T student, founder member, and the mind who came up with the name. He recalls, "Once we had to put stickers, 'Please switch off the tap, it doesn't take long' above taps at public places, but we did not get permission from the MC on the grounds of defacement."
In the meantime, the guys have things in place to ensure continuity, "When we got together, we made sure a lot of first year people joined us, so by the time we pass out and they get to take the reins." Live long!

| | |
| --- | --- |
| Youth United. Photo by Vinay Malik | Environment Saviors |
Green activism
Not that there weren't tree plantations drive, 'don't waste water' kinda campaigns happening earlier, but the need to improve environment with a 360 degree approach catalyzed the dawn of Environment Saviors. "We wanted to do something about the environment, same time not restrict our activities and take a holistic approach to problems," says Brhamesh Alipuria, from UIET. "We took up Earth Hour project wherein we publicised on the net, spread awareness about the issue, involved media." The eight-member organisation though has not been formally launched but is open to volunteers. "Our exams are on, so our next project's going to be on paper management," he adds.
Think global, act local
Here's a student initiative that started on the concept of think global, act local and giving a meaning to it. AIESEC, an entirely student managed organisation, has amalgamated corporate and social responsibility into one. "We have diversified our work into three core areas- corporate development, public development and education," says Akkriti Bhatt, vice president, communications and information management. Their burning issues? "We have undertaken various projects like Genesis and ASK in HIV AIDS programme, Footprints for child rights, Pragati in rural and community development, Project Conserve on environmental issues. Our corporate projects include Eureka and Pheonix," she adds. To fight global issues, they send volunteers to work with NGO's in various countries through our exchange programme. The age of the organisation almost similar to age of its current oldest member, say 23, it cashes on the most powerful resource ever- youth. Like most of them, money doesn't look like a problem. "We partner over 3000 organisations globally that includes names like UNESCO, WHO, ABN AMRO. We send interns and volunteers through our exchange programme to work with corporates, NGO's and schools across 91 countries," says Akkriti. Joining them are the inspired young souls with a passion for serving from 850 universities around the globe. The local chapter has around 60 people in Chandigarh and 14 local committees across India. From street activities to organising auction dinners, these guys sure know how to brand their cause. And it's not all work and no play. The general body meetings over coffee or a cool resort in Shimla mean fun too. "It's important to keep our youthful energies inspired," says our young comrade.
Lone Ranger
Started in 2007, this organisation is more or less one-man army. The goal was to associate young people with the idea of democracy, "We want them to know that they have an option when it comes to running the country and that option is them," says Anurag Chauhan, professional advocate and the founder member of the organisation. The core work highlights the loopholes in the system, be it then Panjab University, remember last year's illegal felling of trees in PU, this man went to jail in protest, or the creating a political awareness. "People should first know their rights and then demand their fulfillment," he says. He describes the Indian mindset through these words, "We want a Bhagat Singh to be born again, but in our neighbour's house and not ours," he says. "We have no right to criticize policies when we ourselves are not doing anything about them. "It's not easy to wake people up, though," he adds. "It needs a lot of inspiration, time and manpower and money too." so just like the inspiration and the spirit, money too is self generated, through events and campaigns. "The day we stop escaping from issues, I would think we have broken the ice." His has a straight funda of believing in one's effort and not depending on others to change the world for you. "People think you are mad, and one wants to get mad with you, so they don't want to be a part of the process. But the day we start escaping form issues, we will break the ice between us and the change," he says. His future plans include a 24/7 public helpline that will bail you out from the red tapist culture. Amen!
manpriya@tribunemail.com
Clean sweep
We know them as the determined bunch that changed the face of Student Center, the heart of all the campus activity. Their weapon, a broomstick, and their passion to 'clean up' things and the society, inspired many and made a breakthrough by changing mindsets. But just when things looked inspired enough, Sankalp suddenly made the disappearing act. Wonder why? "Well, when we started three years back, we were a group of freshers, hoping to make a difference. But then for while now our studies have taken priority," says Nitin, founder member of Sankalp. But their hibernation doesn't mean that social service has taken a backseat. " We are planning to get back together once our academic pressure gets over," he adds.
Have a heart, got the will.
Think and take your pick.
Reach out at:
www.youthunited.in
www.bimad.in
www.aiesecchandigarh.org
www.environmentsaviors.org