Illegal MLA's hostel occupants owe Rs 30 lakh to govt
Jammu, April 26
Even though Speaker of the Legislative Assembly Mohammed Akbar Lone has served notices on "illegal occupants" of MLA hostels in the twin capital cities, former legislators and government employees enjoying political patronage continue to live in the secured hostels. They also owe lakhs of rupees in arrears to the state government.
Unplanned spending costs Tourism Department lakhs
Jammu, April 26
Tourism is the backbone of the state's economy and the government has been working on providing better facilities to tourists by undertaking various developmental works. However, unplanned expenditures by the Tourism Department have resulted in a loss of lakhs of rupees to the state exchequer.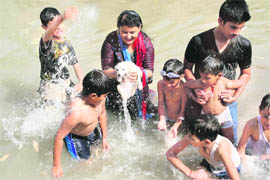 What can be better than a dip in a canal to beat the heat seem to say these Jammuites. Photo: Inderjeet Singh
Fresh MC poll demanded
Jammu, April 26
The Jammu West Assembly Movement (JWAM) alleged that the Jammu Municipal Corporation (JMC) has failed to provide basic amenities to the people of the city particularly to the Jammu West Assembly constituency and demanded dissolution of the MC and holding up of fresh elections in the corporation.
SIM cards 'accessible' to militants
Rajouri, April 26
Militants may easily buy mobile SIM cards in Rajouri and Poonch border districts in someone's name just by paying extra money as mobile service providers are allegedly selling them without proper verification. However, a local mobile service provider claimed that they issue SIM cards only after proper verification and these were mere allegations.
'AK-47' fetches Rs 85,000 for Jammu RTO
Jammu, April 26
While others in the fray kept twiddling their thumbs, Mohammed Rafiq Mir of Bhatindi finally walked away with an "AK-47" after coughing up a total amount of over Rs 1 lakh here yesterday.
Abdul Gani Lone's associate, Sikh leaders join PDP
Srinagar, April 26
Prominent Sikh leaders from the Kashmir valley joined the PDP today. They include Master Kuldeep Sigh Bali, a former President of the Gurdwara Prabhandhak Committee, Srinagar and Gurjeet Singh, president, Gurdwara Prabhandhak Committee, Budgam.
Draft drug policy with govt
Jammu, April 26
The state will finally have a drug policy. This will improve the situation with regard to drugs availability in government-run health institutions. Official sources told The Tribune that Health Minister Sham Lal Sharma had contemplated measures to put in place a foolproof drug policy on the lines of Tamil Nadu.
Cops suspended for firing at man
Rajouri, April 26
Four policemen, including the police checkpost in charge, was arrested and suspended last evening for firing at a car-borne person for not stopping at a police checkpost at Dalogra, near here. Even as the person suffered a bullet injury and is stated to be out of danger, the higher authorities of the police have taken strong notice of the incident.
Hit-and-run case
Widow awaits justice
Jammu, April 26
In the absence of at least two witnesses, a young woman, who lost her husband in a hit-and-run case in the Ban Talab area of Chinore on April 4, continues to move from the pillar to post in search of justice.
Developer's kin commits suicide
Jammu, April 26
Mystery shrouds the death of a famous property developer's youngest brother, who allegedly committed suicide at his residence in Raipur Satwari here today.
PDP floated self-rule to negate autonomy resolution: CM
Srinagar, April 26
Denouncing the PDP's dual trait of using underhand means to relish power and simultaneously shedding crocodile tears for resolution of the state-centric issues, Chief Minister Omar Abdullah has said the PDP floated the imaginary idea of self-rule on behest of the BJP to scuttle the NC autonomy resolution adopted by three-fourth majority of the state legislature.
Cultural programme organised
Jammu, April 26
A cultural programme was organised by the J&K Academy of Art, Culture and Languages to mark the celebration of composite cultural ethos of Kashmir here on Friday.
Bomb defused near LoC
Arms, ammunition seized
Srinagar, April 26
The Army today averted a major tragedy as it defused a bomb at Wandoo village near the LoC in Kupwara district, the police said.
Arrangements for yatra reviewed
Jammu, April 26
A high-level meeting was held yesterday to review the arrangements for the annual Amarnath Yatra to ensure adequate facilities for pilgrims at the Jammu base camp, Yatri Bhawan, Bhagwati Nagar. Divisional Commissioner Pawan Kotwal chaired the meeting.
Govt employee among 2 held for helping ultras
Jammu, April 26
The security forces today arrested two persons, including a government employee, for allegedly harbouring two hardcore ultras and then facilitating their escape during an encounter in Doda district.
Fire ravages wheat crop
Jammu, April 26
A devastating fire destroyed wheat crop on 6 acres in the Badi Brahamana area, 15 km from here, today. The police said it was not immediately known what caused the fire. — PTI