BJP has done better in phase III: Jaitley
New Delhi, May 1
BJP's general secretary Arun Jaitley today claimed the party and its allies had performed better in all states that voted in the third round of polling, except Karnataka.
Delhi border to be sealed on May 5
New Delhi, May 1
As May 7, the polling day for the seven parliamentary constituencies in the national Capital approaches closer, the Delhi police is working over-time to plan and re-plan its strategies to avert any untoward incident.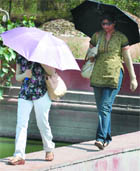 Mercury crosses 44°
New Delhi, May 1
It was yet another difficult day for all residents of the Capital with the mercury soaring high recording a maximum of 44.2° Celsius, which is a departure of five degrees from the normal and is said to be the season's hottest day.





Girls try to beat the heat with umbrellas and gloves in New Delhi on Friday.Tribune photo: Manas Ranjan Bhui
Idea of Punjabi wire service supported
New Delhi, May 1
Arunachal Pradesh Governor J.J. Singh recently supported the move to launch a Punjabi wire service and called for unified efforts to sustain the Punjabi language.
Crime branch to probe attack on BJP leader
New Delhi, April 1
The Delhi police's crime branch today took over the investigation of the attack on Sunil Jindal, district BJP vice-president.
17-yr-old raped in car
New Delhi, May 1
Three men in a car dragged a 17-year-old girl into their vehicle and raped her in North Delhi today. The police said the men abducted the girl from outside her JJ Colony home in Shalimar Bagh when she was going to a nearby public toilet. After raping her, they dumped her in Narela. "Policemen patrolling in Narela found her on the road and took her to a hospital. Doctors have confirmed sexual assault," said a policeman. He added, "A case has been registered." — IANS
Workers protest layoffs
New Delhi, May 1
About 200 industrial workers from Okhla, Mayapuri, Wazirpur, Defence Services Officers Institute (DSOI) and Safdarjung Hospital today demanded repeal of pro-imperialist New Economic Policies (NEP), protection of jobs and wages of workers. They raised slogans against NEP, contractualisation of jobs, retrenchments and wage cuts.—TNS
Cleric held for sodomy
New Delhi, May 1
A cleric of a madrasa was arrested today for allegedly sodomising a 10-year-old boy. Mohammad Shehzad, who had joined the madrasa of Kali Masjid in Hazrat Nizamuddin a fortnight ago, was arrested for sodomising a student on Tuesday. The police said the boy could only muster the courage to tell his mother about the incident on Thursday. The boy's mother along with few other locals then went to the madrasa and thrashed the cleric. The boy's father died some time back and since then he has been living with his mother. — IANS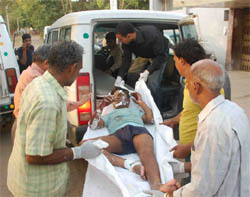 24 get burns in Lakhani factory fire
Faridabad, May 1
As many as 24 persons are said to have received injuries, although the figure is understood to be much more in an outbreak of fire in a shoe factory, Lakhani (Vardan) Pvt Industries located here in Sector 24. The fire broke out at about past 5 pm and the authorities could not douse the fire by 9 pm.

An injured being taken to a hospital at Ballabgarh in Fardiabad. Tribune photo
Swine flu fear hits Noida biz
Scared, exporters cancel foreign trips
Noida, May 1
The fear of swine flu in foreign countries has compelled a number of exporters in Noida to cancel their business trips abroad. Those who were expecting some buyers and visitors from USA and other countries have also advised them to postpone their Noida visits to some future dates.
Woman, daughter go missing at station
Greater Noida, May 1
The wife and daughter of a Noida cloth merchant have gone missing from Dadri railway station in mysterious circumstances. In his report to the police, the trader said he suspected they have been kidnapped.
Doctor told to pay Rs 8 lakh to patient for loss of eye
Noida, May 1
The Consumer Forum, Noida, has ordered a doctor to compensate a patient Rs 8 lakh for the loss of his eye due to doctor's negligence. The doctor will have to refund Rs 20,000 charged as operation fee, the court ordered. The patient, a security guard, had lost his eye during treated in 2003.