Sayeed flays oppressive tactics
Srinagar, May 4
PDP patron Mufti Mohammad Sayeed has expressed over the use of oppressive tactics against a large chunk of population in Srinagar city, saying that this will vitiate the atmosphere further.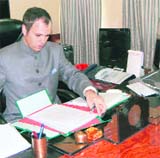 Secretariat reopens in Srinagar
Srinagar, May 4
Civil Secretariat and other state government offices reopened here today for the summer months after these were closed down in Jammu, winter capital of the state, on April 24.
CM Omar Abdullah on the first day in his office at the Srinagar Civil Secretariat, which reopened on Monday after the darbar move from Jammu. — A Tribune photograph
Swine Flu Overseas visitors to be screened
Srinagar, May 4
Following the global health alarm over swine flu, the state government has taken measures to screen all persons from overseas. "The process of screening of overseas tourists entering the state has begun so that anyone found carrying the virus is immediately quarantined," an official spokesperson said.
Notification for Hazratbal byelection issued
Srinagar, May 4
The Election Commission of India has issued the notification for the Hazratbal Assembly byelection. According to the notification, the last date for filing nomination papers is May 11 whereas scrutiny will be done the next day. May 14 has been fixed as the last day for withdrawal. Polling would be held in the constituency on May 30, an official spokesman said.—TNS
Ladakh LS Seat
Regional rivalry threatens political equations
Srinagar: The equations for the Ladakh parliamentary seat, which goes to the polls in the last phase on May 13, have turned unpredictable after it was initially seen as a cakewalk for the Congress, which is fighting the seat with NC backing.
PDP confusing people: Omar
Srinagar, May 4
Chief Minister Omar Abdullah has said the PDP's aim was to create confusion among people on crucial issues and trading people's sentiments for personal gains.
Construction during exams makes students suffer
Jammu, May 4
The ongoing construction work during the examinations time inside Government College for Women, Parade, poses a big challenge to students in performing well in their annual examination.
Farmers rue non-availability of fertilisers
Jammu, May 4
Farmers here are at the wits end due to the unavailability of chemical fertilisers: DAP and urea, as the sowing season for paddy and several vegetables is nearing. Worried farmers complain that "cumbersome and outdated methods" for procurement and distribution of chemical fertilisers is a cause for concern every year during the time of crop cultivation.
Traders meet I-T chief
Jammu, May 4
A delegation of the Associated Chamber of Traders' Federation, Jammu, here today met PK Chopra, chief commissioner, income tax, Northwest region, Chandigarh. The delegation presented a memorandum to the commissioner and apprised him of various problems and issues being faced by the trader community in Jammu.
Garbage on roads draws residents' ire
Jammu: Heaps of garbage, polythene bags, rags and plastic remains accumulated on the main roads have become a constant cause of worry for the Jammuites. This has given a shabby look to the entire city and has become a big hurdle in the free flow of traffic at many places.
Eve-teasers crush girl to death
Srinagar, May 4
In a horrible end to a case of eve-teasing, Shoaib Daryeel of Nowhatta and Ubaid Ahmad Khan of Bulbul Bagh crushed a girl under their Alto car as they drove too close to her in an attempt to tease her yesterday, the police said today.
Rape case against coaching centre owner
Jammu, May 4
The Bakshi Nagar police today registered a case under Section 376, RPC, here against a coaching centre owner, who was arrested for allegedly raping a student in a house in the Shiv Nagar area last evening.
Top Hizbul terrorist shot
Jammu, May 4
The security forces today gunned down a top-ranking Hizbul-Mujahideen (HM) terrorist in a fierce gunbattle in a remote village of mountainous Doda district this afternoon.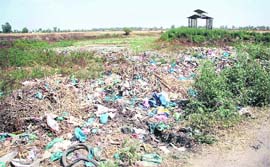 Garbage dumps at cemetery irk locals
RS Pura, May 4
Resentment is brewing among the villagers of Puro Bana near Fatehpur Brahmana against the local municipal committee for converting the village cremation ground into a garbage-dumping site.

A view of garbage dumped at the cremation ground in Puro Bana village of RS Pura. Photo: Interjeet Singh