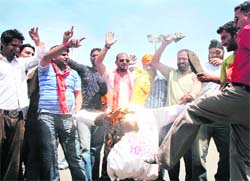 Members of the Kranti Dal protest in Jammu on Wednesday against the Taliban action against Sikhs in Pakistan. Photo: Inderjeet Singh
Complete shutdown in valley
Srinagar, May 6
Tight security has been made in Srinagar and the adjoining districts of Budgam and Ganderbal comprising the Srinagar LS constituency that goes to the polls tomorrow. A complete shutdown was observed across the valley in response to the separatist bandh call today calling for a boycott of the elections while the police averted two major incidents in Srinagar today.
Vohra takes aerial survey of Pahalgam route
Srinagar, May 6
Governor NN Vohra today undertook an aerial survey of the Pahalgam-Chandanwari-Panchtarni route to the Amarnath holy cave shrine to assess the present status of snow and the likely time required to put in place all requisite facilities.
It was murder, not suicide
Udhampur, May 6
The suicide of a newly married girl, which rocked Udhampur town in March, turned out to be a gruesome murder. The postmortem report, which was handed over to the police on Tuesday evening, confirmed that Rajni Bala, native of Chenani area of Udhampur district, was first poisoned and later strangulated to death.
Gang of car thieves busted, 5 held
Jammu, May 6
The Jammu police today claimed to have cracked another notorious gang of car thieves operating in the city for the past one year by arresting five of its members. The gang headed by Kashmir valley-based Tata Sumo operator Sheikh Wasim Ahmad had been involved in almost all cases of car thefts in the city.
Contractors rue delay in payments
Jammu, May 6
The contractors who undertook the multi-crore de-silting project to clean the Ranbir Canal rue that the Irrigation Department does not pay their dues properly, hampering the cleaning work.
Militants 'target' IAF choppers
Srinagar, May 6
Militants are trying to shoot down helicopters over the jungles of Doda in Jammu and higher reaches of north Kashmir, prompting the Home Ministry to advise on appropriate height to maintain during a flight and securing the landing area at the helipad.
Sajad Lone holds road shows in Baramulla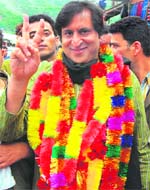 Uri (Baramulla), May 6
For the past 24 days after his decision to contest elections, People's Conference chairman Sajad Gani Lone has been camping in north Kashmir constituency of Baramulla. He has been holding road shows in various Assembly segments in Baramulla, Kupwara and Bandipore districts, comprising the Lok Sabha constituency that goes to the polls in the last phase on May 13.
People's Conference chairman Sajad Gani Lone flashes the victory sign during a road show at Uri in Srinagar on Wednesday. A Tribune photograph
NC 'transporting' bogus voters to Srinagar
Srinagar, May 6
Iftikhar Hussain Ansari, PDP candidate for the Srinagar LS constituency, here today alleged that the ruling NC had started transporting a large number of bogus voters to Srinagar ahead of tomorrow's polling. He has sought the Election Commission (EC) to intervene into the matter and prevent the rigging of polls by the ruling party in the state.
Mufti defends his no-voting act, but wants Srinagar to vote
Srinagar, May 6
During electioneering in the Srinagar LS segment, PDP patron Mufti Sayeed kept on asking people to vote in full strength, saying that the NC benefits from a low turnout.
Class IX students await English textbooks
Jammu, May 6
Though more than a month of the current academic session has elapsed, students of Class IX are still to receive the English textbooks. The delay in providing textbooks under the Sarv Shiksha Abhiyan (SSA) is directly affecting their studies.
Panel sought to probe killing of Kashmiri Pandits
Jammu, May 6
"If an inquiry commission can be set up to probe the killing of Muslims in Godhra, why state or Union governments cannot set up such a commission to probe the massacre and exodus of three lakh Kashmiri Pandits from the valley in the past 20 years," said Prof KN Pandit, president of the Jammu Kashmir Nationalistic Movement (JKNM). This shows the government's discomfiture and unwillingness to hide its own shortcomings in the entire matter, he added.
Minor girl commits suicide
Srinagar, May 6
A 15-year-old girl today committed suicide allegedly by hanging herself in Anantnag district. Ronaq Shafi was found hanging with the ceiling of her room at her Arwani residence in the Bijbehara area, 45 km from here, a police spokesman said, adding that the motive behind taking the extreme step was not known immediately. A case has been registered.
Steps to boost cross-LoC trade soon
Srinagar, May 6
Chief Secretary SS Kapur said today impetus would be given to the cross-LoC trade, which had gained momentum of late. The construction of required infrastructure would be fast-tracked to increase the volume of trade, he added.
Gojri poet dead
Jammu, May 6
Choudhary Hussan Din, a Gojri poet and researcher, died here last night after a prolonged illness. He was 98. He had penned six books on Gojri poetry, besides three anthologies -- "Souch Ko Muqam" , "Pagham-e-Hussan" and "Guldasta-e-Hussan".