Tibetans 'boycott' Chinese goods
Leh, May 15
The Tibetan anger over the recent Chinese "repression" of its culture and people has taken a heavy toll on the "illegal" cross-border trade in Leh, which extensively borders the Tibet region of China.
Guv for promoting health insurance
Srinagar, May 15
Governor NN Vohra has called on experts in the field of medical science to evolve appropriate approaches to provide cost-effective treatment for various ailments at affordable prices for less privileged segments of society.
Police to scan arms licence holders
Udhampur, May 15
Keeping in view the rising crime rate in the town, the Udhampur police has decided to verify the credentials of all those who possessed licensed weapons in the district. Some murders took place in the town with licensed weapons recently and the authorities decided to verify the character of all licence holders.
Jammuites worried over voltage fluctuation
Jammu, May 15
Residents in various localities of Jammu are worried as the life of their electronic gadgets is in danger due to voltage fluctuation.
Amarnath Yatra
Protest over Geelani's statement
Jammu, May 15
Activists of the BJP Yuva Morcha (BYJM) and the BJP protested against the statement of Hurriyat Conference leader Sayeed Ali Shah Geelani for reducing the period of the Amarnath Yatra to 15 days, instead of two months.
Renowned artiste Majboor dead
Srinagar, May 15
Renowned theatre director and actor Ghulam Ali Majboor passed away at his Wathoora village residence in Budgam district, near here, today. He was 57. For the past one year, he was suffering from cancer, and the end came today.
Financial bungling
VC given 7 days to punish guilty
Jammu, May 15
The Students and Scholars Joint Action Committee, that was formed today, gave a seven-day ultimatum to Vice-Chancellor Varun Sahni to take strict action against persons involved in financial bungling and illegal appointments in Jammu University.
LS poll counting today
Srinagar, May 15
The fate of 81 candidates, including former Chief Minister Farooq Abdullah, contesting the six Lok Sabha constituencies—-Jammu-Poonch, Udhampur-Doda, Srinagar, Baramulla, Anantnag and Ladakh—- would be known after counting at the designated centres tomorrow.
Militants kill two in Handwara
Srinagar, May 15
Militants today killed two persons, including a forest guard, in Handwara, 80 km from here in north Kashmir.
Christian schools 'misleading' children
Jammu, May 15
The Nirbhow Nirvair Organisation Jammu and Kashmir has alleged that the Christian missionary schools of motivating children in the name of religion.
CBI opens office in valley
Srinagar, May 15
In an attempt to expand its anti-corruption drive the CBI has opened a full-fledged office in Srinagar with jurisdiction over the Kashmir and Ladakh regions.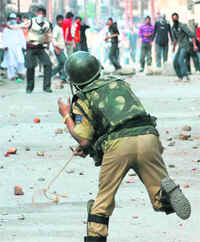 12 injured in Friday clashes
Srinagar, May 15
Clashes broke out between security personnel and separatist supporters at a few places in the valley after Friday prayers and at least 12 persons, including some security personnel, were injured as the police resorted to force to disperse violent crowds. The police said scores of youths began throwing stones at CRPF personnel and the local police as soon as prayers ended. Hurriyat leader Syed Ali Shah Geelani has called for protests and said he would organise rallies in coming weeks against what he called Indian occupation in Jammu and Kashmir.
A security personnel responds to heavy stone-pelting by protesters in Srinagar on Friday. Tribune photo: Amin War

Facilities at airports to be improved
Srinagar, May 15
Chief Secretary S. S. Kapur has said all mini-airstrips in the state would be expanded and developed in a time-bound manner. The facilities at two major airports at Srinagar and Jammu would be augmented.
Notification issued for LAHDC seats
Srinagar, May 15
The government has issued notifications for electing members to the Parkachik and Silmo constituencies of the Ladakh Autonomous Hill Development Council (LAHDC), Kargil.
Guv's decision of shifting of helipad hailed
Jammu, May 15
The Jammu Prayatan Vikas Mandal (JPVM) has hailed the Governor's decision to shift the helipad for ferrying pilgrims to the cave shrine.
Polling held in two Ladakh stations
Srinagar, May 15
Thirty-six voters exercised their right to franchise in Ralakung and Phema polling stations of the Zanskar Assembly segment in the Ladakh parliamentary constituency, as polling could not be held on May 13 because a chopper sortie could not land at both polling stations.
Special train between Jammu, Delhi
Jammu, May 15
The Railways has decided to run a special train to cope with the heavy rush of passengers from Delhi to Jammu. "The special train will run between the two cities every Friday and Saturday and would stop at Chaki Bank, Ludhiana and Ambala", divisional traffic manger Ashok Kumar Sharma said.