India's verdict cheers Pak
Pakistan President Asif Ali Zardari Zardari has greeted the Congress party on its success in elections and recalled that the PPP and the Congress enjoyed traditional bonds of friendship.
Obama impressed by Indian polls
Washington, May 17
Impressed by "the largest exercise of popular voting in the world," US President Barack Obama has said he was looking forward to continuing to work with the new Indian government to enhance the "warm" bilateral partnership.
Hasina congratulates Sonia
Bangladeshi foreign policy experts have welcomed the United Progressive Alliance's (UPA) victory in the Lok Sabha elections, saying a stable and secular government is an opportunity for the two countries to resolve unsettled issues.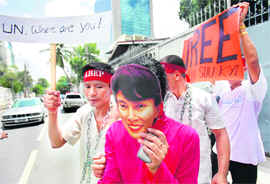 Suu Kyi's doctor freed: Family
Yangon, May 17
Myanmar's junta has released the doctor of Aung San Suu Kyi, his family said today, almost two weeks after he was detained in relation to an incident in which a US man swam to the pro-democracy icon's house.
A Myanmar national living in Thailand wears a mask of pro-democracy icon Aung San Suu Kyi, outside the Myanmar embassy in Bangkok on Sunday. — Reuters

Peace process under threat: Prachanda
Expressing wrath against other political parties mainly the Nepali Congressand the CPN-UML that have been trying to forge a new alliance to form the government, Caretaker Prime Minister and Unified CPN (Maoist) chairman Pushpa Kamal Dahal Prachanda on Sunday said the new alliance was trying to provoke the Maoists and derail the ongoing peace process under the directive of foreign regressive elements.
Kayani rebuts insinuations about army capabilities
Army chief Gen. Ashfaq Parvez Kayani has rejected what he described as insinuations about Pak Army's counter-insurgency capabilities.
'Role' in Benazir killing
It is insulting, says Pervez
Former President Gen Pervez Musharraf (Retd) abruptly ended in anger his interaction with New York-based Pakistani correspondents on being questioned about his involvement in the assassination of former premier Benazir Bhutto ND Baloch nationalist leader Nawaz Akbar Bugti.