Power cut had people awake when quake hit
Jammu, May 20
For the people of the Jammu region last night's earthquake was a shocking reminder of the tremors of the devastating earthquake of October 8, 2005, that killed more than 1,400 people in the state.
Belicharana Clash
Probe report submitted
Jammu, May 20
Divisional Commissioner, Jammu, Pawan Kotwal today submitted the detailed inquiry report into the Belicharana incident to the Commissioner, General Administration Department, Basharat Ahmed Dar.
Mirwaiz Farooq's death anniversary today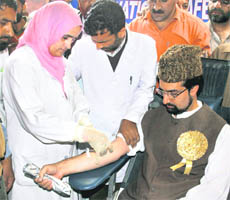 Srinagar, May 20
The separatist APHC is organising an "election rejection rally" here tomorrow on the occasion of the nineteenth death anniversary of founder leader of the Awami Action Committee (AAC) Mirwaiz Moulvi Mohammad Farooq, who was killed on May 21, 1990. It is also paying tributes to senior APHC leader Abdul Ghani Lone, who fell to the bullets of unidentified gunmen while paying tributes to the Mirwaiz on May 21, 2002, at Eidgah.

APHC chairman Mirwaiz Umar Farooq donates blood in Srinagar on Wednesday, on the eve of the 19th death anniversary of his father Mirwaiz Molvi Mohmmad Farooq. — PTI

Tributes paid to Mirwaiz Farooq, Lone
Srinagar, May 20
PDP patron Mufti Mohammad Sayeed and president Mehbooba Mufti have paid rich tributes to Mirwaiz Molvi Muhammad Farooq and Abdul Ghani Lone on their martyrdom anniversaries.
Jora exhorts tourists to visit Kashmir
Srinagar, May 20
In the light of the Amarnath yatra starting early next month and looming clouds over the tourist season due to negative publicity, Tourism and Culture Minister Nawang Rigzin Jora has called upon domestic as well as international tourists to visit Kashmir.
Police hands over woman to husband
Rajouri, May 20
The police has handed over a woman to her husband on her statement that she was not kidnapped by him and they had willingly got married.
MC to issue house numbers
Jammu, May 20
Numbers will be issued to every house that falls under the municipal limits and streetlights will be installed in every ward soon. This decision was taken at the 48th general house meeting held on the MC premises today.
55 road projects for Udhampur
Udhampur, May 20
With a view to providing road connectivity to residents of the remotest areas of Udhampur district, various road projects under the Prime Minister's Gramin Sadak Yojna are gaining momentum. As many as 55 road projects with an aggregate length of 452 km at an estimated cost of Rs 216.35 crore stand sanctioned by the government in phase III to IV under the scheme.
Required facilities on Kargil road
Srinagar, May 20
Following the reopening of the Srinagar-Sonamarg-Kargil road for vehicular traffic from May 2, all departments concerned, including BEACON, transport, police, traffic, district administration, CAPD and others, will coordinate arrangements for the deployment of necessary staff, weigh bridges and equipment to ensure a planned movement of vehicular traffic, including carriage of material supplies and other essential commodities.
Job Racket
More complaints against kingpins
Rajouri, May 20
More youth are coming forward to lodge complaint against two kingpins of a fake job racket for duping them of lakhs of rupees with a promise of providing a job in the Agricultural Department.
BJP to strengthen grass roots
Jammu, May 20
Shaken by defeat in the Lok Sabha elections, the BJP is trying to comfort itself and its cadre by spreading a message that the party would be bolstered at the grass-roots level.
Students educated on drug addiction
Udhampur, May 20
The Excise and Taxation Department, Udhampur, organised an awareness programme to educate youth, especially students, about the ill effects of drugs at Government Higher Secondary School, Garhi, today.
BEd student drowned
Jammu, May 20
A student of a private BEd college was feared drowned after he slipped and fell into the Ranbir canal at Doomi in the Kanachak area today.
Jawan shoots senior
Rajouri, May 20
A soldier allegedly gunned down his senior after they had a fight over night-duty posting in the Kalakote area, here late last night. Army sources said the jawan, Raj Kumar of Kishtwar, posted with the 63 RR based at Mathiani Gala in Kalakote, gunned down Company Havaldar Major YV Yadav, following altercation between them over a night-duty posting.
VDC member shoots himself
Udhampur, May 20
Jhulu Ram, a member of the village defence committee (VDC) of Cheerji village in Kishtwar district, allegedly committed suicide by shooting himself with his gun today.