TREND MILL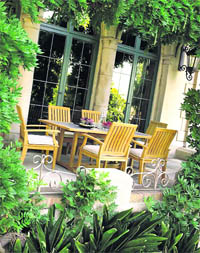 A summer to remember!
Well, you can't wish the scorching summer sun away but you sure can
beat it with a few right moves, writes SAURABH MALIK. Some simple and doable tips to keep the heat away
from your home sweet home this Summer of 2009
YOUR vexation at the weather gods is directly proportionate to the soaring temperatures. As the mercury rises, so does your annoyance. Okay, you can keep the house and mind cool with an air conditioner swirling out near-chilly mountain-like breeze. Air-conditioners are a huge environmental
no-no, you know it.
First health, now wealth
Stench from Budda Nullah takes fizz out of property prices, developers now seek scientific help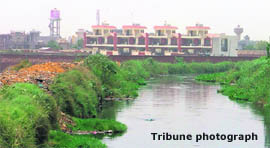 BUDDA Nullah, the river of sorrows, is not only affecting the health of people living nearby, but also realty prospects along its banks. Though prices in most areas of Ludhiana have skyrocketed, it's a different story altogether in areas close to the polluted water body — The foul stench from the nullah is keeping prospective buyers away and they do not want to construct a house in its vicinity at any cost.
Real chat

Leading the way
THE multiproduct SEZ being set up by the Mahindra group in Jaipur will be the first integrated business city in the country to promote sustainable development. Mahindra World City (MWC) has signed a MoU with Climate Positive Development Programme launched by the Clinton Climate Initiative, in collaboration with the US Green Building Code.
GREEN HOUSE
The Green Carpet
It's a treat to the tired eye but difficult to maintain in its lush, green form in all seasons, writes SATISH NARULA Here's how to make your lawn a cut above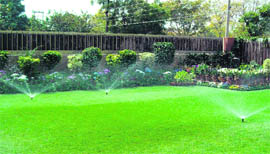 the rest
IF by collecting a few plants, exotic or rare, you thought you had made a garden, it is high time you give it a second thought. What really matters is a good lawn. A lawn may well be described as a canvas on which a 'painting' is made with plants. Most garden queries are lawn related and going by the time of the year, it is the best opportunity to address them.
It's now or never!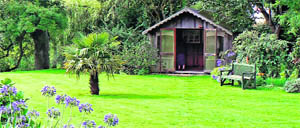 THE main purpose of taking up this topic this week was to send out the final call for preparing the soil. For first timers, especially those who just got through with construction activity, begin with thoroughly cleaning up the place of malba, marble, stones, bricks, glass pieces, paint, varnish and whitewash.
Tax tips
Stamp duty, registry part of house cost
Q. My wife and I intend to take a loan for construction of a house. Both of us are employed and have separate incomes. Kindly advise if stamp duty and registration charges are includible in cost of house. Can the claim towards the interest on loan be made by both of us? Does the amount of loan repayment cover the amount of stamp duty paid for the registration of the house?
Capital gain account
No tax for nominee on unutilised amount
HRA exemption: You should be living in house
Gift above Rs 50,000 taxable
To save CGT, buy or build house
Parsvnath to set up IT park in Gurgaon
REALTY firm Parsvnath Developers said it will invest Rs 135 crore to develop an IT Park in Gurgaon and is eyeing a sales realisation of Rs 350-370 crore from the project. The company is already in possession of the land.