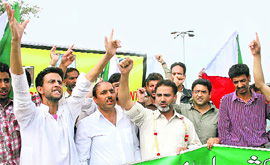 JKLF members shout pro-freedom slogans at the martyrs' graveyard in Srinagar on Sunday. Tribune photo: Amin War
2,800 female foetuses 'aborted' in Jammu every year
Jammu, May 24
Jammu district has attained the dubious distinction of having 2,800 female foeticide cases every year. But what may shock many further is that Jammu has an industry of Rs 5 crore per annum that thrives on female foeticide alone, ostensibly involving some gynaecologists and radiologists.
Purge advisory board of non-Gujjars, Omar urged
Jammu, May 24
The Gujjar Bakerwal tribe of the state today urged Chief Minister Omar Abdullah to intervene as chairman to improve working of the Jammu and Kashmir State Advisory Board for development of the Gujjars and Bakerwals or wind up the same as the organisation has miserably failed to serve the community.
Omar Abdullah for specialised medicare
Srinagar, May 24
Health Minister Sham Lal Sharma has admitted that the medical infrastructure is in a poor condition and a lot needs to be done to improve the infrastructure and manpower, especially in rural areas.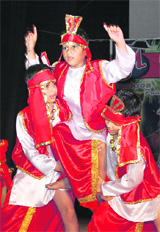 Boys perform during dance competition "Aa Ja Nach Le" in Jammu on Sunday. Photo: Inderjeet Singh
Six commercial vehicles impounded
Jammu, May 24
Commercial Taxes (Vigilance and Inspection) sleuths foiled tax evasion bids confiscating jewelry worth Rs 1 crore, cigarettes to the tune of Rs 1.75 lakh and six commercial vehicles carrying taxable goods.
2 held with Hawala money
Udhampur, May 24
With the arrest of two persons, the Doda police this evening busted an inter-state gang involved in providing financial support to the militant outfits through the Hawala racket. The police recovered Rs 5 lakh and a letter pad of the Hizbul Mujahidin outfit from their possession.
Rumour of youth's death triggers clashes
Srinagar, May 24
Rumours about the death of a youth injured in police action at Rajouri Kadal last week, triggered clashes between groups of youth and the police at several places in the interior city today with protesters hurling stones at the cops, who fired teargas shells and used batons to disperse them.
Soz meets Antony
Wants Kargil airport expanded
Jammu, May 24
President of the Jammu and Kashmir Pradesh Congress Committee Saifuddin Soz met Defence Minister A.K. Antony and discussed the problems being faced by the people of Kargil.
Rs 112 cr for water schemes
Srinagar, May 24
The Centre has released over Rs 112 crore under the National Rural Water Supply Programme (NRWSP) to help the state meet the growing demand for potable water.
Railways to allow people little further
Jammu, May 24
The railway authorities will allow people to take their vehicles a little further to pick or drop passengers. Division traffic manager Ashok Sharma said: "We will allow people up to a certain point. However, we won't allow them to park their vehicles there."
Poll for gurdwara body sought
Jammu, May 24
The Sikhs in Jammu have demanded that the elections of the Jammu and Kashmir Gurdwara Prabhandak Committee should be held as early as possible as the term of the previous committee had expired in October.
Govt rigged LS poll, says Panthers Party
Jammu, May 24
A two-day session of the Panthers Party working committee concluded here with a message to the party workers to get ready to redress the legitimate grievances of people, particularly youth.
Strong wind drowns shikaras, 35 rescued
Srinagar, May 24
The unpredictable weather in the valley took an ugly turn today when high-speed wind picked up in the evening, coupled with light rain, capsizing several shikaras and, even, a few houseboats.
20-year tourism master plan on the anvil
Jammu, May 24
In an effort to put tourism back on the rails, the state government is preparing a 20-year-master plan for the sector, hit by militancy.
Budget session in July
Jammu, May 24
State Finance Minister Abdul Rahim Rather said today that the budget session of the state Assembly would be held in July.
ABVP for exams on time
Jammu, May 24
Extending best wishes to the aspirants of the KAS, state ABVP secretary Suresh Ajay Magotra has appealed to the state Public Service Commission (PSC) to conduct the administrative exams on time.
KAS exam concludes
Jammu, May 24
The Kashmir Administrative Services (KAS) exam has been concluded peacefully in the state today. Students were in jubilant mood as their optional paper was easy.