Tense but under control
n Councillor's supporters shoot agitator in Jalandhar
n Cop's slap kills woman
n Man hurt in Malout firing
Bipin Bhardwaj
Tribune Reporters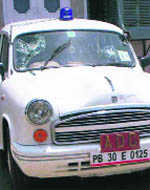 The official car of the ADC, Muktsar, that was damaged by protesters.
Jalandhar, May 26
Two persons, including an elderly woman, have been killed in separate incidents of violence in the city in the past 24 hours, taking the death toll in Jalandhar district to five in the violence trigged by the killing of Sant Rama Nand of Dera Sachkhand in Vienna (Austria) on Sunday.
Though four fresh incidents of violence were reported in the district, the situation is under control and inching towards normalcy. Additional companies of rapid action force (RAF) besides the Army in Jalandhar and Phagwara have been deployed.
Rail traffic on the Jalandhar-Jammu, Jalandhar-Amritsar, Jalandhar- Delhi routes was also restored, providing relief to passengers stranded at Hoshiarpur, Jalandhar city, Jalandhar cantonment, Chhaki Bank Pathankot and Phagwara.
Vijay Kumar was allegedly shot dead by supporters of a municipal councillor Balwinder Singh Bittu in Dhillwan village last night when a mob damaged Bittu's car. A case of murder was registered against the Bittu.
In another incident, an elderly woman, Roop Rani, died after she was slapped by a policeman at the Bhargaw camp. The police resorted to a mild lathicharge on a mob there. Cops overpowered two protesters, Charanjit and Bablu. Roop Rani, their mother, was slapped by the cop as she tried to rescue her sons.
The mob set a car afire in Mehatpur village, near Nakodar town. There were reports of firing at Nurpur village along the Jalandhar-Jammu highway and incidents of ransacking at certain petrol stations and liquor vends in and around the city last night.
Bathinda: A person was today wounded in police firing in Malout town of Muktsar district where followers of Dera Sachkhand damaged the official car of the Additional Deputy Commissioner near Ravidas Nagar when they were stopped from proceeding towards other parts of the town. The district authorities clamped curfew on municipal wards 14, 15 and 16.
Bala Ram, alias Pappu, who was injured in the firing, was taken to Ludhiana for treatment. He was hit in the stomach and his condition was stated to be serious.
The police fired in the air and lobbed teargas shells when lathicharge failed to disperse the agitators. Policemen were also injured as the dera followers pelted them with stones from rooftops.
Tension had been brewing in the town since yesterday when shopkeepers took exception to stoning of their establishments by dera followers.
Meanwhile, the protesters stopped a train near Gidderbaha and shops were forcibly shut in Muktsar.
The situation remained peaceful in Bathinda, but groups of dera supporters forced closure of shops in certain localities. Train services on certain sections remained suspended. Dera followers blocked vehicular movement at various places.
Curfew lifted from parts of Ludhiana
Ludhiana: The district administration here lifted curfew from various areas falling under the jurisdiction of 11 police stations. The five areas where neither curfew was relaxed nor lifted in city are Basti Jodhewal, Shiv Puri, police division no. 2, 4 and 7.
However, the city witnessed some sporadic incidents at Basti Jodhewal and Samrala Chowk where the security personnel had to resort to lathicharge.
Meanwhile, Deputy Commissioner Vikas Garg held a meeting with the followers of Dera Sachkhand at Basti Jodhewal and requested them to maintain peace.