Federer, Venus avoid Paris nightmares
Paris, May 28
Roger Federer was lucky to keep alive his dream of winning a maiden Roland Garros crown and Venus Williams used a good night's sleep to spare herself from a French Open nightmare in the second round on Thursday.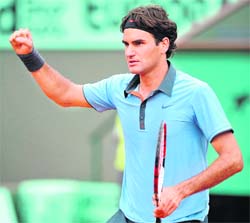 Swiss Roger Federer reacts after winning his second round match @@against Argentinian Jose Acasuso at Roland Garros on Thursday. Federer won 7-6, 5-7, 7-6, 6-2. — AFP
Federer appeared to be heading for his earliest grand slam defeat since 2003 when he struggled to find his touch for three sets on a damp day in Paris but found his range in the nick of time to subdue Argentina's Jose Acasuso 7-6, 5-7, 7-6, 6-2.
"I was not afraid to die, so everything was okay. It was sort of a fun match to be part of with so many ups and downs. I could have won the first three sets. Could have lost them also. (So) I'm thrilled to be through," Federer told reporters.
It was a sentiment shared by Venus.
The third seed's second-round tussle was suspended on Wednesday due to bad light after she had lost the first set. She returned to save a match point before crawling over the finishing line with a 6-7, 6-2, 7-5 win over Czech Lucie Safarova.
Her sister, Serena, enjoyed an easier outing with a 6-2, 6-0 destruction of Spaniard Virginia Ruano Pascual.
Jelena Jankovic snuffed out the challenge of Slovak Magdalena Rybarikova 6-1, 6-2 and Russian seventh seed Svetlana Kuznetsova was at her ruthless best in a 49-minute 6-0, 6-2 demolition of Kazakhstan's Galina Voskoboeva.
Men's fifth seed Juan Martin del Potro marched on by beating Serbia's Viktor Troicki 6-3, 7-5, 6-0, while 10th seed Nikolay Davydenko carved out a 4-6, 6-3, 6-0, 6-2 win over Diego Junqueira.
French number one Marion Bartoli, the 13th seed, slumped to a 6-3, 7-5 defeat by Italy's Tathiana Garbin. Bartoli blamed her defeat on a host of problems, from illness to the chilly conditions to the noise made by a small, feisty contingent of Italian fans.
"I was a little tired and a little sick, I had a sore throat and my nose is running. It was very cold and the court was heavy. The ball was stuck on the strings and it was very slow," said the Frenchwoman.
Safin bids farewell
Marat Safin bowed out of his last French Open with typical flashes of brilliance and petulance on Wednesday in a 7-6, 7-6, 4-6, 3-6, 10-8 defeat by wildcard Josselin Ouanna that the former world number one was keen to forget.
The hotheaded Russian, who will retire at the end of the year, clawed himself back from two sets down to force a decider where he saved two match points before bashing a wild forehand wide to send the 134th-ranked Frenchman into the third round.
Paes-Dlouhy advance
Third seeds Leander Paes and his Czech partner Lukas Dlouhy sailed into the second round of the French Open men's doubles event with a straight-set win over locals Sebastien de Chaunac and Benoit Paire here.
Paes and Dlouhy beat their rivals 6-1, 6-3 late last night to set up a clash with another unseeded duo of James Cerretani and Sergiy Stakhovsky. The Ukrainian-American pair defeated Spaniards Nicolas Almagro and Ivan Navarro 6-2, 4-6, 6-2 in the first round.
Bopanna-Erlich bow out
Rohan Bopanna and Jonathan Erlich crashed out of the men's double event of the French Open after suffering a 4-6, 6-7 (10) defeat at the hands of Guillermo Garcia Lopez and Sergio Roitman.
After conceding the first set, the Indo-Israeli duo had a good chance to draw level as they were leading 4-1 at one stage but allowed the Spanish-Argetine pair to claw their back. Guillermo and Sergio stretched the second set to a tie-breaker and converted their third match point to seal the fate of Bopanna and Erlich. — Agencies