SP state unit dissolved
Dehradun, June 2
In the wake of the poor performance of the Samajwadi Party in the parliamentary election, its central leadership has dissolved the party unit in Uttarakhand with the aim of restructuring it to meet future political challenges.
Ganga Dussehra
10 lakh devotees throng ghats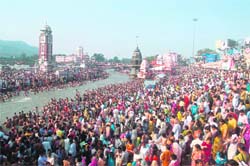 Haridwar, June 2
More than 10 lakh devotees thronged Ganga ghats on the occasion of Ganga Dussehra in Haridwar and Rishikesh today. Devotees began arriving at Har-Ki-Pauri and other ghats since early morning. According to the mythological tales Ganga Dussehra is the day when river Ganga descended on earth. The Ganga Sabha performed special puja to mark the occasion.
Cong men burn effigy of irrigation minister
Roorkee, June 2
Congress supporters today burnt the effigy of Matbar Singh Kandari, minister of Irrigation and Water Supply, under the 'Halla Bol' agitation at Civil Lines, here today. Raising slogans against the minister and local BJP MLA Suresh Jain, the protestors alleged that the drinking water, being supplied to the people here, is not potable.
Naxalism, forest management linked: Ramesh
Dehradun, June 2
Union Minister of State for Environment and Forests (independent charge) Jairam Ramesh today linked the growth of Naxalism in the country with the management of forests.
Seven Doscos in 15th Lok Sabha
Dehradun, June 2
The prestigious Doon School here has the distinction of sending seven MPs to the 15th Lok Sabha, including Rahul Gandhi. Four of them have got a ministerial berth in the Manmohan Singh-led government.
Accreditation
Medicos begin indefinite fast
Burn effigies of college principals, director of health department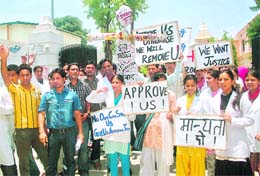 Haridwar, June 2
Seeing no major headway to their demand of retaining affiliation for the 2008-09 session, of the Ist year BAMS course, the students of the Gurukul and Rishikul Medical Colleges have today decided to start indefinite fast. The students have also decided to send their issue in writing and to meet with the state and cabinet ministers.
Junior doctors of Gurukul and Rishikul Medical Colleges hold a protest in Haridwar on Tuesday. Tribune photo: Rameshwar
Garhwal varsity lifts curbs on private institutes
Dehradun, June 2
Much to the relief of a large number of students, HNB Garhwal University has lifted restriction on admissions to private professional institutes affiliated to it. The delay in admissions in the current session had put a question mark over academic future of the students.
Shopping comes cheap on Wednesday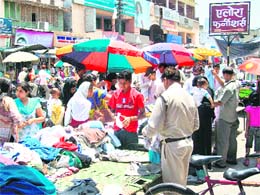 Roorkee, June 2
While the posh Civil Lines market here is a well-known shopping point for the rich, it also has a day for the poor. On every Wednesday, the day when the shops remain shut, a temporary market, popularly known as 'Budh Bazar' comes up which caters to the needs of the poor and middle strata of society. The popularity of the 'Budh Bazar' (Wednesday market) can be judged by the fact that thousands of people turn up at the market. The shops offer all kinds of household items including clothes and fancy garments, kitchen goods, toys, footwear, cosmetics and show pieces at very nominal rates.
Poll malpractices Principal's powers clipped
Dehradun, June 2
The Board of Management of DAV (PG) College has seized all financial powers of DAV (PG) College principal, Dr Ashok Saxena, finding him guilty of Lyngdoh Committee Recommidation violations.
Birth Certificate
Hospitals to take care of formalities
Roorkee, June 2
From now onwards, getting birth certificates would become much easier for the parents of newborns, here.
Students burn effigy of Oz PM
Dehradun, June 2
Resenting attacks on Indian students in Australia, ABVP members burned the effigy of Australia Prime Minister, Kevin Rudd, here at DAV (PG) College expressing their anger over on the incident.
Eight killed in road mishaps
Dehradun, June 2
At least eight people were killed and six others injured in two separate road accidents in Chamoli district. Five people were killed and four others injured when a Bolero jeep in which they were travelling fell into a gorge at Narayanbagad area on Monday evening.
Three sisters go missing
Dehradun, June 2
Three sisters went missing after they left their house at Chukkhuwala area of the city, the police said today. Pratibha (24) along with her two cousins - Sapna (14) and Nitu (11) - left the house at around 3.30 pm yesterday but did not return, Puran Singh, father of Pratibha, said in his missing report filed with the police.