BJP all set to rake up delimitation issue
Jammu, June 3
The BJP is all set to rake up the issue of delimitation in the state, as its plea as a party to the petition filed by the Panthers Party to lift the embargo on delimitation has been turned down by the high court. The embargo on delimitation has been imposed till 2026 on the basis of a fresh consensus.
Conman Jadeja dupes slumdwellers of 70 lakh
Jammu, June 3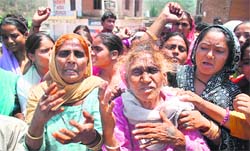 Nearly 300 poor families of the Chhara community, comprising mostly women, staged protests at Rajeev Nagar here today against a Gujarati conman, Dr Ashok Jadeja, who they claimed duped them of their hard-earned money to the tune of Rs 70 lakh.


Rajeev Nagar slumdwellers protest against their duping by Ashok Jadeja in Jammu's Narwal area on Wednesday. Photo: Inderjeet Singh
CII wants customs duty on copper scrap to go
Jammu, June 3
A CII delegation led by chairman of Jammu and Kashmir state council Sanjay Puri met B S Dua, director, industries and commerce, Jammu, and apprised him of some issues plaguing local industry.
Pilgrims' quota for tour operators, hotel industry
Srinagar, June 3
Shri Amarnath Shrine Board (SASB) has decided to allocate a specific share with regard to the registration of Amarnath pilgrims to travel and tour and hotel industries of the state.
Make Ansari report public: Balraj Puri

Jammu, June 3
Veteran journalist Balraj Puri, convener of the People Union for Civil Liberties (PUCL), today demanded that the Justice MRA Ansari committee report on the 1989 anti-Sikh riots in the Jammu region be made public. Addressing a press conference along with activists of the Sikh Progressive Front, Puri demanded that findings of the probe be made public.
Students protest poor results
Blame Education Dept for not providing teachers
Udhampur, June 3
The Education Department and students of Government Higher Secondary School, Ghordhi, Ramnagar tehsil, are blaming each other for the school's poor results in Class X and XII exams.
Teachers can't be made scapegoat: Harsh Dev
Jammu, June 3
Panthers Party leader and former Education Minister Harsh Dev Singh has ridiculed the statement of School Education Minister Peerzada Mohammad Sayeed of holding teachers solely responsible for the poor performance of students in various schools and announcing to demote and prematurely retire the teachers in the affected schools.
Non-performing teachers to face the music
Jammu, June 3
After the poor performance of students of government-run schools in the recently declared results of Class X and XII, state Education Minister Peerzada Mohammad Sayeed yesterday said the teachers with better performance would be rewarded and those with poor performance would have to face the music.
Need to 'implement' gender-sensitive laws
Jammu, June 3
Prof Ved Kumari, Department of Law, University of Delhi, while delivering a lecture on 'Women and Law', said: "Law and jurisprudence are masculine and discriminatory toward women."
Pak troops 'violate' ceasefire
Rajouri, June 3
The Pakistani troops allegedly fired more than a dozen rounds in Sawjian sector in Poonch today.
Vijaypur shootout
2 absconders arrested
Jammu, June 3
The police today arrested two youths who were involved in a shootout in Vijaypur on April 10 .
Woman's body still untraced
Jammu, June 3
Mystery shrouds the death of a woman employee of the Wildlife Department, who drowned in the Chenab in Akhnoor yesterday. Official sources said Munira Begum of Sunder Dacchan in Kishtwar had gone on an excursion near the Padav caves on the banks of Chenab with her four male friends.
Dowry death alleged
Udhampur, June 3
The death of a woman triggered a protest here as her family alleged that she was killed by her in-laws for more dowry.
DGP reviews situation
Srinagar, June 3
DGP Kuldeep Khoda today reviewed the overall security situation in the state, particularly in the Kashmir valley, following protests against the death of two women in Shopian.
Regularisation of service sought
Jammu, June 3
The Jammu and Kashmir Agricultural Technocrats Association has sought regularisation of all employees engaged under Rehbar-e-Ziraat. President of the association Surinder Radotra claimed the state government had promised to frame a regularisation policy after the parliamentary elections.
JU employees' team wins cricket tourney
Jammu, June 3
The Jammu University Employees' Cricket team brought laurels by winning the Vice-Chancellor's Cup in the recently concluded All-India Inter-University Vice-Chancellor's Cup Tournament held at Mumbai University.