Lost & found: Missing baby recovered from Barnala
Newly-born male child had gone missing from Civil Hospital
Tribune News Service
Bathinda, June 4
In a bizarre drama that had all the makings of a Bollywood blockbuster, a newly-born male child that had gone missing from the Civil Hospital in Bathinda was recovered by police from Barnala.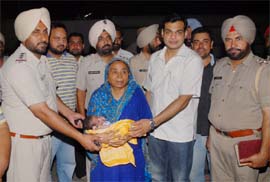 Bathinda SSP Ashish Chaudhary along with other police officials hands over the newly-born boy to his maternal grandmother Surjit Kaur at his residence late on Thursday night. The child had been missing from the Civil Hospital and was recovered by the police from Barnala. Tribune photo: Malkiat Singh
Bathinda SSP Ashish Chaudhary told TNS that the baby had been stolen possibly for selling it off. According to the SSP, the cops recovered a tip-off from Barnala and swung into action.
The woman who had stolen the child was frequently changing her statement, the SSP said, and only sustained interrogation during the night would reveal as to what had transpired.
A doctor had been summoned to the SSP's residence for the medical check-up of the recovered newly-born. Chaudhary added that further details would be known only after the interrogation.
Earlier during the day, I.B. Aggarwal, assistant civil surgeon, had given details of the case according to which Paramjit Kaur, a resident of Purana Thana, Bathinda, had given birth to a male child through caesarean section on Wednesday night.
Surjit Kaur, mother of Paramjit Kaur, had been looking after her daughter and the newly-born since then in the hospital, added Dr Aggarwal. Dr Aggarwal further informed that as he came to know of child-lifting from the hospital, he informed police immediately.
Dilbagh Singh, DSP (City) started making inquiries from the mother of the patient, he added.
While talking to TNS, Surjit Kaur, mother of the patient, said an unknown lady in her mid-thirties came in contact with her and became friendly. She started helping her daughter and the grandson, she added. "As I was to get my grandson checked up by another doctor in another ward this morning, that lady also accompanied me," she said.
Surjit Kaur said the woman was in her mid-thirties, wearing a green suit and was slightly limping. She further said that as the doctor was not available, she, on her way back to the ward, handed over her grandson to that lady. "As I am an asthma patient, I kept moving slowly when suddenly, that lady disappeared mid-way with the newly-born," she said. However, Satnam Singh, husband of the patient, told the police that he did not have cordial relations with his mother-in-law. "Despite my resistance, my mother-in-law forced my wife to come to Bathinda for delivery instead of Malout," he said. Satnam told the police that he suspected his mother-in-law's involvement in the disappearance of the newly-born.
Harmik Singh Deol, Kotwali SHO, said as investigations are on, it was too early to say anything.