Fighting racism, Indians rally in Australia again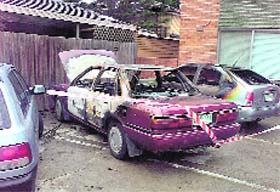 The car of an Indian student that was torched in Melbourne. — PTI
Melbourne, June 7
Chanting 'Vande Matram' and 'Bharat Mata Ki Jai', hundreds of Indian students today rallied in Sydney to protest against a spate of racial attacks and demand justice for victims, hours after another youth from the community complained about his newly-bought car being torched outside his home here.
The rally, which saw the participation of nearly 1,000 students, was organised by the Federation of Indian Students Association, Sydney Chapter, along with the National Union of Students.
The protesters, shouting anti-racism slogans, marched from Townhall to High Park in Sydney. The chants of 'Vande Matram' and 'Baharat Mata Ki Jai' also reverberated the air during the rally.
Apart from Indians, there were students from other countries at the rally, who voiced their concerns about the racial violence and demanded police to be alert to prevent such incidents from happening again, witnesses said.
The rally, which demanded justice for the victims of racial attacks, came hours after yet another incident targeting Indian students in Australia came to light here in which a car belonging to a 22-year-old youth from the community was torched.
Vikrant Rajesh Ratan, who had used all his savings to buy the car, said the vehicle was burnt last night outside his home.
Ratan, who hails from Ludhiana, said that two other cars, also belonging to Indians, that were parked next to his vehicle, were also damaged during the incident.
"We were sleeping when it all happened. We heard the fire alarm of the car. When we went out to see what happened we saw the car on fire," he told PTI.
He suspected that it could have been done by a group of drug addicts who used to sit near the premises. "I believe they (addicts) probably first tried to open the car. Then they may have used a petrol can to set it ablaze." Ratan, who came here a month ago to pursue a certificate course in Automotive Engineering, said that there was no chance of a short circuit that could have burnt the car in this cold weather.
He said he had bought the vehicle a few days ago for 2500 dollars and the car was not even insured. Meanwhile, the students, angry over such attacks, also proposed to organise another rally in Brisbane, according to sources. However, prominent Indian community leaders in Sydney had earlier said the students were engaging in "entirely futile" exercise as their concerns had already been raised with the Australian authorities. On Sunday last as well, thousands of Indian students had rallied here demanding justice for victims of recent attacks. — PTI