First batch of Amarnath yatris flagged off from Jammu
Jammu: The Amarnath yatra had to be stopped twice at Kud and Rambanas due to inclement weather even as the first batch of 900 pilgrims was flagged off by Tourism Minister Nawang Rigzin Jora here this morning.
No yatra to valley from Jammu today
Jammu, June 15
Due to bad weather and snowfall in the mountainous areas of the Kashmir valley, the Amarnath pilgrims will not be allowed to proceed toward the valley from Jammu here tomorrow.
Boys told to oppose lavish marriages
Srinagar, June 15
Asking the youth to become agents of change in society, Vice-Chancellor of Kashmir University, Prof Reyaz Punjabi said today that people should boycott marriage parties and functions where there was much pomp and show.
Traders stage protest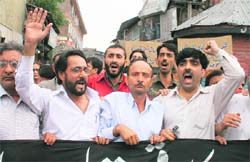 Srinagar, June 15
The business community in the valley today staged rallies demanding action in the alleged rape and murder of two women in Shopian as the strike in that township over the incident entered its16th day today.



Members of the Kashmiri Traders Federation shout slogans during a protest over the Shopian incident in Srinagar on Monday. Tribune photo: Amin War
Kashmiri Pandits stage protest
Srinagar, June 15
At least 50 activists of a Kashmiri Pandits' organisation were briefly detained today after they staged a march, demanding speedy implementation of the employment package announced by the Prime Minister for the community last year.
Protest over shifting of Central university
Jammu, June 15
The Jammu Joint Students Federation (JJSF) held a protest demonstration against the shifting of Central University from Jammu to Kashmir. The protest was held today in front of GGM Science College gate.
Armed Forces Special Powers Act
PDP to launch campaign for its revocation
Srinagar, June 15
The PDP has decided to launch a grass-roots level campaign in Kashmir and Jammu regions from Saturday for the revocation of Armed Forces Special Powers Act (AFSPA) and demilitarisation of civilian areas.
Trust donates Rs 55,000
Jammu , June 15
In the memory of his wife Yasho Rajya Lakshmi, chairman of the Jammu and Kashmir Dharmarth Trust Council, Dr Karan Singh today donated Rs 55,000 as financial help to five social and religious organisations.
Farm technocrats seek regularisation
Jammu, June 15
The Jammu and Kashmir Agricultural Technocrats Association (JKATA) held a protest demonstration against the government for indifferent attitude towards their demands.
12 picked up from HP
Udhampur, June 15
The Udhampur police has picked up some suspects from Himchal Pradesh in connection with the general post office robbery. A gang of burglars had looted Rs 524,967 from the main chest of the post office on May 29.
Sweeper stabbed to death
Jammu, June 15
A sweeper Munir Ahmed Wani (55), a native of Srinagar putting up in Bhagwati Nagar, was killed on Monday morning after he was attacked by Jammu Municipal Corporation (JMC) employee Harjeet Singh of Bakshi Nagar with a sharp-edged weapon following heated arguments over garbage near Rajinder Singh Park, official sources said.
Man murdered in Akhnoor
Jammu, June 15
Suraj Prakash, aged around 45, was found brutally murdered inside his shop in the Karangi area of Akhnoor this morning.
2 militants killed
Srinagar, June 15
Two militants were killed in an encounter with security forces in Kupwara district of north Kashmir, a police spokesman said today.