Let there be sunshine!
We may be in the throes of the scorching Indian summer but don't let the sun go down on your home furniture. SAURABH MALIK lists some simple solutions to contain summer damage
IF you have day curtains and faded sofa sets, you know exactly what is being talked about. This is not all. Dripping bathing and swimsuits casually tossed on the rocking chair, wet towel indifferently left behind on the stately double bed and sun-screened arms on the rests can take not just the gleam away by spoiling the polish, but also leave stains on your living room furniture.


| | |
| --- | --- |
| | |
Of Religion & Real(i)ty
Unprecedented development in sleepy Jammu tehsil after it turns spiritual hub, land prices spiral in decade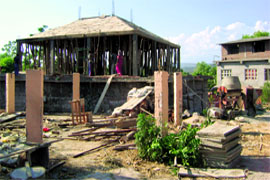 IT is a marriage of religion and real estate and what a party it is turning out to be near Sunder Bani town, some 80 km from the winter capital Jammu on the Jammu-Poonch highway. Shiv Kashi, some 2 km from Sunder Bani, is fast emerging as a spiritual hub. In the past 10 years, land prices in the sleepy town have jumped 14 times.

Construction underway at Shiv Kashi near Sunder Bani.
Mega residential projects coming up around Baba Ramdev's Peetanjali Peeth near Roorkee
Tax tips
If it is part of your riches, it will invite wealth tax
S.C. Vasudeva
Ancestral property: Consult state law

Acquire property in joint names

To save CGT, invest balance in six months

Do execute Agreement to Sell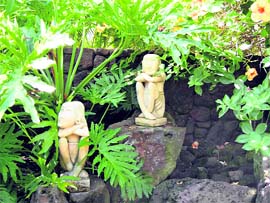 GREEN HOUSE
Accessories do for your green patch the same they do for your wardrobe. Let your imagination run wild!
Dressing up the garden
EVERYONE who has even a small green patch that he or she has nourished is proud of it. The excellence, however, comes with imagination. There is a range of garden decorations and adornments available. Make your choice depending upon the space and your personal preferences and be one up on the neighbours!