Azad's visit leaves commuters stranded
Ramban, June 22
Thousands of passengers, including Amarnath yatris, had to face hardship when traffic on the Jammu Srinagar National Highway was halted for several hours following the proposed visit of Union Health Minister Ghulam Nabi Azad to his home district.
Pehalgam route still under snow
Srinagar, June 22
The Amarnath yatra from the traditional Pehalgam route is likely to be further delayed as it is still found to be unviable for trekking.
Pilgrim dies on way to cave shrine
Over 9,000 have darshan
Srinagar, June 22
A 37-year-old pilgrim died and a woman was injured en route to the Amarnath shrine even as over 9,000 devotees paid obeisance today at the 3,880-metre high cave shrine in south Kashmir Himalayas, official sources said.
Revocation of AFSPA
PDP leaders march to Raj Bhawan
Srinagar, June 22
A PDP delegation headed by its president, Mehbooba Mufti, and other leaders, including Molvi Iftikthar Hussain Ansari, Dillawar Mir, general secretary, Abdul Rashid Kabuli, marched to Raj Bhawan in support of its demand for revoking the Armed Forces Special Powers Act and withdrawal of troops.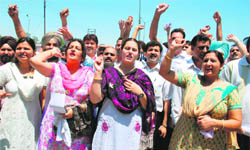 Parents protest high school fees
Jammu, June 22
The Heritage School Parents Association held a protest in front of the office of chief education officer Suresh Kumar Sharma against exorbitant fees being charged by the school here today.


Parents protest against high school fees in Jammu on Monday. Photo: Inderjeet Singh

MA admissions next month
Jammu, June 22
The University of Jammu would start the admissions process for different post graduation courses soon after the declaration of the results of III semester students in the second or third week of July", said R.D.Sharma, controller, examination.
Suspected swine flu case turns to be a hoax
Jammu, June 22
The suspected first case of swine flu that started from a hospital ended in the city police station here today. The reported case turned out to be a hoax after the complainant, a physician with a private hospital, declined treatment saying that he was just checking the level of preparedness at Government Medical College (GMC) Hospital, Jammu.
Research must match farmers' needs: Vohra
Srinagar, June 22
Governor NN Vohra and Chief Minister Omar Abdullah have emphasised on coordination between agriculture universities and the extension agencies of the state government to evolve a task force approach for carrying research from lab to land to boost agriculture production and productivity in the state.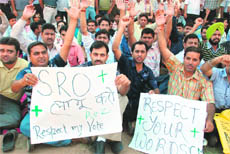 Farm technocrats stage protest
Jammu, June 22
Members of the Jammu and Kashmir Agricultural Technocrats Association staged a demonstration outside the Divisional Commissioner's office here today in protest against the government's indifferent attitude towards their demands for regularisation.
Members of the J&K Agricultural Technocrats Association protest in front of the Division Commissioner's office in Jammu on Monday. Photo: Inderjeet Singh

Ansari visits Kargil before departure
Srinagar, June 22
Vice-President Hamid Ansari was seen off by Governor NN Vohra and Chief Minister Omar Abdullah at the Srinagar airport here today.
North has legacy of cultural ethos, says Rodrigues
Srinagar, June 22
Punjab Governor Gen SF Rodrigues (retd) has stressed the need for a well-structured coordinated plan for strengthening linkages of composite Indian culture and called for adopting a holistic approach for the preservation and promotion of the inherited values.
Rajnath, RSS chief to visit Jammu today
Jammu, June 22
RSS chief Mohan Rao Bhagwat and BJP national president Rajnath Singh will visit Jammu tomorrow.
NC sweeps Ladakh council poll
Srinagar, June 22
The National Conference today bagged both seats of the LAHDC, Kargil, the elections for which were held a few days back, an official spokesman said.
Two Lashkar men killed, IED defused
Jammu, June 22
Two Lashkar-e-Taiba militants were killed in an encounter with security forces in Reasi district today, Gulzar Singh Salathia, DIG Udhampur-Reasi range, told The Tribune. Mohammed Ayub,a dreaded Lashkar militant responsible for several killings, had let loose a reign of terror among the people, said the DIG.
Policeman booked in kidnapping case
Rajouri, June 22
The police has booked Muhammad Imran Malik of Darhal posted as a constable at the District Police Lines here for allegedly kidnapping Nazia, daughter of Muhammad Amin Malik of Dadaj.