Worst water crisis in 10 years
BD Kasniyal
Pitthoragarh, June 25
Uttarakhand is facing its worst water crisis in 10 years. In the state, 118 wards and 235 villages are facing an acute water shortage.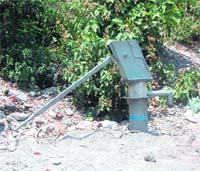 A dry handpump at Maldevta near Dehradun. Tribune photo: Anil P Rawat
The residents of these areas are relying on tankers to quench their thirst. The matter has been exacerbated due to the delay in monsoon and almost no winter rain.
Most natural water sources that support the water supply in the state have partially dried up and that in turn has led to the lowering of the water level in tubewells.
"These tubewells can function at their optimum level only if there is adequate rainfall but that has not happened this year. The water sources need adequate rain for recharging. In some tubewells where the water has gone down below the static level, assembly pipe lines are being added for pumping," said VK Sinha, GM (hq), Jal Sansthan.
Of the 5,471 potable water supply schemes dependent on natural resources, at least 2,030 schemes are expected to be the worst hit and may dry up if there is further delay in rains.
A total of 83 places in urban areas and 169 places in rural areas in Garhwal, 78 places in rural areas in Tehri and 14 places (rural) in Rudraprayag, 13 in Chamoli and 12 in Uttarkashi are facing acute water shortage.
In the urban areas of Pauri (Kotdwar) 12, in Gopeshwar 16 and in Chamoli four areas are facing acute water shortage. In Dehradun, there are 34 places (rural) where there is a scarcity of water, while 41 urban areas are facing a similar crisis.
There are a total of 5,471 potable water supply schemes functioning in the state, 47 pumping schemes in urban and 148 in rural areas while there are 400 tubewells.
"All these schemes require considerable power supply for pumping. The supply does get affected due to voltage fluctuation," said PC Kimothi, secretary appraisal, Jal Sansthan.
The water crisis is being attributed to the rainless winter this year which caused the drying up of natural springs and rivers.
"We are supplying water in 225 villages and 125 towns by tankers. We have also installed 250 new handpumps and dug up 56 infiltration wells," said HP Uniyal, Chief General Manager, Uttarakhand Jal Sansthan.
Uniyal said that the scorching heat is the main reason for the crisis as traditional sources have depleted. The pumping of water has been erratic due to erratic electricity supply. Some old pumping schemes are due for maintenance.
Haldwani is commercial capital of Kumaon and Guala river is the main source of water. With the receding water level of the Guala, coupled by less availability of electricity, the 3.25 lakh residents of Haldwani are getting less than 30 cusecs of water per day.
The fields of Bhabar nearby are also short of water for irrigation. In the Terai and Bhabar area of Kumaon, hand pumps only offer a trickle of water.
In Nainital, where the drinking water demand has reached 20 Mld per day during this peak tourist season, only 14 Mld water per day is being supplied. "This is because the surrounding peaks of Naini Lake have received very low rain fall this year," said MH Khan, Secretary, Water resources, Uttarakhand government.
Almora and Pitthoragarh towns are also facing severe water crisis as the traditional water sources of these town have dried up.
In Almora, as the natural water sources have dried up, the entire town now depends on the water from the Kosi river. But the river too is also drying up.
"We are able to operate only two pumps out of three installed on the Kosi," said an official of Jal Sansthan.
According to Dr SS Bisht, an activist from Almora, the policy of the government is responsible for the neglect of natural water sources of the town resulting in dependence on the Kosi for water.
"In Pitthoragarh town, we need 15.06 Mld water per day and we are getting only 9.96 Mld. More than 25 per cent water resources in rural areas have dried up due to scanty rainfall during winter," said LK Adhlakha, Executive Engineer, Pitthoragarh Jal Sansthan.
Bageshwar is one of worst-hit districts in Kumaon after Champawat. The volume of water in main rivers - Gomti and Saryu - has reduced to one-fourth. The 61 villages in Kharahi Patti in Bageshwer district are worst hit. There is no water to irrigate high-yield paddy fields in Garudh valley.
Lohaghat, Champawat, Tanakpur and Banbasa town of Champawat district are also facing their worst water crisis in the past five years.
Recently, in Lohaghat, villagers ghereoed local Member of Parliament Pradeep Tamta. Though the Jal Sansthan officers are trying to supply water by tankers but the villages far from the main road are not benefiting from this measure.
Some families have left the villages due to water scarcity, said Thakur Singh Bhandari from Ganura village in Bel Patti.
(The writer is a freelance scribe from Pitthoragarh)