PUNJAB
HARYANA
JAMMU & KASHMIR
HIMACHAL
REGIONAL BRIEFS
NATION
OPINIONS
LETTERS
BUSINESS
SPORTS
WORLD
Forest Act in red tape bind
The Forest Dwellers Act may have earned the UPA rich electoral dividends, but there is still a long way to go before it is properly implemented
Dehradun, June 14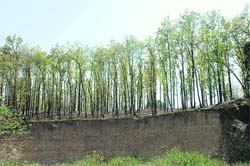 Even as the Forest Dwellers Act came as a big relief for communities living in forests, there is still a long way to go for its implementation. Representatives from as many as 16 key forest states, who held three-day long deliberations in Dehradun recently, have attributed lack of political will, red-tapism, divisive agenda on part of state governments and little awareness amongst forest communities as the major stumbling blocks in the path of implementation of the Act.
Need to save oak from the axe
Mussoorie, June 14
The oak is undoubtedly the evergreen cloak of alpine mountains. Baanj, as oak is locally called, is an integral part of life here - its canopies are a major source of groundwater streams, the wood is best for kitchen fire and leaves are most sought after for fodder.
513 GCs pass out with flying colours
June 14, 2009
Need to whet law on missing kids
June 13, 2009
Mela administration speeds up work
June 12, 2009
Trees felled in Tehri; probe ordered
June 11, 2009
Doon University opens on August 6
June 10, 2009
Rajaji, a wood smugglers' paradise?
June 9, 2009
Turning the wheel of power
June 8, 2009
Quarrying ban may hit real estate
June 7, 2009
Empower people to decide on power issue
June 6, 2009
On the horns of Green dilemma
June 5, 2009
Haridwar's Shubham tops Class XII
June 4, 2009