Pourpourri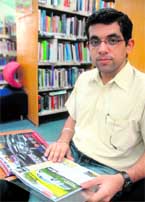 Nothing like curling up with a book on a rainy day. We check out the pet reads of some tricity youngsters for this seasonÖ


Pardon the poetry, the prose and the praise in the language, but people, itís monsoon! And over romanticizing everything around just canít be helped. Jane Austen, John Keats to our very own Munshi Premchand, which author did not give in to the titanic power of tiny drops? And who can forget Ruskin Bond and his fantasy world comprising nature, monsoon and mountains. Before the drizzle outside puts us in a daze, we check out if curling up with a book figures in the list of Ďrain must -dosí. Hereís bringing you peopleís favourite reads for the monsoons.
Ishq vishq
Debut director Sabir Khan is all keyed up for the release of Kambakkht Ishq


Sabir Khan is a man on mission. An assistant to Mahesh Bhatt and David Dhawan, Sabir makes his debut in Bollywood as a director with Sajid Nadiadwala's, feisty romance Kambakkht Ishq. Shot extensively in Hollywood with high production values, glam-quotient and actions, the film has Akshay Kumar and Kareena Kapoor in the lead roles and has special appearances by Sylvester Stallone, Brandan Routh and Denise Richards. We at Lifestyle talk to him about his first big budget film Kambakkht Ishq.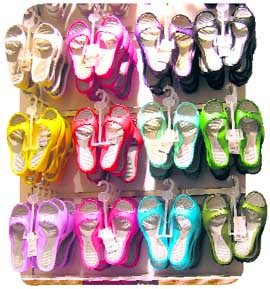 Rain, my foot!
Donít let the monsoons stop you from putting your best, and a little wet, foot forward. Hereís how to step out in style


With the heat wave giving way to monsoon showers, itís finally time to wrap up your pretty white leather slippers and those shiny velvet stilettos in a plastic bag and pick footwear that protects your feet from water; saves it from bacterial infection and looks stylish too. In one word, pick waterproof material that looks good on your feet. Flip-flops are good, so are the sporty sandals or floaters with straps, crocs are a good idea, so are rubber chappals. Easy to wash, they let the feet breathe and look cool too. Here, we get for you some real fancy ones available across the city stores.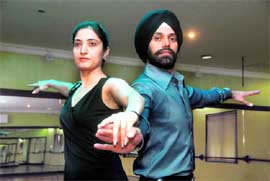 Being a sport
Dancing is fun. Dancing is healthy. And, it sure is the best form of entertainment we have; think Bollywood and the umpteen reality shows introducing us to a zillion dance forms. With dance came Latin and European freestyle and innovations. But just when we thought, we had enough of the usual salsa overdose, hereís another revelation. Dance is a sport, and not just for namesakes but as competitive and as technical as cricket or football.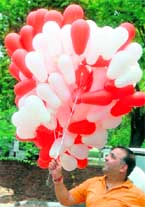 Star trek
Yes, itís a traditional Indian home, wherein buying anything, especially an electronic appliance is nothing short of a Vidhan Sabha session in progress. Whether it is a home theatre or a fully-automatic washing machine, mummy and daddy would window shop for the best bargain, the elder daughter will look up the Internet for more information on it. And, chota bhaiya will come jumping back with information gathered from the neighbours who own one. Yet another family affair hits the city on Friday in the form of ĎStars of Indiaí an exhibition organised by LG Electronics at Hotel Aroma. The exhibition showcases a series of world class products especially designed for India.
Side Lanes
Iím a memorial
If the children want any of the family inheritance, my statue, in pure white Italian Carrara marble, will have to be put up in the garden
July 3, 2009. It is a memorable date for a memorial. I sit before 65 statues, all veiled, waiting to be stripped, one at a time. The tension is palpable. Will it be her, him or the elephant? From my vantage point they look alike. I sweat and rivulets of salt fog my eyes. I brush all away with an impatient hand. There she comes!
Objet Dí ART
Car seva
For artistes, the Ambassador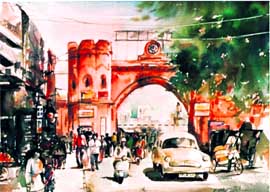 represents an era of Indian culture
Who says technology does not attract artists? Maybe at a different level, but they are not immune to it altogether. Take for example, Desmond Lazaro, a UK-born artist, who came to the MSU, Baroda, to do his masters and later became an apprentice of late master miniature artist Bannu Ved Pal Sharma and learnt both Picchvai and miniature school of art, picked up ambassador cars as lost cultural objects and painted it.

OFF ROADING: Bheem Malhotra captures the grandeur of the Ambassador with Amritsarís Hall Bazaar for a backdrop.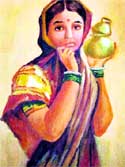 Original problem
Strange as it may seem, the home museum of renowned painter Raja Ravi Varma at Kilimanoor Place, near Thiruvananthapuram, does not have a single original of the maestro on display. Pained by the absence of originals, descendants of the legendary artist have sought a probe to trace and restore some of the precious works of their illustrious relative to the gallery, which displays only the prints of his paintings. Ravi Varma, known for his vivid and graceful depiction of scenes from Hindu epics, was born in a royal house of Kilimanoor in 1848. A prolific artist, he left hundreds of oil paintings before he died on October 2, 1906.
Creative zone
Rhythm and reason
Tabla maestro Ram Kumar Mishra feels accompanists in India do not get their due
Rhythm in Indian music is the perfect cadence which involves a uniform progression from note to note in ascending and descending orders and with various permutations and combinations variegated taal patterns can be created. Besides articulating the melody meter of the singer or instrumentalist the tabla has itself carved world recognition as a solo performing instrument," opines tabla maestro Pandit Ram Kumar Mishra , the percussion icon and doyen of Benaras Gharana.
Feel-good art
Cartoon character Popeye now becomes an artistís muse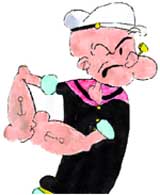 Artist Jeff Koons has presented a series of Popeye paintings in London, saying the cartoon hero born of the 1929 Depression was a symbol of self confidence, before adding enigmatically: "May be art is the spinach". The 54-year-old American, one of the world's most successful artists dubbed the "King of kitsch" for his shiny, balloon-like creations and references to pop culture, is marking the first major survey of his work to be held in a public English gallery. The 54-year-old American, one of the world's most successful artists dubbed the "King of kitsch" for his shiny, balloon-like creations and references to pop culture, is marking the first major survey of his work to be held in a public English gallery.