Protest against Delhi HC order
Jammu, July 7
A protest was held in the city of temples today against the Delhi High Court judgement legalising gay sex. Carrying placards, activists of the Bharatiya Chaitanya Party (BCP), including some women, protested at Bikram Chowk here against the court judgement. They cautioned the Union government of serious ramifications on society if it gave its nod to homosexuality.
Special pooja at cave shrine on Vyas Purnima
Srinagar, July 7
Vyas Purnima, also known as Guru Puranmashi, was marked by a special pooja at the Amarnath cave shrine this morning with devotees chanting religious hymns and paying obeisance at the sanctum sanctorum.
School without lecturers
Students, parents launch indefinite stir
Udhampur, July 7
Government Higher Secondary School, Lander, which was upgraded in 2006, has been functioning without a single permanent lecturer. Lander, the remotest village of Udhampur districts is 52 km away from Udhampur town.
Three brothers among eight killed in mishap
Udhampur, July 7
Eight persons, including three brothers, were killed when an oil tanker, in which they were travelling, skidded off the road and fell into a deep nullah near Ramban on the Jammu-Srinagar National Highway this morning. The majority of the dead were locals, who had hitched a 'lift' on the vehicle.
Soz seeks probe into delay in rail link
Srinagar, July 7
Unhappy over delay in completing a rail link between Kashmir and Jammu, state Congress chief Saifuddin Soz has sought a probe to ascertain why a realignment finalised earlier had gone wrong costing time and loss of Rs 300 crore.
Agro officers go on protest leave
Jammu, July 7
Officials of the agriculture and horticulture departments went on a one-day protest leave here today in response to the call given by the Agriculture Officers (Gazetted) Welfare Association.
Students hold rally for missing youth
Srinagar, July 7
Around 100 students today took out a march, asking the police to find out Ashrar Dar, a Maisuma youth missing for the past five days. Many youths claimed that he was in police custody as they chanted the slogan "Ae kafiron, ae jalimon, Ashrar hamara chhor do". Police officials say they have launched a probe.
Students gherao principal
Jammu, July 7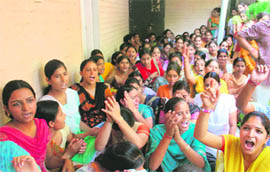 Demanding open admission for the first year students of BA, BSc, BCom regular courses, who could not find their names on the merit lists, the Jammu Joint Students' Federation (JJSF) held a protest against college principals and the Jammu University authorities for the fourth consecutive day today.
Students protest in front of Government College for Women, Gandhi Nagar, in Jammu on Tuesday. Photo: Inderjeet Singh
Polythene manufacturers meet Salathia
Jammu, July 7
A seven-member deputation of polythene manufacturers and industrialists of Jammu met Minister for Industries Surjeet Singh Salathia today and apprised him of the miseries being faced by them after the government imposed a blanket ban on the sale, storage, transportation and use of polythene bags.
ETT examination cancelled, 17,000 students stranded
Jammu, July 7
As many as 17,000 students, mainly from Punjab, Haryana and Rajasthan, were left harassed with the State Board of School Education canceling the Paper number 4 of the Elementary Teachers' Training (ETT) course at the last minute today.
Out-of-turn promotions
Srinagar, July 7
DGP Kuldeep Khoda has sanctioned out-of-turn promotions to 13 police personnel of Central Kashmir Range in recognition of their bravery while fighting militancy. Khoda said the performance of brave men in khaki on the anti-militancy front was reviewed here today and the Police Establishment Board recommended their out-of-turn promotions.
Maize farmers 'given' sub-standard seeds
Udhampur, July 7
Demanding action against officers of the Agriculture Department responsible for the failure of the maize crop, social activists and dissident Congress leader RS Pathania has alleged that sub-standard and eaten up maize seeds were distributed among farmers of the Majalata area of Ramnagar .