The song of the soil
Aparna Banerji
Tribune news Service
Jalandhar, July 16
Naran vichon naar Punjaban
Dil wali dildar Punjaban
Nau lakha hai haar Punjaban
Tarke uth ke dudh rirkadi naale parhdi bani
Oh kudi Punjaban bai hai giddheyan di rani….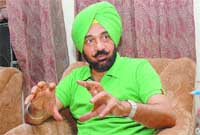 Pammi Bai
Sweet are his songs, for they belong to the soil he grew up loving. His presence sets the stage on fire. Nicknamed Pammi at home and suffixed Bai (meaning brother) by the charmed masses of Punjab, Pammi Bai has always stood for Punjabiyat and it is writ large in the contrasts that he balances so well in life.
A Michael Jackson fan, on stage he is an epitome of culture, a ball of fire, a kaintha, kurta, chadra-clad character straight out of a folktale, but off stage he is the speed-crazy (he has a thing for driving anything from a "khacchar rehra" to a hawai jahaj) "shauqeen Jatt".
Born Paramjit Singh Sidhu at Jakhepal village in Sangrur, he remembers one of his first encounters with music as those of the Saturday get-togethers in his village school where he used to sing to the class on the request of his teacher.
After the village school he shifted to Saunam school. It was here that he was introduced to bhangra. Watching bhangra legends like late Manohar Deepak and late Ustad Bhana Ram Saunami perform, he was glued to the folk dance.
He started learning bhangra in class V and never looked back. "I never thought I would pursue it professionally. Even the amount of hard work I was putting in would last until I choose some other profession was what I thought at that time."
But destiny had something else in store for him. Performing for the college bhangra group as a student of Shaheed Udham Singh Government College, Sunam, he was a favourite among the Youth Festival circles.
After college he joined Punjabi University, Patiala, as a student where represented the bhangra team at the inter-university level and was also a gold medallist in folk dance.
During college days he got offers to perform elsewhere (as a professional) too and his name was getting synonymous with Punjab's folk culture and bhangra.
After college he started practising as an advocate but his contribution to the field of art got him the job of the Programming Director of the Zonal Cultural Centre of the Government of India.
Working at this post for seven years, the performer in him took a toll on the administrator and he resigned from the post in 1994 to go back to performing as full-time artiste.
His first tape "Majhe, Malwe, Doabe Diyan Boliyan" came in 1995.
Its been a roller coaster ride so far with him being the most sought-after Punjabi folk performer worldwide and there's reason to it. He believes Punjabi art is meant as much for non-Punjabis as for Punjabis. A pioneer of sorts, he has had many firsts to his credit performing even at places (other than the regular US, Canada shows) like Paris, China, Belgium, Hungary, Denmark, Germany and Russia (where none of the members in his audience was Punjabi).
Pammi has also acted in serials like "Vichora" (Zee Punjabi) and films like "Bagaawat" and "Dhee Jatt Di".
What makes you stand out from the hordes of bhangra performers?
Commitment and a willingness to learn.
What do you think of the present scenario in the industry?
Artistes with money and without talent attempt to make it big. This field requires patience and commitment.
What are your upcoming projects?
An untitled album dedicated to Mirza and a workshop on the folk dances of Punjab with Punjabi University.
Message to the audience.
Ignore vulgarity. Buy original cassettes and CDs.