Josan hopes to turn the tables on Sukhbir Badal
Ferozepur, July 27
Fighting "CM in waiting" Sukhbir Singh Badal seems akin to ploughing a lonely furrow for former minister and two-time Congress legislator from Jalalabad Hans Raj Josan. Not that he admits that even though he is conducting rapid tours of villages in his constituency with little support from party higher ups.
Security arrangements in place for polls
Ferozepur, July 27
In order to ensure free, fair and peaceful by-poll for Jalalabad assembly segment scheduled to be held on August 3, 2009 , the district administration has made massive administrative and security arrangements so as to avoid any untoward incident on the day of polling.
Shift in farmers' preferences
'Considerable increase in cotton acreage unlikely'
Bathinda, July 27
Punjab is not expecting any significant jump in area under cotton cultivation during the current Kharif season due to increasing pest attack in the past two years, even as it sets a modest target of bringing 5.50 lakh hectares under cotton this year.
Cops highlight grievances at welfare meeting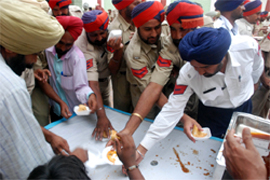 Bathinda, July 27
To redress the grievances of subordinates, Deputy Inspector General of Police, Faridkot Range, Jitendra Jain today held a welfare meeting with the police personnel from Bathinda, Mansa and Faridkot districts. During the meeting, cops highlighted their grievances like long pending promotions, health related problems and departmental friction.

Cops reach out for refreshments at the welfare meeting in Bathinda on Monday. Tribune photo: Pawan Sharma

Red Cross Welfare Section fails to serve its purpose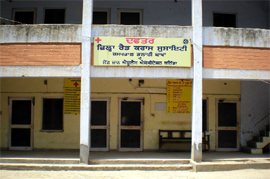 Bathinda, July 27
The Red Cross Hospital Welfare Section, Bathinda, meant to serve the needy, has not really measured up to the expectations. As per information, in the recently compiled annual report of the Hospital Welfare Section (HWS), almost every column bears just one word — nil— to show no work has been done.


A view of the office of Red Cross Hospital Welfare Section in Bathinda. Photo by writer
3 bodies found from canals in a day
Bathinda, July 27
Mystery shrouds the recovery of three bodies in different canals and distributaries of the district in just one day, today. An unidentified body of a sexagenarian was found floating in Sirind canal, near village Poohli in Bathinda district, this morning.
Woman among three killed in road mishap
Moga, July 27
A young man and his mother-in-law died on the spot, while his wife sustained injuries in a road accident, when the car in which they were travelling overturned after hitting a stray bull on the state highway outside the Grain Market at Baghapurana in the Moga district on Monday morning.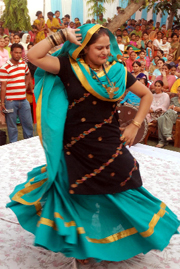 A woman performs during Teej celebrations organised by Phulkari Club at Kamla Nehru Colony in Bathinda on Sunday. Tribune photo: Pawan Sharma
Adulterated sweets seized
Bathinda, July 27
Taking serious view of the poor quality of sweets being produced by a large number of confectioners and sweet shops, health officials have confiscated about 100 kg of adulterated "sonpapri", "dhoda" and "pateesa" from two shops from Jogi Nagar today.
Fraud in pension scheme comes to light in Moga village
Moga, July 27
A fraud of financial irregularities in the release of old-age and widow pensions in the name of dead and missing persons by ignoring some actual beneficiaries has come to light in the Kot-ise-Khan village of Moga district exposing the functioning of the Social Welfare and Rural Development/Panchayat departments.
First day, poor show!
Academic session off to a hazy start as Pbi varsity delays results
Bathinda, July 27
Delay on the part of the Punjabi University, Patiala, in declaring results of several courses of previous session has left the colleges in Bathinda in a fix over commencing the current academic session which was scheduled to begin today.
NGO lists steps for town's facelift
Abohar, July 27
As the state government initiated drafting of a master plan for Abohar town under a scheme to be funded by the Central government, an NGO, Democratic Citizens Forum, has suggested that the century old water works located in the heart of the town should be abandoned to shift the municipal bus stand to spacious place.
Jakhar seeks rehabilitationof residents
Abohar, July 27
Cutting short his election campaign in Jalalabad segment, local legislator Sunil Jakhar, rushed back to meet the residents of Jammu Basti, who had recently been served notices by the Archaeological Survey of India to vacate houses, they built on ancient Mud Fort within 15 days.
Stir for land: 1,384 were held in Mansa
Chandigarh, July 27
Truth about the arrest of landless peasants and labourers by the police in May is coming to light, revealing state oppression.
BSNL daily wage earners to go on strike from today
Abohar, July 27
The daily wage earners, engaged by the contractors for BSNL, decided to go on an indefinite strike from Tuesday.