Interning for success
More and more high school and college students are making a beeline for internships to know their minds, gain experience and develop social skills. Of course, a little extra pocket money never hurts!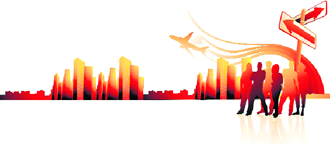 A team of young people were ideating on creating a social mobilisation campaign for a corporate social responsibility initiative of a real estate company. The best ideas came from two 17-year-olds interning with the company! Fresh-faced, eager to learn and please and updated on technology, they are a delight to have around is the general consensus in the industry.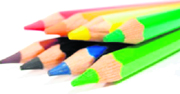 Graphic designers are predicted to hold the best & most jobs by 2014
It is a designer's world!
If you are looking at a career where you will
possibly never be out of a job, it is graphic
design. Graphic designers are predicted to
hold the most jobs by 2014. Keeping in mind the future of the media and the need for creative work, graphic designers are projected to have the best employment opportunities of all creative professionals.
The meltdown
B'lore techies settle for low-paying jobs
Begin exploring other fields as attrition rate rises to 23 per cent,
much of it attributed to layoffs
Till a few months ago, IT professional T.V. George was earning Rs 70,000 a month plus perks. But after losing his high-paying job, and being unemployed for three months, George, 31, has started giving tuitions in mathematics and physics to aspiring engineering students in his neighbourhood.

n ...over 1 cr new jobs this fiscal


Careercature
Sandeep Joshi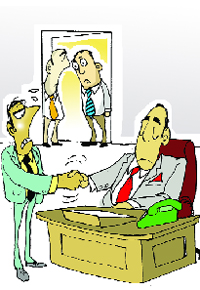 Is the boss giving him the
golden handshake?

Pharma, manufacturing & telecom sectors see highest salary increase for FY10; IT & financial services at bottom of list
Salary hikes
It's not all bad
Pharmaceuticals, manufacturing and telecom
sectors are witnessing the highest increase
of up to 11 per cent in salaries for FY 2009-10,
while IT and financial services got the least
hikes. With the economic downturn impacting the
earnings of companies, they were restructuring
their salary structures and focusing more on
performance and also cutting down on the
increments for the current fiscal, experts said.

n US employees to see pay hike in 2010
Course chat

n Now, a media course through distance learning
n IBM offers IT education tourism
Fortnightly Quiz-341

n A small step, but a giant leap
Career Hotline

n MPharm in Australia
You'll have to start afresh
n Where to study
n Mastering the genes
n Go on, do a diploma in X-ray technology
n Mission MBA: Let state not decide course
n Mass comm vs BCom
Weigh the pros & cons