TREND MILL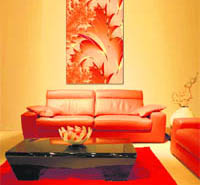 Let charm rise in the fall
Capture the outdoor fall spirit right in your living space. Embrace tones of browns, yellows, oranges and tans, writes SAURABH MALIK
THE winds of change sweeping the region are already gearing up to drive the monsoon clouds away. Before you realise, the not-so-balmy sun, snuggling under the thick grey-white blanket of haze will be shining again, albeit with much less vigour. That's precisely why you are getting ready to silently tuck away the single-shoulder satin tops and rainbow brights in some remote corner of your mind's closet and are picking up something more wintry.
One road, many problems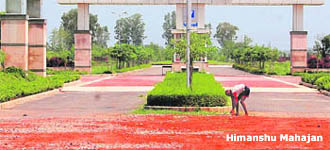 AGAINST popular expectations, property on Ferozepur Road outside the municipal limits of Ludhiana has failed to attract investors, particularly in housing projects. Not more than a couple of property dealers have "dared" to venture into the troubled waters and work in the area has not made any mentionable progress on ground.
Tax tips
It was a deemed capital gain
Q. This is regarding your answer to Mr Narinder Kumar Sharma's query published in The Tribune. In my view, Mr Sharma cannot show any capital gain beyond the actual consideration he received on paper. Whatever the way, he will have to stick to the figure of Rs 39.45 lakh. I understand that a higher deemed value was considered and the buyer paid the stamp duty accordingly.
You are late, difficult to claim exemption
MC limits: Measure distance by road
No tax on gift from aunt
It's a long-term capital gain
Realty to pick up on prices, activity
Cash-strapped developers cut prices by 25 to 40 pc, shrink apartments & redesign projects to tempt buyers, leading to an uptick in demand
INDIA'S property market could see lower prices and a pick up in business activity lifting demand in the near term, but new supply will keep a lid on rises in property values, a top industry official said on Tuesday.
GREEN HOUSE
Garden of life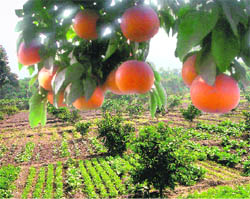 How about growing your own fruits, vegetables and pulses? If space is not a constraint, the choices in a nutrition garden are endless, but if you have a small garden, fret not. A little bit of timely planning can work wonders, writes Satish Narula
AT times I am surprised to see that those who have plenty of land in their estate purchase vegetables, fruits and pulses from the market for their own home consumption. With a little planning, we can ensure 24x7 supplies. We call such an arrangement a nutrition garden.
Fruits and vegetables grow side by side in the Nutrition Garden in Rashtrapati Bhavan, New Delhi. Photo by writer