Policies good but need proper implementation, says Deep Joshi
Gurgaon, August 4
Telephone as well as doorbells of Deep Joshi (62), a Gurgaon-based social activist, have not stopped ringing ever since the word of his having won this year's Ramon Magsaysay award spread.



The social activist has bagged this year's Ramon Magsaysay Award.
Centre to take up uranium issue with Oz
New Delhi, August 4
External Affairs Minister S M Krishna will seek to persuade Australia to lift the ban on uranium exports to India during his visit Down Under.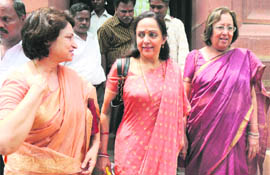 WOMEN POWER: (From left) Rajya Sabha MPs Maya Singh, Hema Malini and Nazma Heptulla outside Parliament in New Delhi on Tuesday. Tribune photo: Mukesh Aggarwal
No CBI probe into Rita house arson
Lucknow, August 4
Describing it as a "minor incident" BSP minister for parliamentary affairs Lalji Verma today refused to recommend a CBI probe into the loot and arson of UPCC president Rita Bahuguna Joshi's Lucknow house on the night of July 15.
India mulls satellite to monitor greenhouse gases
New Delhi, August 4
India plans to launch its own satellite to monitor greenhouse emissions and the government has already discussed the proposal with Indian Space Research Organisation (ISRO) chief G Madhavan Nair and his predecessor K Kasturirangan, Environment & Forests Minister Jairam Ramesh told the Rajya Sabha today. He noted very few countries in the world had launched such a satellite to check carbon emissions. He was replying during a marathon debate on his ministry's functioning.
Now, book rooms at Haryana tourism resorts online
Panchkula, August 4
Booking a room at any Haryana Tourism Resort is now just a click away. The new online room reservation system was launched by Minister of State for Tourism, Kiran Choudhry, here on Tuesday.
Oppn slams govt over price rise
New Delhi, August 4
The BJP-led opposition today alleged that the government had failed to check rise in prices of essential commodities in the country and wanted to know if it had a contingency plan in place to fight a possible fall in food grain production due to shortfall in rains.
Students join anti-dam movement in Assam
Guwahati, August 4
Even as the Centre and Arunachal Pradesh are preparing ground for construction of 168 hydro-electricity projects by damming numerous rivers cascading down Arunachal hills to the Assam valley, two prominent students' organisations in Assam have raised a war cry against construction of mega dams without making a proper 'downstream impact' study.
SC Collegium clears names of 4 Session Judges
Chandigarh, August 4
The Supreme Court collegium has cleared for elevation the names of four judicial officers of district and sessions judge level. Available information from Delhi suggests the names of KK Garg and Gurdev Singh from Punjab, along with Ram Chand Gupta and MS Sullar from Haryana, have been cleared.
India, Singapore ink pact on tourism
New Delhi, August 4
India and Singapore today signed a joint action plan on tourism cooperation. Minister of Tourism Kumari Selja and Singapore Senior Minister of State for Trade and Industry and Education S. Iswaran witnessed the signing by tourism officials of India and Singapore.
Cong unlikely to ask Virbhadra to step down
New Delhi, August 4
The Congress is in no hurry to take action against Union Steel Minister Virbhadra Singh, who has been booked in a corruption case by the Himachal Pradesh Vigilance Bureau.
CPM minister given state funeral
Kolkata, August 4
CPM minister Subhas Chakraborty (67), who died yesterday at a private nursing home, was given a state funeral today. The minister was cremated with full state honour in the evening in the presence of thousands of party workers, supporters and a large number of his friends and well-wishers.