PUNJAB
HARYANA
JAMMU & KASHMIR
HIMACHAL
REGIONAL BRIEFS
NATION
OPINIONS
LETTERS
BUSINESS
SPORTS
WORLD
Illegal occupation of govt land
Encroachers give officials tough time
Panipat, August 6
Even as encroachers have been occupying prime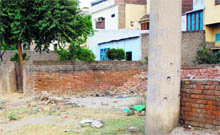 government land worth over Rs 24 crore at the Samalkha grain market, the authorities concerned are not in a position to proceed against them following tough resistance put up by the illegal occupants.
Encroachments by commission agents in the Samalkha grain market. Tribune photo: Ravi Kumar
Assembly Poll
EVMs to have Braille strips
Gurgaon, August 6
Here is some good news for visually impaired voters of the state who know Braille script. In the upcoming elections to the state Assembly, all electronic voting machines (EVMs) will have Braille ballot strips.
Assembly Poll
Local leaders gear up to contest from Kalka
Panchkula, August 6
While the absence of former Deputy Chief Minister Chander Mohan from the political scene since last year has made the second line Congress leaders from Panchkula dreaming of making it to state Assembly, the emergence of new Kalka Assembly constituency has provided another opportunity to local leaders to try their luck in the state politics.
'Spreading colours' in jail
August 4, 2009
Autorickshaws block road to hospital
July 31, 2009
Police told to monitor cattle fairs
July 28, 2009
Drive against illegal constructions in Bahadurgarh
July 24, 2009
ATM frauds on rise in Rewari
July 21, 2009
Relief for kin after long wait
July 17, 2009
Fee hike by private schools draws flak
July 14, 2009
Illegal speed breakers on highways pose danger
July 7, 2009
Ram Dhan Yadav's search for Birbal
July 3, 2009
Welfare steps elude labourers
June 30, 2009
Ban goes up in smoke in Gurgaon
June 26, 2009