M A I N N E W S
Three more deaths as govt sketches strategy
Pvt labs can conduct tests; airports to have thermal scanners
Aditi Tandon
Tribune News Service




Sanjay, 4, who died in Chennai
New Delhi, August 10
With three more persons succumbing to swine flu today, taking the nationwide death toll to seven, the government reviewed the level of pandemic preparedness in the country, asking states to take charge of the situation instead of depending solely on the Centre for direction and help.
Tamil Nadu recorded its first swine flu fatality with the death of a four-year old boy at a private hospital in the city today. Sanjay, who was on a ventilator, died following multi-organ failure, even as government health officials rushed to the hospital and tried to save him.
Tamil Nadu Health secretary VK Subburaj said the child's father had returned from Singapore last month. The boy was treated in various hospitals, which did not detect swine flu. An early detection of the disease would have saved him, he said. The boy's elder brother had also tested positive for swine flu. A six-year old boy near his residence was also found suffering from swine flu. The child had also attended school, at the early stages of flu and the private school where he studied declared a week-long holiday for its primary wing as a precautionary measure.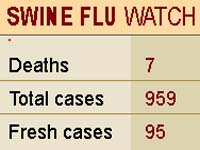 In Pune, an Ayurvedic doctor and a chemist succumbed to the virus today, taking the total number of H1N1 deaths in Maharashtra to five. Balasaheb Laxman Mane (35), who used to see patients in the slums of Pune, had tested positive for swine flue on August 6. Mane was brought to the government-run Sassoon hospital where he was administered Tamiflu and put on a ventilator, Arun Jhamkar, dean of Sassoon hospital told reporters. The chemist, identified as Sanjay Tilekar (35), was admitted to the hospital with heart problem and fever on August 6. The man also suffered from respiratory tract infection. Meanwhile, shifting gears to combat the deadly virus, the Centre today unveiled fresh initiatives like possibility of allowing private labs to conduct swine flu tests if they followed its guidelines and installation of thermal scanners at all international airports in the country to detect the H1N1 cases.
"We have to work a little harder," Health Minister Ghulam Nabi Azad told reporters in New Delhi, as people flocked to hospitals for swine flu tests. Azad, who has been asked by the PM to take urgent steps to tackle the menace, said, " So far, the Centre has been spoon-feeding the states but now they will have to get going, use their own budgets and expertise to combat the virus locally."
Azad also said he did not favour closure of schools but left it to the state governments and schools concerned to take a call. With cabinet secretary KM. Chandrashekhar watching over as the PM's representative, the high-level ministry meeting decided today to continue entry screening of passengers at international airports and procure several more thermal scanners.
Tamiflu will not be retailed for the moment though government would supply the drug to recognised private health providers, to be identified shortly. Tomorrow onwards, the Centre will depute teams of additional secretary and joint secretary level officers to cover each state and UT. Till then, the national stockpile of Tamiflu (out of 10 million capsules, Centre has given 75 lakh to states) will be replenished with two crore additional capsules and the government will also import 22,000 swine flu test kits to rule out shortage in states.
In another significant decision, the government said it would allow private labs to test for H1N1 if they got the required accreditation (guidelines have been sent to states) but ruled out free supply of chemical reagents to them. Some private healthcare providers today met the health ministry officials to express their inability to test if the government did not support them with prohibitively costly free reagents.
But Azad ruled that out, saying private hospitals would have to test for H1N1 the way they test for other diseases, some deadlier and costlier than H1N1. "We can't give them free reagents. We can't have different parameters for swine flu," said Azad, asking recognised private hospitals to create separate wards and isolation facilities for swine flu patients to prevent infection. Those that don't do so would be issued binding directives, the Minister said. On the vaccine front, Azad said, "We will import the vaccine if it is available with other countries before us." He has, meanwhile, asked ICMR to develop low-cost H1N1 testing kits.
(With inputs from N Ravikumar in Chennai and Shiv Kumar in Mumbai)