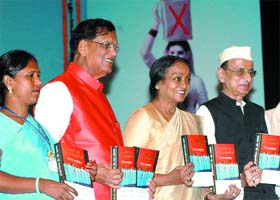 Meira Kumar, Speaker, Lok Sabha; Bindeshwar Pathak, founder of Sulabh Sanitation and Social Reform Movement; Bhishma Narain Singh, former union minister; and Usha Chomar, a scavenger from Alwar, release a book on 'New Princesses of Alwar and Alwar ki Nai Rajkumariya', based on the transformation of lives of erstwhile women scavengers of Alwar, at a function in New Delhi on Monday. Tribune photo: Mukesh Aggarwal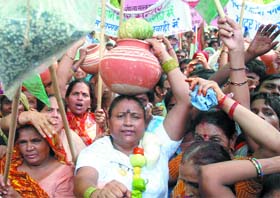 LJP activists shout slogans during a demonstration against the price hike of essential commodities in New Delhi on Monday. Tribune photo: Manas Ranjan Bhui
Court asks govt to review '84 riots victim's claim
Megh Singh had asked for an increase in compensation amount for the death of his father
New Delhi, August 10
The Delhi High Court has advised the government to review the claim for enhanced compensation of a 1984 anti-Sikh riots victim, according it "sympathetic consideration", but has called for caution in ensuring that the claim was "genuine".
Ghaziabad residents protest outages
People in Brij Vihar, Rampur, and Surya Nagar burn effigy of CM Mayawati
Ghaziabad, August 10
Fed up with power shortage, angry Ghaziabad residents yesterday created a commotion at Shalimar Garden power substation and damaged it also. The agitators also jammed the G.T. Road.
Friend turns killer
New Delhi, August 10
With the arrest of two persons, the special staff of east district claimed to have solved the kidnapping-cum-murder case of New Ashok Nagar in which a young married businessman had been missing since July 25 and later found dead in Noida.
Govt to acquire more land for low-cost housing
New Delhi, August 10
The Delhi government will acquire more land at a cost of Rs 108 crore for low-cost housing project. In its meeting today, the Delhi cabinet decided to begin the allotment of the low-cost housing flats soon.
DUSU elections on Sep 4
New Delhi, August 10
The Delhi University Students Union (DUSU) elections will take place on September 4. The university administration has announced the schedule for the elections. The last date for the receipt of nomination papers is August 25.
Get beggars off the streets, high court tells Delhi govt
New Delhi, August 10
The Delhi High Court on Monday asked the state government to implement stringent measures and co-ordinate with the neighbouring states to curb the menace of begging in the city.
Couple's scooter hit by truck, wife dead
New Delhi, August 10
Sunday shopping turned into a tragedy for an Indian Meteorological Department (IMD) official whose wife was killed when a speeding truck hit their scooter last night in south Delhi.
DDA budget focuses on Games projects
New Delhi, August 10
The Delhi Development Authority (DDA) today passed its budget for the 2009-10, which envisages increased expenditure on developmental works. The authority has projected a total expenditure of Rs 4737.83 crore and a receipt of Rs 6570.58 crore for the financial year 2009-2010.
Dalit boy's ear chopped
For straying into farm of upper caste farmer
Greater Noida, August 10
The ear of a Dalit boy has been allegedly chopped off by three sons of the farmer with a sickle. The boy had strayed into the farm of a rich upper caste farmer and was cutting grass in the field in Aulada Jagirpur village under Dankore Kotwali.
Missing realtor is murdered
Greater Noida, August 10
A realtor in Greater Noida who had been missing for seven days has been poisoned to death in mysterious circumstances. The Kasna police has now registered a case of kidnapping and murder.
Karisma Kapoor's husband deposes in extortion case
New Delhi, August 10
The husband of Bollywood actress Karisma Kapoor told a city court on Monday that he did not know Raj Kumar Wazirchand Vazirani, a Mumbai resident, who was arrested for demanding Rs 50 crore from him in 2005.
Rs 1-cr Greater Noida robbery solved
Greater Noida, August 10
The Greater Noida police on Monday claimed to have solved a Rs 1-crore robbery with the arrest of five people, officials said. The police arrested the five men - Dharmendra, Ashu, Gyanveer, Dinesh and Sanjeev - from the Dankore area in Greater Noida on Monday.