Woman burnt to death in Noida
Parents allege dowry harassment
Noida, August 2
A married woman reportedly set herself on fire at Gojha village in Noida's Phase-II. However, her parents have alleged that she had been killed by her in-laws for dowry. The police has registered a case of dowry death against four persons, including the husband of the woman. DSP Vikas Tripathi is investigating the case.
Mother, stepfather held for murder of boy
Noida, August 2
Mother and stepfather have been arrested for the murder of a five-year-old boy in suspicious circumstances. The first husband of the woman alleged that she, along with her second husband, had killed the boy.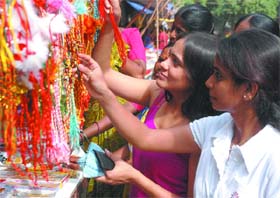 FOR MY BROTHER: Girls select rakhis at Sewa Mahila Bazaar a few days before the Raksha Bandhan festival in New Delhi on Sunday. Tribune photo: Manas Ranjan Bhui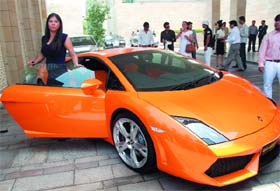 MAIDEN JOURNEY: A Lamborghini car owner poses with her car during the first women car driving event, in New Delhi on Sunday. The event, which will feature Bentley and Lamborghini car owners in India, is being organised by Exclusive Motors. Tribune photo: Manas Ranjan Bhui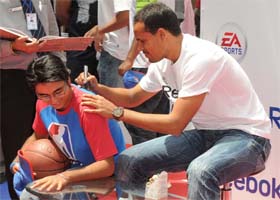 ANYTIME, ANYWHERE FOR FANS: Cricketer Yusuf Pathan signs an autograph at Ambience Mall in Gurgaon on Sunday. Tribune photo: Sayeed Ahmed
Commuters wait in vain for new buses in Gurgaon
Gurgaon, August 2
The transport authorities have claimed time and again that they will provide new buses to passengers, but without any result so far. Those who travel in the Haryana roadways buses might have to wait for some more time to take a trip in new buses.
Delhi, NCR record 17% jump in jobs
New Delhi, August 2
Shrugging off recession worries, the national capital region (NCR) has recorded a 17.1 per cent surge in jobs creation in the first four months of this fiscal against the last four months of the previous fiscal, according to a study by a business body.
Post-delimitation, new aspirants come into play
Faridabad, August 2
The change in the profile of the demography of the assembly constituencies in this district following the delimitation has thrown up new aspirants for tickets in the coming elections in the state.
Tight security for 15 August
New Delhi, August 2
With less than two weeks to go for the Independence Day celebrations at the Red Fort , the Delhi police is busy preparing to provide security for the function. Several top officials of the Delhi police spent a considerable time in their offices today, despite it being a holiday.
Several hurt in clash between cops, villagers
Nuh (Mewat), August 2
A number of persons were injured in a clash that broke out between some local police personnel and villagers near Badkali Chowk in the district today.
Blueline kills man in Daryaganj
New Delhi, August 2
A man was killed while another suffered injuries after a Blueline bus hit a rickshaw in Daryaganj area of central district today. Police said that the incident took place at around 6.15 in the evening today.
Delhi govt keen on rainwater harvesting
New Delhi, August 2
In a move aimed at overcoming water shortage in the Capital, the Delhi government has issued fresh directives to all its departments, local bodies and public sector undertakings to install rain water harvesting systems in their buildings.
Politicians, media debate on national interests
New Delhi, August 2
The political parties should keep in mind the national agenda apart from their party agenda while dealing with the issues of national interests. This was the consensus drawn at a national seminar on "Confrontation or consensus on political scene, media's role in conciliation" in the Capital yesterday.
IGNOU extends admission dates
New Delhi, August 2
Indira Gandhi National Open University has extended the date for admission to its 129 programmes mentioned in the common prospectus and other 125 programmes listed in separate prospectuses to August 17 along with late fee of Rs 200.
ISO for Metro institute
New Delhi, August 2
The training institute of the Delhi Metro Rail Corporation has received ISO 9001:2008 certification, a validation from the International Organisation for Standardisation for maintaining standards in quality management system in training. — TNS