Let Parliament decide Mush's fate: Pak PM
Islamabad, August 2
Pakistan's Parliament should decide the fate of former President Pervez Musharraf following the Supreme Court's verdict that the emergency imposed by him in 2007 was unconstitutional and illegal, Prime Minister Yousuf Raza Gilani has said.
24 killed in Karachi building collapse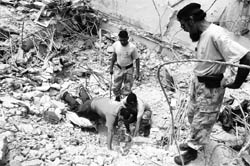 Karachi, August 2
At least 24 persons, mostly women and children, were killed when a five-storey building collapsed here, authorities said. The building located at Lea Market area, which was weakened by heavy monsoon rains, caved in Friday night, a local official said, adding that the rescue operation was still on.
Pakistani paramilitary troops look in the rubble to find bodies at the site where a five-storey building collapsed, in Karachi on Sunday. — AP/PTI
Plane carrying 16 goes missing
Jakarta, August 2
A plane carrying 16 people today went missing in a mountainous area of Indonesia's restive Papua province, officials said. The Merpati Airlines plane carrying 13 passengers and three crew was flying from Jayapura to Oksibil town when it lost contact with air traffic control, transport safety chief Herry Bhakti Singayuda told AFP.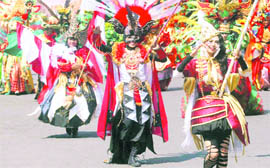 Indonesian dancers perform during Jember fashion carnival in Jember, East Java, Indonesia, on Sunday. — AP/PTI
Report: Myanmar close to testing N-bomb
Melbourne, August 2
As world concerns remain focused on the clandestine nuclear programme of North Korea and Iran, reports are filtering in of Myanmar's isolated military junta may be just a few years from testing its first atomic bomb.
Swine Flu
Indian dies in Singapore
Kuala Lumpur, August 2
A 29 year-old Indian woman suffering from swine flu died in Singapore today, becoming the sixth victim of the dreaded disease in two weeks in the country, according to media reports.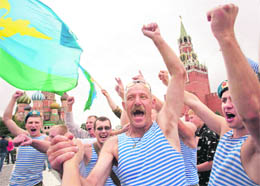 Former paratroopers wave flags celebrating a Russian Paratroopers' Day at the Red Square in Moscow on Sunday. Paratroopers are an elite unit of the Russian Army, and everyone in the country recognises their blue berets. — AP/PTI
Sufi faces treason charge
Islamabad, August 2
The Pakistan police today slapped criminal charges against Sufi Muhammad, a radical leader who helped broker controversial peace deal with the Swat Taliban, accusing him of aiding terrorism, sedition and conspiring against the government.
Summer retreat for Swat girls
Islamabad, August 2
A group of Pakistani youngsters are organising a 10-day summer retreat for girls from the militancy-affected Swat valley to help them rejuvenate from the violence and brutality they have witnessed. The retreat is being organised in the federal capital under the banner of Shajar-e-Ilm or Tree of Knowledge from August 14. "This retreat is being held in collaboration with a reputed and progressive educationalist within Swat valley, Ziauddin Yusufzai, who has been working for female education despite tremendous threats and obstacles," said a statement from the organisers.
Five NATO soldiers killed in Afghanistan
Kabul, August 2
Five NATO soldiers, three of them US troops, were killed in insurgent attacks in Afghanistan, the force said today, adding to a bloody start to the month in a growing fight against the extremist Taliban.