GMCH OPD open on Aug 14
Chandigarh, August 11
The UT administration has decided to make the OPD at the Government Medical College and Hospital, Sector-32, Chandigarh, open on August 14. This decision has been taken in the wake of continuous holidays from August 14 to August 16 in Chandigarh. — TNS
Non-compliance of forum order
2-yr jail for ICICI Bank manager
Chandigarh, August 11
Failing to comply with the orders of the District Consumer Disputes Redressal Forum, the forum directed the branch manager of ICICI Bank, Sector 9, to undergo two-year imprisonment and pay a fine of Rs 10,000 under Section 27 of the Consumer Protection Act, 1986.
GMADA hikes reserve price of residential plots
Mohali, August 11
A few weeks ahead of the proposed auction of residential plots here, the Greater Mohali Area Development Authority (GMADA) has increased the reserve price of residential plots in the Mohali urban estate.
Merchant navy officer dies at airport
Chandigarh, August 11
Sukhwinder Singh (64), a merchant navy officer, died after he collapsed at the Chandigarh Airport here this morning, a few minutes before boarding a flight for Mumbai.
'Wah Chandigarh' tomorrow
Chandigarh, August 11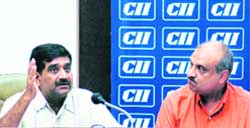 The Chandigarh administration, in collaboration with the CII, Chandigarh, will organise "Wah! Chandigarh -- Celebrating the Spirit of Chandigarh" on August 13, 2009, at CII building, Sector 31, here.
Home Secretary Ram Niwas, along with chairman of CII Chandigarh Council, Partap Aggarwal, addresses a press conference in Chandigarh on Tuesday. A Tribune photograph
MRTS draft plan submitted
Chandigarh, August 11
The Draft Comprehensive Mobility Plan for the Mass Rapid Transit System (MRTS) for Chandigarh Urban Complex has been submitted and uploaded on the Chandigarh administration website www.chandigarh.gov.in.
35 yrs on, Mohali lacks stadium
Mohali, August 11
The Greater Mohali Area Development Authority (GMADA) has failed to construct a stadium for sports lovers in Mohali, lamented a municipal councillor.
Squash centre opened in Attawa village
Chandigarh, August 11
Satinder Bajwa, mentor of eight-time world squash champion Jansher Khan, has opened a squash centre, Khelshala, at Sector 42 Attawa village with an aim to give life-time benefits to the village kids by training them in the sport.
Policemen save girl from drowning
Chandigarh, August 11
Alert policemen today saved a girl from drowning in Sukhna Lake, here, who accidentally slipped into the murky waters from the staircases this morning.
CITCO gets new directors
Chandigarh, August 11
Umesh Kapoor among others has been appointed as new director in the Board of Directors (BoD) of Chandigarh Industrial and Tourism Corporation Ltd (CITCO) with an immediate effect.
IAF study: Smoking leads to hearing loss among aircrew
Chandigarh, August 11
An IAF study has linked smoking to increased prevalence of noise-induced hearing loss amongst its personnel. The study also found that personnel engaged in technical trades were more prone to noise -related hearing loss.
Sham-e-Ghazal impresses audience
Chandigarh, August 11
After organising a grandiose recital by Anuradha Pal, a tabla maestro of international eminence, the Pracheen Kala Kendra featured local ghazal singer Vinod Sood in a Sham-e-Ghazal concert at their auditorium here today.
Mohali boy drowns in Rajpura
Parents allege foul play
Rajpura, August 11
Parents of a 21-year-old youth from Mohali, who drowned in the Bhakra-Narwana canal branch yesterday, are not ready to buy the police theory of it being an accident.
Man dies mysteriously
Chandigarh, August 11
Rajwinder Singh Attwal (38), a resident of Sector 37, died under mysterious circumstances at his residence here this afternoon.


Tribune Impact
PU orders cleaning of water tanks
Chandigarh, August 11
Taking cognisance of a report highlighting monkeys drinking and bathing in the water tanks in Panjab University boys hostel no. 6, the varsity has decided to initiate series of steps to curb the menace.
Only 9% clear LLM exam
Chandigarh, August 11
With the result of LLM (first year) being declared today, the department registered an all-time low pass percentage of 9, with only three out of 27 students clearing all subjects.
Panel to probe student's complaint
Chandigarh, August 11
Taking the cognisance of the complaint of Simran Kaur, a student of MA-II in the department of French, accusing her teachers of exhibiting biased behaviour by granting her less marks in various subjects, the university has constituted a committee to look into the matter.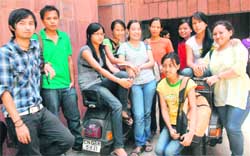 Regional identities in PU
Strong Manipuri presence
Chandigarh, August 11
One possibly cannot ignore the cultural diversity that arrives in Panjab University with the inflow of students from various regions and cultures.


Manipuri students chill at Panjab University. Tribune photo: Pradeep Tewari