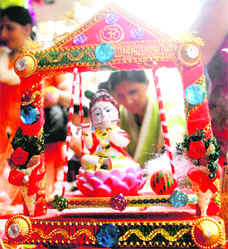 Devotees purchase an idol of Lord Krishna for Janmashtmi in Jammu on Wednesday. Photo: Inderjeet Singh

Shopian Case
Govt move bid to cover up brutality: PDP
Srinagar, August 12
The PDP has said the government announcement about referring the investigation into the Shopian case to the CBI was yet another attempt to cover up the brutality. Reacting to the announcement by Finance Minister Abdul Rahim Rather in the state assembly, Mehbooba Mufti said the CBI as an institution had failed to reach truth in earlier cases like the infamous sex scandal in the state.
Jammu students boycott classes
Jammu, August 12
In support of their demand of immediate establishment of a Central University in Jammu, the students of all city colleges boycotted their classes today under the banner of the Central University Andolan Samiti.
Tailor killed for objecting to liquor sale to father
Rajouri, August 12
A shopkeeper was murdered allegedly by two persons, including a personal security officer (PSO) of a senior BJP leader, at Dungri Brahamana here this morning.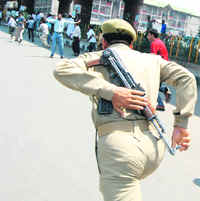 Govt staff lathicharged
Srinagar, August 12
Work in government offices was affected across the Kashmir valley in response to the call given by the employees unions today while the police resorted to cane charge to prevent the agitating employees from reaching Lal Chowk. The employees have been demanding the fulfilment of the promises made to them on the Sixth Pay Commission recommendations. Protest demonstrations were also held at different district headquarters by the employees unions, reports here said.
A policeman chases government employees during a protest in Srinagar on Wednesday. Tribune photo

Docs' strike affects OPD services
Srinagar, August 12
Work has been paralysed at the Sher-e Kashmir Institute of Medical Sciences (SKIMS), Soura, following the strike called by resident doctors.
Three cops among 7 hurt in clashes
Srinagar, August 12
At least seven persons, including three policemen, were injured in clashes between the security forces and protesters today after two CRPF personnel allegedly misbehaved with a sister-brother duo in Qazigund town.
BJP flays lathicharge on govt staff
Jammu, August 12
State president of the BJP Ashok Khajuria has condemned the lathicharge on the government employees in Srinagar today, who were demanding removal of anomalies in the Sixth Pay Commission and implementation of its recommendations.
2 cops suspended for Pak national's escape
Jammu, August 12
Taking serious cognizance of escape of a Pak national from Khour police station on August 10, two cops were suspended and an SPO was dismissed from services.
Andolan samiti to hold parallel I-Day functions
Jammu, August 12
The central university row may cast a shadow on Independence Day celebrations this year. The Central University Andolan Samiti (CUAS) has already decided to boycott government organised I-Day functions across the Jammu region.
Security up on border
Jammu, August 12
Security forces have beefed up vigil at the International Border and the LoC to thwart possible infiltration attempts by militants ahead of the Independence Day celebrations.
One killed, 10 injured in grenade attack
Srinagar, August 12
One civilian was killed and at least 10 others injured when a grenade lobbed by militants, targeting CRPF personnel, exploded on the roadside.