Pain of Partition lingers on
Jammu, August 14
Though Independence came to the people with the pain of Partition, the popular mood was that of uncertainty over the future of the state.
Shopian Case
SIT raids hospital
Srinagar, August 14
The special investigation team (SIT) probing the Shopian incident raided the Pulwama district hospital late last evening and seized certain material in its attempt to determine as to how forensic samples from two victims were changed.
Janmashtami celebrated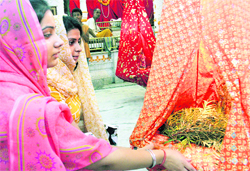 Jammu, August 14
Janmashtami was celebrated here with great religious fervour and gaiety today. Hundreds of devotees of Lord Krishna thronged different temples of the city, which were fully decorated with lights and flowers.Bhajans and Kirtans continued in all temples and people paid obeisance to Lord Krishna in large numbers. A heavy rush of devotees was seen at Raghunath Temple.

Devotees perform puja on the occasion of Janmashtami in a Jammu temple on Friday. Tribune photo: Anand Sharma
Kite-flying festival concludes
Jammu, August 14
A two-day kite-flying festival organised by the Tourism Department concluded at Tourist Reception Centre here today.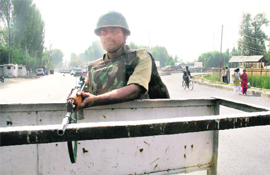 A CRPF jawan maintains a strict vigil at Parampora, the main venue for I-Day celebrations, in Srinagar on Friday. Photo: Amin War
Minister apprised of college staff shortage
Udhampur, August 14
The Bharatiya Janata Yuva Morcha (BJYM) has expressed concern over the shortage of teachers and other infrastructure in two degree colleges here.
Kirti Chakra for martyred Kashmiri soldier
Srinagar, August 14
A Kashmiri soldier, who was killed in an encounter with militants on March 21, has been awarded Kirti Chakra by the President.
Central Varsity
Andolan samiti to intensify stir
Jammu, August 14
The Central University Andolan Samiti (CUAS) will celebrate a parallel function on the Independence Day here tommorrow. The samiti has decided to intensify its ongoing agitation for the demand of immediate establishment of Central University in Jammu, from August 16. The parallel function would be held at the City Chowk and Pavitar Singh, convenor of the CUAS, would hoist the flag.


Invitations for I-Day function burnt
Take steps to tackle swine flu, says BJP
Jammu, August 14
BJP spokesperson Ramesh Arora has asked the state and central governments to take effective steps to tackle swine flu in the state. He also sought the help of government hospitals and other medical colleges in the state to create awareness among people about the virus.
Handicapped former VDC member awaits succour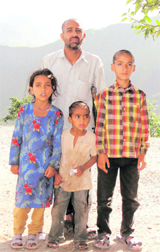 Bani, August 14
His patriotism has pushed his family to starvation. Being a member of a village defence committee (VDC), he broke his left leg while leading a night patrol party of the Dogra Regiment in the militancy-infested hill terrain covered with dense forest. Had Girdhari Lal been a member of the security forces, he would have received compensation and pension. If he had died, then too he would have been eligible for a lump-sum payment. But to his misfortune he merely lost the use of his lower limbs.Girdhari Lal fell from a snow-covered hillock on a wintry night in January, 2005. The incident left him handicapped for any sort of physical work and he now can barely move around his courtyard with the support of crutches.

Girdhari Lal with his children at Saili village in Bani tehsil of Kathua district. Photo by writer
Security tightened on I-Day eve
Srinagar, August 14
The movement of traffic was restricted as the authorities clamped security restrictions ahead of Independence Day celebrations in Bakshi Stadium tomorrow .
Pak flags hoisted, Tricolour burnt in valley
Srinagar, August 14
The police lobbed teargas shells and used batons to disperse a group of youths who set ablaze a Tricolour and hoisted Pakistani flags at a few places and raised slogans in favour of the neighbouring country on the occasion of its Independence Day today.
2 arrested for impersonation
Jammu, August 14
The police arrested two youths after one of them was found taking the Railway recruitment exams for the other at Chowadi in the Sainik Colony area here yesterday.
Official sources said the impersonator, hailing from Bihar, had been identified as Raju Kumar, who had been appearing on behalf of Arun Kumar. A case has been registered.
Sikh youth found dead in hotel
Jammu, August 14
A 25-year-old Sikh boy was found dead in a hotel room in Chand Nagar today.The police found the body in a room of Fort View Hotel during checking in view of Independence Day.
Medical camp
Udhampur, August 14
The Rashtriya Rifles organised medical camp at village Hadal in Bhaderwah under the Operation Sadbhavana.4 Rashtriya Rifles (Bihar) provided much-needed specialised medicare to women, children and elderly people residing in the far-flung areas and nearby villages, including Sharekhi, Bheja and Thanala.
Pakistan army's goodwill gesture
Rajouri, August 14
As a good will gesture on the occasion of Pakistan's Independence Day today, Pakistani troops gave sweets to Indian troops at the Zero Line in Chakkan Da Bagh of Poonch, near the LOC, after it was opened today morning for 15 minutes. Col Rashid of the Pakistani army gave boxes of sweets to Col JP Yadav of the Indian Army. — TNS