Govt staff to go on pen-down strike
Jammu, August 16
The Joint Consultative Committee (JCC) of the state government employees has decided to go on two-day pen-down strike on August 19 and 20, besides holding a mass protest rally on August 20 to stress upon the government to concede their long-standing demands.
Kashmiri samaj welcomes employment package
Jammu, August 16
RK Bhat, president of the Youth All-India Kashmiri Samaj (YAIKS), along with senior vice-president Bal Krishan Bhat, secretary Manoj Handoo and other executive members, welcomed the announcement of 15,000 jobs for unemployed youth and the formal budgetary provisions earmarked for the said package in the state Budget in a media conference today.
JMC to shelter homeless
Jammu, August 16
The Jammu Municipal Corporation (JMC) has started a project for the rehabilitation of slum dwellers and the homeless. The dwelling units are constructed under the scheme of Jawahar Lal Nehru Urban Renewal Mission (JNURM).
Shopian case: SIT questions doctors
Srinagar, August 16
The SIT, probing the Shopian rape-and-murder case, has questioned the doctors who had conducted the second postmortem and made the slides of vaginal swabs of the two victims after it came to light that they were possibly tampered with.


Workers' body seeks hike in tax exemption limit
Jammu, August 16
Maintaining steep rise in the prices of essential commodities, National Mazdoor Conference (NMC) has demanded an increase in income tax exemption limit to the tune of Rs 3 lakh.
Members of the National Mazdoor Conference protest in support of their demands in Jammu on Sunday. Tribune photo
Kashmir: Mufti urges PM to spur action
Srinagar, August 16
Former Chief Minister and PDP patron Mufti Mohammad Sayeed said today that the inability of the state to solve the Shopian rape and murder case owed itself to the general atmosphere of "non-accountability" of security forces in Jammu and Kashmir.
BJP: Govt neglecting militancy-hit
Jammu, August 16
Baldev Raj Sharma, BJP MLA from Reasi, has alleged that the state government has shown callousness and disinterest in discharging its duty towards militancy-affected children and women. Addressing a media conference here today, he said: "The government is duty bound to provide assistance to the militancy-affected children and women but it is not doing so properly.
Gujjars rue damage to monuments
Srinagar, August 16
The Gujjars of the state were up in arms against the "forces" allegedly destroying tribal properties and other historic monuments alongside the Mughal Road that is coming up as an alternative link between Srinagar and Jammu through Pir Panjal, a part of mountain chain of the Himalaya.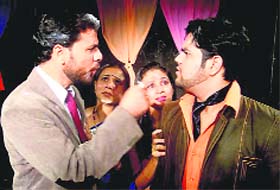 A scene from play 'An Inspector Calls', presented by Natrang in Jammu on Sunday. Photo: Inderjeet Singh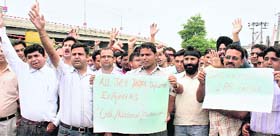 Members of the All-J&K Degree/Diploma Engineers Union protest in support of their pending demands at Exhibition Ground in Jammu on Sunday. Tribune photo
Overage PHE staff told to take VRS or face MRI test
Srinagar, August 16
Hundreds of government employees, who are well past their retirement age but remained in work on incorrect age proofs and have been withdrawing their salaries every month without turning up at their places of postings, have been asked to voluntary retire or face the MRI test to determine their age and pay up the extra money they have drawn from the treasury.
War memorial at Zozila
Srinagar, August 16
The General Officer Commanding (GOC), Forever in Operations Division, inaugurated the Zozila War Memorial at Gumri, located at an altitude of 11,578 feet, yesterday to commemorate the valour and sacrifices of martyrs of the 1947-48 war with Pakistan.
JK police team scales summit
Srinagar, August 16
A joint team of Jammu and Kashmir Police and mountaineers of the North-East Adventure Foundation scaled 17,770-foot-high Kohli peak in groups on August 12- 13. The joint team comprised 17 members of the state police and 20 of the foundation.
Mules continue to be Army's lifeline
Srinagar, August 16
Mules are playing a crucial role in the lives of Army personnel stationed at Angan Pathri, a high altitude region in the state. In order to carry ration, ammunition and other essential supplies at an altitude of 13,000 feet, the Army turns to mules, since no vehicle can traverse the treacherous narrow path in the region that is situated at the Line of Control.
Swine Flu
Two more samples sent to NICD
Jammu, August 16
The blood samples of two more having swine flu symptoms were airlifted today to the National Institute of Communicable Diseases (NICD) in New Delhi, thereby taking the total number to 38 since July 10.
PoK residents witness I-Day celebrations
Srinagar, August 16
For the first time a group of residents from PoK were among 4,000 people who witnessed the Independence Day celebrations in north Kashmir.
Plantation drive launched
Jammu, August 16
Deputy Chief Minister Tara Chand today planted different saplings as a symbol of a plantation drive launched by the Jammu Municipal Corporation (JMC) at Muslim Graveyard in Sidhra.
NSF seeks probe into fee hike
Jammu, August 16
The National Secular Forum (NSF) today demanded probe into the matter of charging up of exorbitant and extra fee from the students at the time of admission process in the university.
Teenaged girl found hanging
Jammu, August 16
Mystery shrouds the death of 16-year old Anu Kumari, a student of class 9th, who was found hanging from the ceiling fan in her house in Ragoora village, near Sidhra, on the outskirts of the city this afternoon.