Swine Flu
Four more test positive
Jammu/Srinagar, August 17
Four more persons have tested positive for the H1N1 virus in the capital city taking the total number to five since August 11. Epidemiologist Dr RS Charak told The Tribune that out of the reports of 12 persons received here today, four had tested positive.
Tieup between central Asian, Eurasian nations 'needed'
Srinagar, August 17
Experts have called for a close cooperation between different Eurasian and central Asian regions, saying there could be no lasting peace without cooperation.
Swine flu patients asked not to frequent hospitals
Srinagar, August 17
Asking people suffering from swine flu not to visit hospitals off and on, Prof Abdul Hamid Zargar, Director of the Sher-i Kashmir Institute of Medical Sciences (SKIMS), Soura, said this would put a larger section of population at risk.
Renegotiate pacts with NHPC: PDP
Srinagar August 17
Former Chief Minister Mufti Mohammad Sayeed has called for urgent renegotiation of all arrangements with the NHPC saying the state suffered economic disaster due to the exploitative use of its water resources.
Monitoring cell for development boards soon
Srinagar, August 17
State Finance Minister Abdul Rahim Rather has said powers of the District Development Boards (DDBs) had not been eroded but were further strengthened for an overall development of the state.
Tajikistan, Kyrgyzstan Guvs meet Vohra
Srinagar, August 17
The Ambassadors of Tajikistan and Kyrgyzstan in India, Saidbeg Saidbov and Irina Orolbaeva, respectively, called on Governor NN Vohra here today.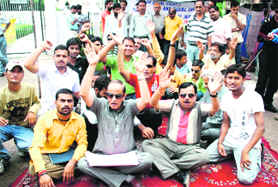 Visually impaired want Raina panel report scrapped
Jammu, August 17
The National Federation of the Blind (NFB) today staged a protest outside the Office of Divisional Commissioner, Jammu, and demanded immediate withdrawal of the Raina Committee report.
Members of the J&K Blind Association protest in support of their demands in front of the Divisional Commissioner's office in Jammu on Monday. A Tribune photograph

Signature campaign over varsity issue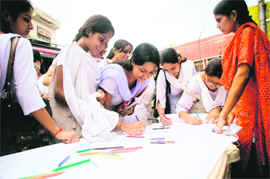 Jammu, August 17
In continuation of its ongoing awareness campaigning for the establishment of a central university in Jammu, the Panthers Student Association (PSA) here today conducted a signature campaign in front of the Government College for Women.
Students take part in a signature campaign for the setting up of the proposed central university in the Jammu region at the main gate of Government College for Women in Jammu on Monday. Tribune photo: Anand Sharma

PDD daily-wage staff stir from today
Jammu, August 17
Around 6,000 daily-wage employees of the Power Development Department (PDD) will go on a four-day strike tomorrow against what they alleged 'undue delay' by the administration in regularising their services.
Disappeared Persons
No plan for inquiry commission: Govt
Srinagar, August 17
The government has no plans to set up a commission of inquiry to find out the whereabouts of persons who have "disappeared" in the state.
Govt should wake up: KCCI
Srinagar, August 17
The apex business body of Kashmir has asked the government to "rise from its slumber" if it wanted the Valley's business potential to be realised.
3 girls held on theft charges
Jammu, August 17
The police today arrested three young girls for stealing Rs 50,000 from a woman in garrison of Samba town.
Drought-like situation in Kathua, Hiranagar
Srinagar, August 17 The state government said today that Kathua and Hiranagar areas had suffered heavy losses due to drought-like conditions.
Body found
Jammu, August 17
The police found a body on the roadside the near Sher-e-Kashmir Bridge here on Monday.
19 challaned for using polythene bags
Jammu, August 17
About 40 kg of polythene carry bags were seized by officers of the Jammu Municipal Corporation (JMC) today.