Doon's Khans keeping watch on Kabul polls
Neena Sharma
Tribune News Service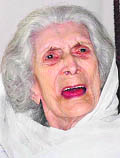 Bilquis Jahan Ara, granddaughter of Amir Yaqoob.
Dehradun, August 20
Elections in Afghanistan are being viewed with much interest by descendents of Amir Ayub Khan and Yakub Khan who live in Doon. They share an emotional bond with the land of their ancestors.
The Doon connection was revived when Zahir Shah, the last king of Afghanistan, while undergoing treatment in New Delhi during the last years of his life expressed a desire to meet his Doon cousins but the meeting could not take place as the family members were away.
"After the present regime came to power, we were able to establish contacts with Afghanistan. King Zahir Khan, who was deposed in 1993, passed away in 2007. He was born in Dehradun.
He was a cousin of my father," said Akbar Khan who is related to the four main Afghan ruling clans and is a descendent of Emir Ayub Khan who was exiled to Dehradun by the British.
The Indian Government is said to have organised shikar (hunting expedition) for King Zahir Shah who is said to have visited Doon in 1958. The family members from Doon also participated in the 'shikar' at the VIP block in Dholkhand (now Rajaji National Park).
The services of the family members were once again solicited by a minister in the present Karzai regime who then visited the Forest Research Institute. The present generation is engaged in diverse activities from agriculture, farming, wildlife, book writing, school and web design.
Historians say to keep the Afghan rulers miles away from their homeland was a tricky task for the British rulers. Lord Auckland picked Dehradun and Mussoorie to exile Dost Mohammed Khan who was forced to abdicate the Afghan throne in favour of Shah Shuja in 1839.
The salubrious climate was expected to be just right for the Afghan rulers. "He was exiled at a place that was called Bala Hissar (Afghan fort) where a famous school is now located. He lived here for three years and is credited with bringing the basmati to Doon,"said Akbar Khan.
The Afghan connection was temporarily snapped in 1842 after Dost Mohammed Khan was reinstated as King in 1842. It is said that the deposed ruler travelling on horseback reached the capital in the nick of time.
Intrigue once again played havoc with the fragile peace in Afghansitan. The then King Yakub Khan was asked to abdicate the throne in favour of his cousin in 1879 and Dehradun was chosen as the place to exile him.
The former ruler's property stretched beyond Survey Chowk and the main EC Road with the family cemetery at Shastdhara Road.
The Mangla Devi Inter College was the abode of the King and his staff members lived at the electricity office. Separate enclosures were created for the King's elephants and horses, all now taken up by the government.
"The Karanpur police post was named Kabul House and the former King was said to have rode on his favourite horses right up to Mussoorie," says Raj Kanwar, senior journalist and author.
Today the descendents of the former royalty, Yakub Khan and his grandson Sardar Azim Khan's family have integrated with the mainstream. Being a political prisoner, pension was given to Azim Khan by the then Indian Government.
The family now comprises Akbar Khan, Group Captain Amanullah Khan and Usman Khan. There have been marriages between Amir Ayub Khan And Yakub Khan families, both grandsons of Dost Mohammed Khan. Amir Ayub Khan's children spent a lot of time in Allahabad.
They were known to be close to the Nehrus and the 95-year-old grand-daughter of Ayub Khan.Yakub Khan Bilquis Jhanara, who is alive, is the mother of Sahra Khan (Akbar Khan).
"All of us are born in India and have become part of the city that holds several memories for us.
"At least 98 per cent of our family members were killed during the Russian invasion. "Whenever guests from Afghanistan drop in, they are surprised by the Afghani dishes that are cooked in our kitchen and may now be extinct in Afghanistan.
"My father's first cousin, Sohaila, is health minister in the Karzai government. She is said to be fearless and outspoken, which is really difficult," said Mohammed Ali, great greatgrandson of Yakub Khan, an agriculturist in Haridwar and a product of Doon School.
The present generation is well-bred, educated and rooted in tradition. All speak Dari at home. The eldest son continues to wear the Pathan turban on important occasions. He is waging a battle against marauders of Doon's green in his own way, ably supported by his sister Samia Khan.