Truck drivers attack MVD officials, 1 hurt
Udhampur, August 23
Infuriated over alleged harassment by officials, truck drivers this morning attacked a checking squad of the Motor Vehicle Department (MVD) near Jakhani and inflicted severe injuries to an inspector.
Central Varsity
Nation to support Jammu: RSS chief
Jammu, August 23

The entire Hindu community of the country is ready to stand with the agitating students of the Jammu region who have been demanding the setting up of the central university in Jammu.
Renovation of Temples
Kashmiri Pandits dispute govt's claim
Srinagar, August 23
Kashmiri Pandits today dismissed as 'baseless' claims made by the state government that it had renovated 90 of the 174 temples damaged during militancy. "The government's claim is baseless as no temple has been renovated. Let the government identify the renovated temples or name the organisation that has received the ex gratia purported to have been given by it," Vinod Pandita, chairman of the All-Party Migrants Coordination Committee, said today.
Notices served on Cong rebels
Udhampur, August 23
The disciplinary committee constituted by Pradesh Congress Committee (PCC) chief Saifuddin Soz has served show-cause notices on all rebel leaders who had contested the Assembly elections against official party candidates. These rebels have been directed to reply to the show cause notices within 10 days.
Ultras take to deceptive terror tactics
Sarol (Rajouri), August 23
Various militant outfits operative in the state are adopting innovative techniques to carry out blasts. The latest in the arsenal is "rum bomb" as they use wine to lure people that trigger the blast.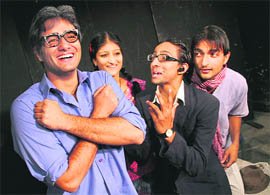 A scene from 'Pantrebaaz' presented by Natrang in its weekly theatre show in Jammu on Sunday. The play is based on two close friends, who befool each other by crooked tactics. The play depicts the erosion of human values. It projects as to how a majority of the people look for a shortcut and unlawful means to achieve their objectives in life. It sarcastically portrays that 'Dishonesty is the best policy' in today's world. Photo: Inderjeet Singh
Withdraw subsidies to big industries: MLAs
Srinagar, August 23
MLAs cutting across party lines have made a pitch for withdrawing incentives to big companies for setting up plants in the state and asked the government to give instead a boost to the state's domestic products like handicrafts and fruits.
Gujjar body moves court against mobile companies
Srinagar, August 23
The Gujjars, through Tribal Research and Cultural Foundation, have filed a case in a consumer court against eight cellular mobile companies. The firms have been accused of "consumer fraud, false advertising and deceptive trade practices by misrepresenting Gojri" - native language of Gujjars, a spokesperson for the foundation said here today. The mobile companies are BSNL, Airtel, Aircel, Vodafone, Reliance, Idea, Spice and Tata Indicom.
A poignant tale of mother of 5 daughters
Jammu, August 23
While the rape and murder of two women in Shopian was still haunting people's mind, a mentally-challenged Muslim woman from the same town was saved by a Kashmiri Pandit girl.
CPM dismay over food crisis
Srinagar, August 23
Lone CPM MLA and state unit secretary MA Tarigami addressing a convention of party workers expressed dismay over the shortage of essential commodities and erratic power supply, adding that the government was not serious about mitigating the consumers' grievances.
PDP to mobilise public opinion if AFSPA not repealed
Srinagar, August 23
The PDP today threatened to mobilise public opinion against the Armed Forces Special Powers Act (AFSPA) if it was not repealed. "We demand repealing the AFSPA. We would intensify mobilisation of public opinion against the draconian law," a party spokesman said.
BSF gears up to plug infiltration
Jammu, August 23
Concerned over the increased attempts of infiltration in the Jammu region, the BSF has decided to modernise border outposts (BoP). The BSF would increase its strength by adding 29 battalions and nine section headquarters, increasing its strength by 35,000 personnel.
Power cuts mar Ramzan celebrations
Rajouri, August 23
Exposing claims of the state government regarding its preparedness during the holy month of Ramazan, the Power Development Department (PDD) has resorted to unscheduled power cuts on the first day of the ongoing auspicious month.
Set higher goals, youth told
Srinagar, August 23
Asking the prospective innovators to dream big and set higher targets, Prof Ghulam Mohi-ud-din Bhat, chairman, GAIN Cell, has urged the youth to come out with innovative ideas so as to achieve bigger things in life.
Petitioner's claim to promotion rejected
Jammu, August 23
Justice Sunil Hali of the J&K High Court has dismissed the writ petition of Kashmira Singh Kahlon, while turning down his submissions that he being the senior most was ignored for promotion to the post of Deputy Commandant on October 10, 1998.
Stress on computer courses
Jammu, August 23
Minister for Higher Education, Labour and Employment Abdul Gani Malik said today that new subjects would be introduced in the colleges but had not disclosed the subjects yet. He said this while attending a meeting held at Government College for Women, Gandhi Nagar.
3 booked for smuggling
Jammu, August 23
The Crime Branch, Jammu, has produced a chargesheet against three accused in a court of law, who had been indulging in illegal sale and purchase of sapphire and ancient coins since 2008.
14.5 kg charas recovered
Jammu, August 23
The Samba police last night seized 14.5 kg charas from a Punjab-bound car near Supwal on the Jammu-Pathankote National Highway.