Poor state of civic amenities
Doraha, Sahnewal on verge of epidemic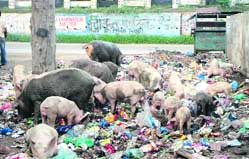 Doraha, August 24
Doraha and Sahnewal towns are apparently heading towards an epidemic disaster. Thanks to the callous attitude of the councils, which are entirely oblivious of the calamity that can engulf these towns any moment if the current environment is allowed to prevail.



Pigs munch on a garbage heap near a park at Doraha. Photo by writer
Gutless leaders come to dyeing units' rescue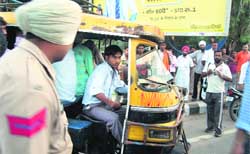 Moving on the expected lines, the politicians (read the state government) once again came to the rescue of polluting dyeing units in the industrial hub of the state and power supply to more than 12 units, which was disconnected on the orders of the Punjab Pollution Control Board, was restored within three working days flat as the industry went on an indefinite strike.
Pay Hike: PCMS doctors hold rally
Ludhiana, August 24
Irked over the dilly dallying tactics of the Punjab government in implementing the recommendations of the 5th pay commission, the Punjab Civil Medical Services (PCMS) doctors from all over the district today staged a protest rally in front of the civil surgeon's office. The rally was staged on the call given by the state unit of PCMS Association.
Pay Revision: PSEB mgmt comes under fire for delay
Ludhiana, August 24
The farming community in the state, which has been grappling with acute shortage of power for the paddy crop, has found an ally in the employees of the Punjab State Electricity Board (PSEB), who took the board management and specifically Chief Minister Parkash Singh Badal to task charging them with utter failure to provide adequate power to the farmers.
PRTC staff favour hike in bus fare
Ludhiana, August 24
Employees of the Pepsu Road Transport Corporation (PRTC) have urged the state government to immediately increase the bus fare as the corporation was finding it hard to pay the employees' salary as well as the taxes to the government. The bus fare had not been revised in Punjab since July 1998, even though the prices of diesel had increased manifolds. In such circumstances, the corporation will not be able to meet the day today expenses, feel the employees.
Experts discuss paediatric dermatology
Ludhiana, August 24
The department of dermatology, Christian Medical College and Hospital (CMCH), Ludhiana, organised a continuing medical education (CME) programme on paediatric dermatology in hospital auditorium.
Board to fight social evils
Amloh, August 24
Students Organisation India (SOI) chief and Punjab Youth Development Board Chairman Gurpreet Singh met at the residence of social worker Dr Raghubir Shukla and decided to eradicate social evils from society by bringing about a congenial atmosphere in schools for all-round development of the students.
Farm accident victims yet to get pension
Mullanpur Dakha, August 24
The farm accident victims are a harassed lot as about 20 cases are stuck in the SDM Ludhiana (West) office for more than 18 months. These cases were earlier passed and recommended by the local market committee officer.
39 yrs on, memorial for IAF hero still a dream


Mandi Ahmedgarh, August 24
Residents of Saharan Majra, small hamlet, have been remembering this IAF hero for the past 39 years, but a befitting memorial promised by IAF authorities in the memory of late Flying Officer Kuldeep Singh Johal is yet to see the light of the day. A villager had even donated a piece of land for erecting the memorial for their hero, who had chosen to get charred to death in a plane that was bound to crash instead of ejecting from it to save the villagers on August 21, 1970.
NSS volunteers plant 600 saplings
Ludhiana, August 24
As part of nation-wide drive "Green Earth", more than 300 NSS volunteers from Colleges of Agriculture, Agricultural Engineering and Home Science of Punjab Agricultural University, Ludhiana, celebrated vanamahotsava at University Seed Farm, Ladhowal.
Prof Mohan Singh Mela from Oct 19
Ludhiana, August 24
The 31st Prof Mohan Singh Mela will be held at Ahar-Kunt village in Hoshiarpur district from October 19 to 21.
From Schools & Colleges
BVM win quiz finals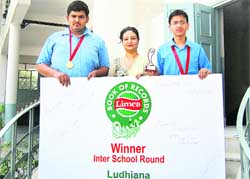 Ludhiana, August 24
BVM Senior Secondary School, Kitchlu Nagar, today won the Ludhiana city finals of Limca Book of Records Quiz, 2009, held at BCM Arya Model Sr Sec School, Ludhiana. The young geniuses from the winning school in Ludhiana would now compete with the winners from 74 other schools in the semi-finals.


BVM Senior Secondary School, Kitchlu Nagar, which has won the Limca Book of Records Quiz-2009. Photo: Inderjeet Verma
Canadian delegation visits PAU
Ludhiana, August 24
A three-member team from Canada comprising Dr Mark G Fortin, assistant deputy

minister, research branch, Agriculture and Agri-Food Canada (AA-FC), Ottawa, Dr SD Morgan Jones, director general, Science Partnerships, AA-FC, Alberta, Canada, and Yvon A Martel, chief scientist, AA-FC, Ottawa, Canada, visited Punjab Agricultural University (PAU) today to explore areas of collaboration.
A Canadian delegation interacts with the PAU Vice-Chancellor in Ludhiana on Monday.
A Tribune photograph
Entomologists from US at PAU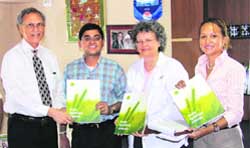 Ludhiana, August 24
A panel of three agricultural scientists — Dr Brenda Ortiz, grain crops and precision agriculture extension specialist and assistant professor, Kathy Flanders, extension entomologist and Ayanava Majumdar, extension specialist, entomologist agronomic crops — from Auburn University, Alabama, US, visited Punjab Agricultural University today.
The PAU Vice-Chancellor, Dr MS Kang, presents university brochures to delegates from Alabama in Ludhiana on Monday. A Tribune photograph
Punjab board toppers fail to make it to colleges
Ludhiana, August 24
Government schools regret that their meritorious students could not get admission to government colleges here due to the policies of the Punjab School Education Board and the Panjab University. Those who could make it to government colleges belong to the reserved category.
Lakme, INIFD to be partners
Ludhiana, August 24
Lakme Fashion Week in collaboration with International Institute of Fashion Design (INIFD) will be organising an exclusive workshop every season in Mumbai.



Nilofer Bhaktiar, former international director from Islamabad, during the installation ceremony of Lions Club International district 321-F in Ludhiana.
A Tribune photograph


Municipal Comissioner inspects the road near a mall in Ludhiana on Monday.
A Tribune photograph
Green Land make clean sweep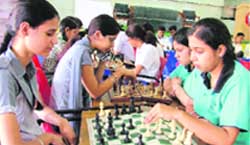 Ludhiana, August 24
Green Land Senior Secondary School, Jalandhar, made a clean sweep in the girls' section of the Inter-School District Chess Championship being organised by the district education department at Bhartiya Vidya Mandir Senior Secondary School, Udham Singh Nagar, here today.
A chess championship in progress at BVM School in Ludhiana on Monday. Photo: Inderjeet Verma
Six teams to slug it out
Ludhiana, August 24
Teams from Kundan Vidya Mandir, Civil Lines, MGM School, Dugri, Government Model Senior Secondary School, PAU, Spring Dale Public School, Teja Singh Swatantar Senior Senior Secondary School, and Government High School, Haibowal Khurd, will slug it out in the annual Boost Cup PCA Inter-School Cricket Tournament (u-16) to be held at MGM School ground, Dugri, from tomorrow.
Dharminder scripts facile win
Ludhiana, August 24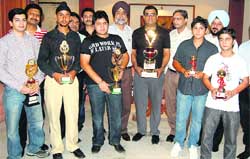 Dharminder Lilly of Jalandhar overpowered his opponents to romp home as champion in the Punjab Open Snooker Tournament which concluded at Sutlej Club, here last evening. In the semifinal league, Dharminder overcame stiff resistance from Aayush Kumar and Vivek Chopra 4-3 and scripted a comfortable victory over Dhruv Verma 4-0 to retain the title.
Winners of the Punjab Open Snooker Championship pose with their trophies in Ludhiana. A Tribune photograph
Sports journalist honoured
Mandi Ahmedgarh, August 24
Recognising his contribution in highlighting problems of sportspersons and organisations engaged in promotion of sports in rural areas of this part of Malwa, the Punjabi Lekhak Sabha, Chandigarh, conferred the Maneet Kanwar Memorial Sport Journalism Award on Sukhbir Singh Grewal, a sports journalist from Kilaraipur village, near here.