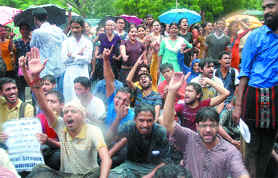 JNU students demand lifting of the Supreme Court's stay on JNUSU elections at Jantar Mantar in New Delhi on Wednesday. Tribune photo: Manas Ranjan Bhui

Deshmukh tells BHEL to sort out Bawana project problems
New Delhi, August 26
Union heavy industries minister Vilasrao Deshmukh today directed Bharat Heavy Electrical Limited (BHEL) to work out all problems related to Bawana power plant. The direction came after Delhi Chief Minister Sheila Dikshit expressed before the union minister that the city government was facing difficulties in completing the power project.
Rare heart surgery saves woman's life
Gurgaon, August 26
A rare, multiple cardiovascular surgery that lasted eight hours was successfully performed in Gurgaon on a 33-year-old woman who was suffering from a large blood clot in an artery near her heart, doctors said on Wednesday.
Polling for 5 MCD wards today
New Delhi, August 26
The polling for Municipal Corporation of Delhi (MCD) by-elections in five municipal wards will take place tomorrow.
Lashkar suspect in police custody for 14 days
New Delhi, August 26
The suspected Lashkar-e-Taiba (LeT) terrorist who was arrested in the Capital on Tuesday has been remanded in 14 days' police custody by a Delhi court today.
Kidnapped 18-yr-old rescued in 4 hrs
New Delhi, August 26
The Sarita Vihar police has rescued an 18-year-old youth, Sonalal, who was kidnapped for ransom within four hours. Three persons have been arrested for the crime.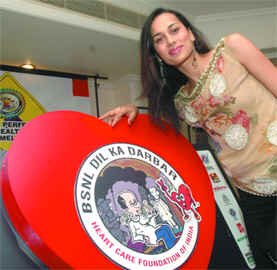 A model promotes the forthcoming one-day non-stop conference on ''BSNL Dil Ka Darbar'' jointly organised by BSNL and the Heart Care Foundation of India in New Delhi on Wednesday. Tribune photo: Mukesh Aggarwal

Youth held for killing mom's lover
Woman too in custody
New Delhi, August 26
A 23-year-old youth has been arrested for killing a man who was allegedly having an affair with his mother. His mother who had assisted him in disposing of the victim's body has also been caught.
Delhi impostor cop caught fleecing truckers
Ghaziabad, August 26
The Ghaziabad police has arrested a 35-year-old man who was allegedly masquerading as a cop of the Delhi police. He was caught while allegedly extorting money from truck drivers. According to Ghaziabad SSP Akhil Kumar, the accused would threaten truck drivers that he would lodge cases of abetting terrorism against them and extort money from them..
Study focuses on drug patents
New Delhi, August 26
A study done by the Coalition for Healthy India (CHI), an initiative of the US India Business Council (USIBC), brings the subject of pharmaceutical innovation and drug patents into public discourse. The study entitled "The Value of Incremental Pharmaceutical Innovation: Benefits for Indian Patients and Indian Business" points out the positive impact that progressive innovations could have on patient care in India.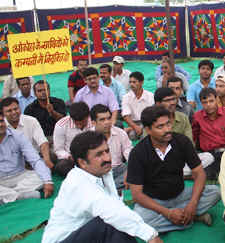 Employees of pharmaceutical company Ranbaxy sit on dharna in Gurgaon on Wednesday. Tribune photo

Illegal cosmetics factory unearthed
Ghaziabad, August 26
An illegal cosmetic manufacturing factory has been unearthed by health department officials in Chidya Ghar Colony, Ghaziabad. A team under drug inspector R.C. Pandey conducted the raid and unearthed the illegal factory.
8 kids among 30 fresh swine flu cases
New Delhi, August 26
Influenza A (H1N1) continues its spread with 30 more people declared infected by the virus in Delhi, out of which eight are schoolchildren. This takes the cumulative total for the positive cases of H1N1 in the city to 549 and from this figure 495 have already been treated and discharged, informed health authorities.
Environment dept reaffirms polybag ban
New Delhi, August 26
Plastic bags can still be seen in markets, even though the environment department had banned their use. The city's environment department reintroduced today the order of January 7 and said all actions violating the rules would be strictly dealt with under the section 19 of Environment Protection Act, 1986.
2 caught for throwing acid on minor girl
New Delhi, August 26
Two persons were arrested by the east Delhi police for allegedly throwing acid on a minor girl today morning. "The incident took place around 8 am in the Geeta Colony area. The 16-year-old victim was going for tuition when the accused threw acid on her," said a senior police officer.
Soon, flyovers atop trees!
New Delhi, August 26
The Sheila Dikshit-led government in the Capital is gearing up to present a green Delhi to tourists during the Commonwealth Games 2010. The government is planning flyovers atop trees.
Be ready for rains today again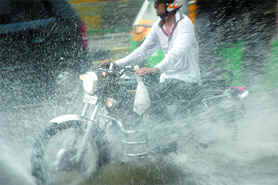 New Delhi, August 26
Delhiites can prepare themselves for another day of cloudy skies, rain and thunders, as the Indian Meterological Department has predicted cloudy skies followed by showers and occasional thundering and possible lightening for Thursday.
A motorist drives through a waterlogged street after heavy downpour in New Delhi on Wednesday. Tribune photo: Mukesh Aggarwal