PUNJAB
HARYANA
JAMMU & KASHMIR
HIMACHAL
REGIONAL BRIEFS
NATION
OPINIONS
LETTERS
BUSINESS
SPORTS
WORLD
Every Wednesday & Saturday
'Accidental' hospital ill-equipped to treat mishap victims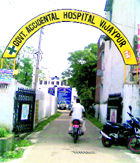 Vijaypur, August 28
The government hospital here appears to have been established merely by an accident. This is what the official records and the signboard suggest. However, this "accidental" hospital, set-up on the busy Jammu-Pathankot national highway, was supposed to provide emergency medical care to the victims of road mishaps.

The main entrance of Government Accidental Hospital in Vijaypur on the Jammu-Pathankot National Highway.
Poor infrastructure mars Bani's tourism potential
Bani, August 28
To be in Bani means a visual treat to your eyes as the small valley offers many breathtaking vistas like small hamlets, meadows, lush green forests, slanting slopes, magnificent waterfalls, gushing streams and watermills that put together a jigsaw of life in hilly villages untouched by the chaos of cities.
Anara awaits relief
August 26, 2009
Unclaimed bodies trouble Jammu police
August 22, 2009
Jammu insensitive to the mentally challenged
August 19, 2009
Meritorious students to be honoured
August 15, 2009
Police functioning under cloud
August 12, 2009
12 water samples fail test in Jammu
August 8, 2009
Police probe makes little headway
August 5, 2009
Police probe makes little headway
August 5, 2009
Road infrastructure at cost of 'green gold'
August 1, 2009
Residents suffer as agencies pass the buck
July 29, 2009